Date of publishing: 1st December 2006



Kavan Smith was born in Edmonton, Alberta, Canada and raised in nearby Calgary. As a child he excelled in sports with an affinity for football and the martial arts. As he grew older, he also found a talent for acting and after a brief stint studying economics, he received a degree in acting at Mount Royal College. As an actor in Vancouver, Smith has made a career of performing in many of the United States' most appreciated sci-fi series. He performed five different roles in five episodes of the acclaimed series The Outer Limits. Soon after he was playing the American Pilot in Brian DePalma's Mission To Mars. He then portrayed the role of "Major Lorne" on SG1 and the role was brought back on Stargate: Atlantis three years later. He now recurs on the series. In addition, he is also recurring on the series The 4400 as Agent Garrity. Kavan splits his time between Los Angeles and Vancouver.


Linda Craddock: You appeared in 15 episodes of "The 4400" and 10 episodes of "Stargate Atlantis, during the '05 – '06 seasons? How difficult is it to work multiple series during their current seasons?
Kavan Smith: Yes it can be a bit difficult. It's a scheduling nightmare for the producers and it does mean that you constantly have to jump from one character to another but I suppose I should consider myself lucky that I get to work consistently. That's not always the case in this industry.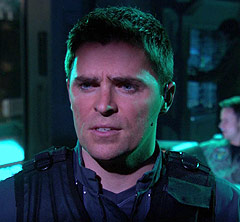 Linda Craddock: What episodes can we anticipate an appearance by Major Lorne other than the episode "Sunday" for the 2nd half of season 3?
Kavan Smith: I think I ended up doing 5 of the last 6 episodes and there were a few in particular that I really enjoyed and was able to have a bit more fun that usual. I can't give too much away so I suppose you'll just have to wait and watch. Hopefully you'll enjoy them as much as I did.
Linda Craddock: What would you like to see from the writers with regards to character development for Major Lorne? Who would you like to see him interact with more among the Sheppard team?
Kavan Smith: I suppose the thing I'd like to see most is development period. I'd love to really get my teeth into the guy. And yes getting more time with the Sheppard team would be fun. I think in the past they've given him some little bites of humor and I'd love to see that explored a bit more. It suits both the show and my own sensibilities.
Linda Craddock: Describe the difference between the set of Atlantis and 4400.
Kavan Smith: Initially the sets were very different. The Atlantis set had the benefit of having the massive hit SG-1 behind it so they were all relaxed and calm and things ran smoothly and everyone knew everybody else, it had a very familial feel to it. The 4400 at first was much tighter. They were a young show that had to fight and claw to get the respect they deserved and more to the point to get picked up. So it was naturally a bit more tense, the people of course were just as nice. However since the 4400 is now going into its 4th season they're set is starting to chill out and is now every bit as much fun as Atlantis.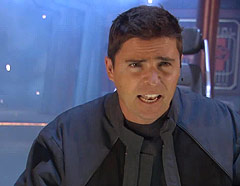 Linda Craddock: Major Lorne played a vital second unit or backup to Col. Sheppard and his team, what would you say was your approach to the character which transcends on screen?
Kavan Smith: My approach to Lorne has always been to give him as much duality as possible. He's intense when he has to be but when things are casual he's relaxed with a good sense of humor. I think that keeps him real and makes his reactions believable.
Linda Craddock: In the series 4400, there appears to be quite a large cast compared to Stargate Atlantis. Does a larger cast require additional preparation for shooting scenes, learning script, etc?
Kavan Smith: Not necessarily. What it does take is careful planning, good execution and great writing. But the actual scenes take about the same time and prep once on set.
Linda Craddock: Did you audition for the role of Agent Garrity of the 4400?
Kavan Smith: Yes I did.
Linda Craddock: What was your reaction to the script on a series where earth people were abducted by aliens, then returned in an attempt to fit into society?
Kavan Smith: Growing up raised by aliens myself I found it very familiar and reminded me of my childhood.
Linda Craddock: The 4400 is slated to begin its 4th season this fall, what new aspects of your character would you like to introduce?
Kavan Smith: Again the humor is what makes these secondary characters real so I'd like to see more of that. There is so much drama, heavy heavy stuff that I think this show needs people like Garrity to add levity.
Linda Craddock: There's not a lot of interaction between Lorne and Teyla or Ronon. How do you see Lorne fairing in an episode of survival with either of these characters?
Kavan Smith: Lorne's prowess as a warrior and soldier has yet to be explored in any depth on the show so needless to say I'd love to get the chance to show Lorne is no wimp and can more than hold his own against anyone.
Linda Craddock: I understand there is a lot of fun generated on the set of Atlantis. Tell us some of the more enjoyable experiences you've had with the cast/crew.
Kavan Smith: Well this one time at band camp… wait wrong show. I have no specific examples to offer because I had to sign a waiver saying that I would never reveal the secrets of the set gags and practical jokes.
Linda Craddock: Do you have any aspirations for writing, producing or directing? Is your goal to stay within the sci-fi genre or would you like to see yourself working in a dramatic role either on television, on the big screen or in theatre? What would be your dream role?
Kavan Smith: Comedy has always been my favorite genre and yes I have aspirations to write/direct in the future. I have a feature film I've already written as well as a novella and I've already take a stab at directing with a short film I did with friends in 2004 called Green Trees
Linda Craddock: You have a great fan base on http://www.thescifiworld.net. Would you consider joining us as VIP on the site where fans can post questions that you can logon and answer at your convenience?
Kavan Smith: I don't see why not. But be gentle I am very sensitive and am easily brought to tears.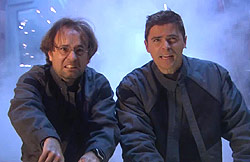 Linda Craddock: What are your interests outside of your craft, hobbies for instance?
Kavan Smith: My family, literature, travel, cooking.
Linda Craddock: Will the new season of 4400 demand more of your time than in the previous season?
Kavan Smith: I certainly hope so.
Linda Craddock: With the concept of alien abductees returning, which character in the script do you think is the most interesting and could become the most dangerous?
Kavan Smith: Garrity is very dangerous because he has a nasty flatulence problem. The most interesting character is Ryland and he may well be the most dangerous.
Linda Craddock: You appeared briefly in 2 episodes of Galactica last year, how were your days on the set?
Kavan Smith: Much fun, extremely hot and sweaty outfits though.
Linda Craddock: Describe your days on the set of the "Blade" series.
Kavan Smith: Great time. Really enjoyed everyone on that show. Though the process of melting at the end was very exhausting.
Linda Craddock: Still no name for Major Lorne?
Kavan Smith: Evan. It's a done deal.
Linda Craddock: If not an actor, what profession would you have chosen?
Kavan Smith: Astro physicist, race car driver, bango player, Cooking show host, K-1 fighter, thief, encyclopedia salesman, alcoholic, bass fisherman, go-go dancer, beat poet, nobel prize winning author of world's most important book… yeah that's what I would have done.




Comment this interview on the forum