Date of publishing: 9th October 2007



A native of Mound, Minnesota, Kevin Sorbo stars as Dylan Hunt in the science-fiction/action hour sensation, "Gene Roddenberry's Andromeda," based upon an idea from the late "Star Trek" creator's archives. Kevin quickly rose to international stardom in the title role of the hit series, "Hercules: The Legendary Journeys." Quickly becoming the number one first-run program in syndication, the innovative action hour revitalized the entire action/adventure genre on television and prompted two spin-off series. Kevin also directed two episodes of the show, and co-wrote one installment. In 1997, Kevin made his feature film debut with "Kull the Conqueror," a prequel to "Conan the Barbarian." Kevin has also appeared on several hit television shows such as "Dharma & Greg," "Just Shoot Me," "Cybill," "The Commish," and "Murder, She Wrote." In addition to acting, Kevin is the spokesperson for "A World Fit for Kids," a non-profit organization that provides gang, drug and dropout prevention programming to kids at risk. In his role, Kevin raises awareness of the importance of mentoring and acting as a positive role model to the youth. Biography from www.kevinsorbo.net


Gilles Nuytens: You are credited for a film called 'Hunting and Fishing', for which I haven't been able to find a lot of information...
Kevin Sorbo: They're keeping it a little bit secret, I think.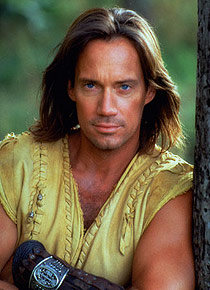 Gilles Nuytens: Can you give me a bit of information about that?
Kevin Sorbo: Well, it's from the creators of the 'Scary Movie' franchise. They did the 'Scary Movie', 1, 2, and 3. They did a movie called 'Epic Movie' and 'Date Movie'. They do spoofs on other shows and this is going to be a spoof on the movie '300'.
Gilles Nuytens: It's some kind of parody of '300' ...
Kevin Sorbo: Yes, that's exactly what it is. It was a lot of fun and was very funny. The studio, Twentieth Century and New Regency, are very excited for it. Probably going to air between late December and late January.
Gilles Nuytens: Can you speak about the role you're going to play? I just see that you are credited as 'Captain'.
Kevin Sorbo: That's all I am: just a captain. I'm the captain, the right hand of Leonidas. In the movie '300', it's the guy whose son was decapitated. And in this movie I play a similar role, but it's all done in a much more humorous fashion. The parody is throughout the whole movie. It's very funny, but I'm not supposed to say that much about it.
Gilles Nuytens: So you're back in the Greek mythology... How do you see this role versus 'Hercules'?
Kevin Sorbo: Actually, there are some similarities with 'Hercules', but this is a far more over the top parody of that movie. 'Hercules' had, even though we tried to follow the mythology that is common to most people, we certainly threw in a lot of humorous elements with one-liners. The fight scenes were never overly violent, I mean some got serious, but for the most part everything was done in a fun, easy way. I think we kind of just stayed right along those lines.
Gilles Nuytens: You played the main guy in two Scifi and fantasy shows during six and five years. What did you enjoy the most in each role, Hercules and Captain Dylan Hunt?
Kevin Sorbo: What I think I loved about, to start with Hercules, was just the fact that I was a fan of mythology. I grew up reading quite a bit of it. I've always loved it. To actually play somebody that was such a larger than life mythological hero, for me, that was quite an honor. We had such a good time doing it. I lived down in New Zealand for almost seven years filming down there. And I had such a great crew to work with, the cast, and everybody, we had a lot of fun. To me, it was ridiculous: I was getting paid to play this person. As far as Dylan Hunt, the biggest difference I liked about playing Captain Dylan Hunt was the fact that he was human. This was a guy who was not infallible. With Hercules, you knew he was going to win. I think the key element of that series was doing it in a fun, tongue and cheek, wink, wink, sort of way that the audience knew I was with there and we were part of the same team in a way. With Dylan, I think it makes it more personal. Because here's a guy who didn't always win, didn't always get his own way. He bled. When he got hurt, he got hurt. I think from an actor's standpoint, it was just fun to play a hero, no question, but on top of a guy who had faults and had problems.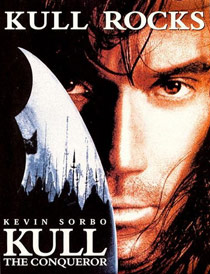 Gilles Nuytens: You have quite a bit answered my next question. In 'Kull the Conqueror', you again portray a mythological hero. Is that a genre you enjoy doing or is it more of an opportunity you got thanks to the success of 'Hercules'?
Kevin Sorbo: It's certainly a combination of both. I've always liked the Fantasy/Scifi genre. I've just always been attracted to that. I grew up watching the 'Star Trek' series, 'Outer Limits', the original movies, the reruns with Steve Reeves as Hercules. It was just, for me, that was sort of a natural progression to be able to continue in those footsteps. But I've been doing a lot more different things recently. I'm shooting my second western right now as we speak. 'Hunting and Fishing' was just a chance to do another major studio picture. To get myself out there in a different format. I actually prefer television. I like the routine of television. One hour television is probably the hardest section to work in with the hours you have to put in. Day in and day out, year after year basis, but I like that. I'm trying to get myself out there and do more films. After this western, I'm going to shoot a modern day bank robbery. About these four guys and I'm one of the four guys that rob a bank and all of us essentially get killed. It's called 'The Price'. So I'm kind of throwing myself out there and doing other things as well.
Gilles Nuytens: What was your best memory from 'Kull the Conqueror'?
Kevin Sorbo: I think just the trip itself to shoot over in Croatia and Slovakia. It was an amazing experience. It was fun. Two countries and two cities that I had never been to before in my life. Just to see such a huge international squad of people thrown together for this project for three and a half months. There were twelve different languages on set, so it was always a challenge to get across the proper messages to people. And the chance to work with Raffaella De Laurentiis. I was a big fan of 'Conan the Barbarian'. I've met Arnold Scwtwarnegger a number times through the years. He actually held on to that project for a long time because he was thinking about playing his own father, since Kull was Conan's father. And once again, I gotta backtrack, because I enjoy that genre. I enjoy doing it.
Gilles Nuytens: I really enjoyed that movie. It was really entertaining.
My next question: did the storylines from 'Andromeda', as season one progressed, meet your expectations?
Gilles Nuytens: Yeah. I thought it was fantastic. To cut to the chase, I thought it was a big mistake to get rid of Robert Hewitt Wolfe as our show runner. He made a five year vision for the show and they fired him after two years. That's kind of the studio's way to sort of keep people in their place for ego reasons, I don't know. I was hoping we could see his vision through. I enjoyed the darkness of it, the unpredictability of it, and I enjoyed the universe. Being as evil as it was, I wanted to see how Dylan was going to work his way through with the Magogs and the Nietzscheans, and all the other bad people.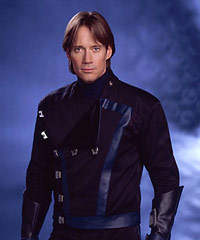 Gilles Nuytens: Were you happy with the ending of the show in its final season?
Kevin Sorbo: It's so hard to please everybody, because everyone is going to have their own opinion. It's like going to soccer game. You're going to have half the people who are going to hate the official and the other half is going to love him. It's never a win/win situation. I liked it for the reason that I think Dylan started to slide back into the person he was in season one. Even though he learned from his crew to be a little less militant and a little more carefree sort to speak, I think he got tired of constantly talking to them into doing basically his vision, what he had hoped for a safer universe. And I like that he sort of became more of a loner, that he went 'screw you guys, if you're not going to be with me, fine. I'm going to do my own thing. You guys can do your own thing.' I kind of like the ambiguity of the way it ended because to me they left it open for possibly to do a movie or something like that. If that'll happen, I don't know. I'm guessing not. The studio's fallen apart, it's for sale. They also have all kind of problems internally.
Gilles Nuytens: Same question for 'Hercules'. Are you happy with the first season and the final season?
Kevin Sorbo: Yeah. We started with five two hour movies before moving to a one hour series. So it's really season two was the first season of the one hour show. I liked it all throughout. The only thing I didn't like was the final season of 'Hercules'. We only did eight episodes. I was on my way to go do 'Andromeda', but we still had eight months before Andromeda even started. So they easily could have finished up the season. And I have since learned that the studio, and certainly the producers, Sam Raimi, they wished they had finished out the season. And they should have. I think it was a knee-jerk reaction on their part that I didn't want to continue the show. They offered a three year extension on my contract, but I was actually at a burn-out phase. I said 'look, We've done this now for seven seasons and I'm ready to go on to do something else.' I think that was their way of, pardon my franchise, of saying 'fuck you' to me. They were just saying, "well, fine. Let's do eight hours and call it quits." I think they rushed the ending. And they shouldn't have rushed the ending. We easily could have finished out the full twenty-two episodes. And, ultimately, their childness, I think, hurt themselves and also the fans. That's all that could be done. And it's too bad and unfortunate. It's certainly something I will always regret and wish we could have finished out.
Gilles Nuytens: After the success of 'Hercules' and 'Andromeda', which of these roles had the biggest impact on you?
Kevin Sorbo: Oh certainly 'Hercules'. That was the one that launched me. We passed 'Baywatch' in mid-96 I think it was as the most watched tv show in the world. The show gave birth to 'Xena'. 'Xena' would never have existed without 'Hercules'. That show would never have been around. And we had a Young Hercules spin-off, too. It didn't do very well. It got cancelled after one year. But it began to showcase a young actor by the name of Ryan Gosling, the one who played him. He's a big movie guy now.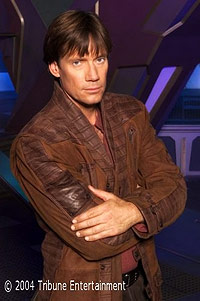 Gilles Nuytens: I assume you're most recognized on the street for being Hercules than Dylan Hunt.
Kevin Sorbo: Oh, no question. It's kind of maybe 65% Hercules. Even though 'Andromeda' has been done now for two seasons here in the States, people are buying it on DVD, so it's certainly out there. It's interesting how people react. I just went to a convention in Atlanta, Georgia called Dragon*Con. There were probably 50,000 people there. I'd still say a good 40% of the photos I signed were for Dylan Hunt.
Gilles Nuytens: About Dragon*Con, how was it over there, that experience?
Kevin Sorbo: It's my third straight one I've been to, they keep on inviting me back. When I get the time off, I go. I just really enjoy it there. They invited me a lot during the Herc years, and during 'Andromeda', but most of the time I was shooting and could never make it down there. It's a hoot, I gotta tell you. It's fun. I enjoy chatting with the fans and I enjoy the Q&A sessions we do. I have friends in Atlanta so that certainly entices me to go down. A couple of nice dinners with friends. Went to a baseball game. I make it sort of a trip for myself as well. I'll go to more cons. I'm currently scheduled to come out to London to do one there in late October. There's like a huge one there, I guess, in a mall, with about a two-hundred thousand people. I'm hoping I can make it over. I've heard another one in Stockholm, Sweeden, but I don't know when that is. I'd like to come to more of these. I'm surprised I'm not invited to more internationally. I get invited to ones in America, like two or three a month. I can't go to the majority of them, but with the success of 'Hercules' and 'Andromeda' around the world, I'm kind of surprised I haven't been invited to more in other countries. I get a call from Australia every once in a while, but that's really about it.
Gilles Nuytens: In the movie called 'Something Beneath', you play a priest, but not really the usual type of priest. What was your experience there?
Kevin Sorbo: The experience was cold. We shot up in Winnipeg, Canada. I think the script suffered a bit. I think David Winning, our director, did a great job of trying to salvage something out of it. It's just, the story itself didn't work completely. I think there are some nice moments in there. I would have liked to have more time on the script and more time to actually shoot. We didn't get that long of time to film it properly, but kudos to David Winning. I've worked with David before. He directed a couple of episodes of 'Andromeda'. He's very passionate, very committed to his craft. He loves actors and wants to work with them. I think because of him the film turned out far better than it really read on the page.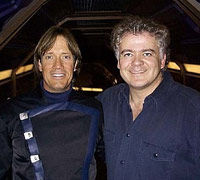 Gilles Nuytens: What was the difference between working with David Winning on 'Something Beneath' and working with him on 'Andromeda'?
Kevin Sorbo: Well, I think the main difference would have been the fact that we had more time—I said I wished we would had more time on 'Something Beneath'—but we still got longer than we would have gotten on a one hour TV show. We did have a longer time to collaborate and talk about the scenes, work out kinks in the script. When you shoot a TV show, we only shot that show seven days for each episode. So pace is far more faster and it's just a little more hectic, but David is, no matter what, whether it's a one hour tv show or a movie, he comes in prepared. I've never seen a director write out so many notes and he gives the actor the shot list for each scene. He already planned out exactly what he wants to do. And he wants us to be aware of what he wants to do. So he spends a lot of time and does his homework. I can only say the difference is only the time element. Other than that, he comes in the same whether it is a seven day shoot or a twenty day shoot.
Gilles Nuytens: In 'Avenging Angel', you portray a priest one more time, but again, an unusual priest. So after great super heroes, now is it time for super priests? Do you enjoy playing priests?
Kevin Sorbo: It's actually kind of funny that this whole priest thing has popped up. I've done it in another movie called 'Clipping Adam'. I don't know what it is with the priest thing with me and being a super hero. I don't know what the correlation is, but there's something going on there. This part I was drawn to because I'm a big spaghetti western fan. I love all the old westerns. I love the Clint Eastwood movies. This movie read just like one of the old high plains drifter movies. Plus, I've also wanted to do westerns. Physically, my look, physicality of me, would always fit well with the westerns. And it was just so much fun. I got to learn how to ride a horse. I mean, the clothes, the sets we shot on, you feel it. I mean, we're right in the middle of a western right now and it's called 'Prairie Fever'. I don't know when it's going to air in the States; I'm guessing November, December, but because of the success of 'Avenging Angel'—it was the third highest movie ranked in the history of the Hallmark Cable Channel—whether they want to give credit to me for that or not, they are giving me some credit and bringing me back in to probably do two or three more westerns as the preacher. I think we should make it into a series and call it 'The Avenger'. I loved the premise of it, the grittiness of it. I love that time period in the late 1800s. I just find it a very interesting time in the West with the early formation of America. People have this romanticism, this romantic ideal about that time. But you know, you're out there on the trail; there's really nothing romantic about it. It was lawless, dirty. You got the Indians and intruding on their territory, you got the animals, the bears and everything else out during that time. We managed to wipe them all off, unfortunately. You know, it's interesting. It was an interesting time.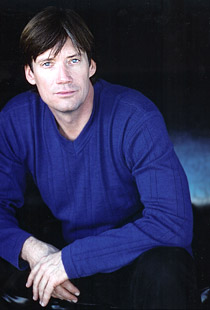 Gilles Nuytens: Can you speak a little about your experience in 'The OC'?
Kevin Sorbo: Originally I came in just to do two episodes. Apparently they liked my character that they ended up putting me in all seven of their last episodes before they cancelled the series.
When I got on the set the first day I remember Peter Gallagher came up to me and he said, 'you know, they're going to cancel the series after this year." I said, "really?" He said, "Yeah, they're just done." They're ready to move on. All the producers have other projects, things they want to do, that they're just going to wrap it up now. I said "Okay." And they kept expanding my part, but what the funny thing is they never really answered a lot of fans' questions. They certainly didn't answer mine. I mean, I get down there to play Ben's father—or Ryan, I should say. I was sort of shocked that they never had a scene that really showed the real settlement between the father and son. Here's a guy that took off, left his family behind. His kid is only ten years old, he's must have spent about ten years in prison, he's not a good guy. Initially I came in playing this really sleazy guy and they kept on softening my character up and I didn't understand that. It made no sense as to why they wanted to go out with this Disney sort of feel. It wouldn't have mattered to me. I would have liked if my character had been made to turn into a good guy, but none of that stuff wasn't addressed. I all of a sudden just suddenly became a good guy. I think that's what happens with shows that are going to get cancelled: writers get lazy. They just get lazy. There's a 'I don't care' attitude that spills over to all the other writers. They just kind of go through the motions because they have other things they want to do.
Gilles Nuytens: You've written and directed a few episodes of 'Hercules' and 'Andromeda'. Is that something you enjoy doing and that you want to pursue?
Kevin Sorbo: Yeah, I don't know about the writing part. I mean, I can slam the writers, but I think writing is a tough thing. I really do. I think writers have the hardest part of the job. And I did it, but I don't claim to be a great writer. I think I'm a good re-writer, though. I think I can look at other's work and I can find the holes. What I think happens is writers get so close to their own work and in the privacy of their own little cubicle and computer that they lose the voice of all the characters. When you read these things out loud with all the other actors, it comes to light. You can see where the problems are. I find writers get all personal about that. It's not a criticism, it's just a reality. And I have found that out writing myself. I think it's important for writers, when they're writing television or movies, whatever it may be, that they have people look at it, friends, people they trust, whatever, to say, 'Look, what are your thoughts? What do you think is good or bad about this?' I think that's the only way you can make yourself a better writer. I just don't have the patience for it, to look at a blank piece of paper and make it come to life. But as far as directing, yeah, I love that. And actually, Hallmark now is asking if I want to throw my hat back into the ring and start directing some more. I think some time down the road in the next year or less I will be directing a movie for Hallmark.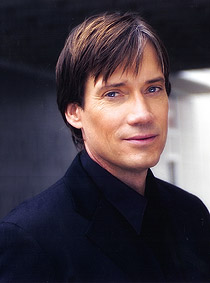 Gilles Nuytens: If you were given the opportunity to play a character of your choice, in a movie of your choice, what would you choose?
Kevin Sorbo: You know, I still want to do everything. I'd love to play a villain in the line of John Malkovich's character from 'In the Line of Fire', the Clint Eastwood movie he did. I thought he was such an amazing villain in that. But I want to do that romantic comedy. I want to do that 'When Harry Met Sally'. I want to do my own version, but not exactly that movie, but that type of romantic comedy. I don't know why, but I've always been drawn to those. I like the comedy element. I love the romantic element. I still have that romantic person inside of me. I would love to do something like that, to make that timeless romantic comedy.
Gilles Nuytens: What in general draws you to a certain role?
Kevin Sorbo: Believe it or not, a lot of it has to do with my manager. I have a manager that will obviously is trying to steer my career in a direction that is beneficial to both of us. They send scripts all the time. I'm pretty good at reading scripts and seeing all the holes and stuff. But for me, it doesn't start with the script as a whole, but with the character. And if this is the type of guy I want to play. It really comes down to as simple as that. The scripts, with rewrites can almost always be salvaged if you got the right writers and have the time to do it, but for the most part it still comes down to the character that's been written on the page. That's the thing that attracts me the most. It is like you said earlier, because of the success of something like 'Hercules', because of those roles, that's still the majority of the roles that are coming in, but I'm really not interested in that. There are couple of other things that were also offered that kind of follow that same vein, and that's just not where I want to go right now. If I was to stick in that sort of fantasy world, I'd love to play a pirate just because obviously with 'Pirates of the Caribbean' has started a lot of interest in that sort of genre as well. If something came along in that way in a TV series, I think might be interested in looking at it.
Gilles Nuytens: In some tv productions, there is often a rivalry between actors and other kinds of negative publicity that press reports on a regular basis. What do you think makes the bad influence on TV shows? Stories about actors and all that.
Kevin Sorbo: I don't get written up that much because I think I lead far too boring of a life for these people than most of the people that want to write the negative stories, and the press especially in America. And I've heard it's even worse in some place like England, where the tabloids are even worse. It's unfortunate if you look at all of these stories of Lindsay Lohan and Britney Spears, and all that kind of stuff. You chalk it up to youth as well, but if there's a problem with alcohol and the drugs and that can affect anybody and obviously the limelight on them is going to be much bigger than it is on a person that's not in this industry. But it's weird. It's like in America, we love to have our heroes whether they are in movies, television, or sports, but at the same time we love to tear them down. I think that's where this whole, this jealousy and envy and all that kind of stuff kind of comes into play with people. And the have and have nots sort of mentality. It's almost falling into some kind of weird communist party where everybody is the same and people are jealous of other people who are more successful than you. I've always looked at people who are successful as a motivating drive for me. I didn't grow up with any money. I didn't grow up with things. I got hand-me-downs from my brothers, but I looked at people that were successful. And to me, that was a motivation factor for me to want to be successful. I never really had that jealously towards somebody else that had a bigger, better career than me. To me, I just said, 'okay, I'm going to work harder to get there.' Unfortunately, we live in a society where people view success as great for while and then want to rip that person down again and make them feel bad. I think it's to make themselves feel better about themselves.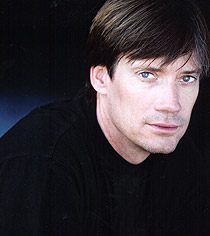 Gilles Nuytens: Outside of what we've already talked about, what can we expect from you in the future?
Kevin Sorbo: Well, your guess is probably as good as mine. Right now, things are kind of cruising along at a nice pace and it has been a busy year for me. I did the seven episodes of 'The OC', I did the western, I did this film for Twentieth Century Fox called 'Hunting and Fishing', I got another western now. I did two 'Walking Tall's as well. I don't know if they're over there yet. The original movie was done back in the 1970s called 'Walking Tall'. The Rock did a remake. It was supposed to be me originally but I couldn't do it, but then Sony Studios came to me and I did two last summer. One came out three months ago, did very well, called 'Walking Tall: The Payback'. And then, in the end of September, 'Walking Tall: Lone Justice' came out on DVD. It's straight to DVD, but they turned out very well. It's modern-day, an ex, ex marine comes back to his home town. His home town has been taken over by small time mafia type people. His father is the sheriff and gets killed. And then he takes the law into his own hands. So it's a good, modern-day action movie. I got a small thriller, that, if we can work out the time, I'm sure I'm going up to Chicago to shoot in a couple weeks. It's very low budget sort of slasher film. I get to play a detective. I'm hoping it works out. And there's another one: this movie called 'The Price' I told you about where I play a bank robber and there's a movie in the first of the year called 'Sleeping with the Lion', that I hope everything works out. It's a wonderful script. I play a very flawed character in the law enforcement agency and we'll see what happens with that. They say they got everything put together, but I never believe in business until it happens. So, as for now, I'm just coasting along and trying to have a good time.
Gilles Nuytens: Is there an existing TV show that you'd like to be a part of? Such as 'Heroes', or another TV show?
Kevin Sorbo: I don't watch that much TV. I watch everything once to see what's going on out there. Obviously 'Heroes' is very popular. I want to rent the first season or buy the first season, see everything, because when the hype is that big on something, I want to see what's going on. There's a new series I really want to be part of, but I don't know much about other than the pilot. It's called 'Journeyman'. I think I might be perfect for that. But you can't get everything you want. Current television right now, if there's a chance to play a recurring role, I'd love to get something on 'Heroes', but certainly 'House'. I think it's a great show. It's well written, well acted. I like the characters, like the depth of the characters and the flaws that they have.