Date of publishing: 20th August 2005



Born Kyla Mary Wise in London, Ontario, Canada. She has two brothers Shon and Joshua and a sister Jenna. Kyla made her professional debut in theatre and continues to do theatre when she can. After being scouted at a beauty pageant in Calgary, she travelled to Japan and Taiwan to model. She then completed her BFA in Drama with Distinction and was awarded the University of Calgary Department of Drama Gold Medal. Her TV debut was in the series "Honey, I Shrunk the Kids(1997)" playing Sapphire. She lives in Vancouver, Canada. Kyla recently took part in a Stargate Atlantis episode (2x05 "Condemned").


Gilles Nuytens: Hello Kyla, Stargate fans won't know you very well yet, could you talk about yourself, what motivates you in your life, your career or everything else you are motivated in at this moment ?
Kyla Anderson: I am motivated by truth. Identifying the truth, telling it, experiencing it, honoring it. My family motivates me as do my friends. I find great movies, books, and art very motivating too.

Gilles Nuytens: You are credited in the episode "Condemned" from Stargate
Atlantis, an episode which will be aired very soon, could you tell us about the role you played, about your character, about the episode ?
Kyla Anderson: The character I play is Marin. She is second in command on the planet Olesia. The planet has a very interesting energy source that is just being discovered. Marin is driven by the truth and even more so by justice.

Gilles Nuytens: Is there any chance that we will see this character in future episodes?
Kyla Anderson: There is a good chance that you will see Marin in future episodes. It is my hope that the energy source on Olesia will be explored further by the Atlantis Crew.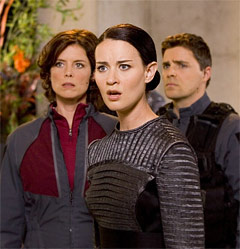 Gilles Nuytens: How did you prepared for this role ?
Kyla Anderson: My dad is a huge sci fi fan and particularly a fan of Stargate and Stargate:Atlantis. I spoke with him and I learned my lines. Peter Deluise was very good at directing my physicality. I tend to be more contemporary and messy in my physicality, so he helped to make sure my posture and speech were appropriate to the style of the show.

Gilles Nuytens: You also did some modelling, which are the points you preferred in both jobs (actress/model) and which are those you don't like (if there are)?
Kyla Anderson: I enjoyed the travelling when I was a model. Auditions are sometimes tough. I like bringing an emotional element to the work whether it is acting or modelling. I like to bring something new to each audition and each job and I want to learn all the time and this is a great job for that.

Gilles Nuytens: What is the best memory you have in mind about your participation
in Stargate ?
Kyla Anderson: When I called my Dad and told him I got the role of Marin. Like I said, he is a huge Stargate: Atlantis fan and he has always been a huge supporter of my television work, so when I told him I got the part I felt like I had finally 'made it'!

Gilles Nuytens: A question I like very much: Do you have a funny anecdote you'd
like to share with us on the shooting of Stargate ?
Kyla Anderson: Gosh...lots of laughing on set...Peter making fun of me...in a very light hearted way...that's all I'll say for now...

Gilles Nuytens: According to you, which are the essential qualities to begin a
career as an actor ? Could you describe them and give us the reasons ?
Kyla Anderson: To begin a career as an actor...hmmm...meditate. Meditate and set a goal. A realistic and yet challenging goal. Read lots of different biographies of actors and other people in the public eye. What I would highly recommend is...DO NOT put a time limit on when you need to have success or fame or money or whatever as an actor. Learn as much as you can from other actors and keep setting goals for yourself.

Gilles Nuytens: If someone proposed a very interesting role to you in the level of acting but without being remunerated or at least very few, would you accept? Why ?
Kyla Anderson: I have worked on a variety of independent low budget or no budget projects. As long as I want to tell the story and I have the support of the actor's union to do a low or no budget project then I will go ahead. Often I will do an indie project because I like the writer, the director, the concept, the character, etc.

Gilles Nuytens: According to you, which are the reasons of the success of the cinema at the present time ? And especially Science-fiction ?
Kyla Anderson: It is really hard for me to answer this question. I am not sure what motivates audiences. I think the sci fi genre has something interesting to offer in that it is highly thought provoking. As I grow into my own being I find it more and more interesting to seek to understand other perspectives and world views and I think that cinema does that. Great cinema does that for sure!!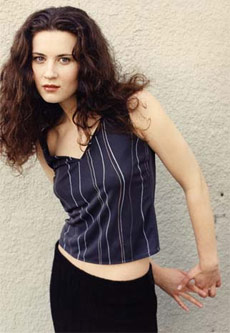 Gilles Nuytens: A delicate question: Do you think that the sharing system on
Internet, the P2P could really harm the industry or on the contrary, to have positive effects ? This system allows to many people living in countries that have poor televisual culture to access a foreign culture and to discover and open to the world. What is your point of view on this subject as an actress and in that case being a part of that industry that claims to be "stolen" by these "pirates" ?
Kyla Anderson: More and more work is being done to monitor and research and renumerate actors for work that is being broadcast on the internet. Centuries ago books were only for the elite and so knowledge was in the hands of a rare few...I support the idea that knowledge and information and access to information is readily available. It is my hope that while we continue to share information that the artist's compensation will reflect this file sharing system and that some sort of precise monitoring will eventually be in place.


Gilles Nuytens: If I gave you the word "CINEMA" what's the first think you have
in mind without thinking ? Same question with "ACTRESS", "CASTING" and "TV SHOW". Could you explain these choices ?
Kyla Anderson:
CINEMA- Love
ACTRESS- job
CASTING- hard
TV SHOW- fun

Gilles Nuytens: For your Stargate episode, you worked with Peter DeLuise, how is
it to work with him and what experience did you gain ?
Kyla Anderson: Peter is an excellent director. When we met in the casting room we were able to communicate very well with each other and it was clear to me that he was interested in telling the story in the clearest and most interesting way possible. He has a great energy and a lovely light heartedness that is very contagious!

Gilles Nuytens: If the remuneration were similar for the shot of an episode of a TV show than for a theatrical representation, thing that isn't realistic but for the principle, do you think that more actors would turn to theatre than television ?
Kyla Anderson: I am not sure. I can only speak for myself. I know that in order to have a well balanced career that has longevity I will work in theatre, tv, and film.

Gilles Nuytens: According to you, should an actor always have to look at the fruit of his work on screen?
Kyla Anderson: I don't think any one should have to do anything. I find it uncomfortable to watch myself publicly. For example, I have a film screening this weekend of an independant film I did and I haven't seen it yet. I will be going to the screening and seeing my work for the first time along with friends, family, and industry folks. I am so nervous!! I tend to watch my work on my own, however, I do appreciate getting feedback from people who watch my work. Especially my mom because she loves everything!!

Gilles Nuytens: A big thank you for answering all these questions and hope to see you soon maybe on screen!
Kyla Anderson: Thanks so much for your interest in me and my work and for this interview.
Kyla