Date of publishing: 20th May 2010



After a childhood around the world, young Lance studied at the Actor's Studio and began his career in Broadway in the 70's. At this moment, he got the opportunity to play in some films of Sidney Lumet (Dog Day Afternoon and Network). Truly a cult face in the science-fiction genre (Aliens, Alien³, Absolom 2022, The Terminator), he appears in various genres like western (The Quick and the Dead, Appaloosa), thriller (Color of Night) or even a cartoon (Tarzan). But, what's most important, he gained success (and 3 Golden Globes) at the end of the 90's through his famous role in Chris Carter's cult serie: Millennium.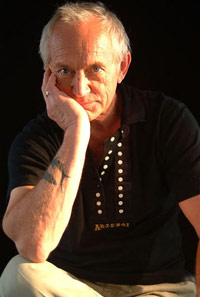 Gilles Nuytens: Let's talk about The Penitent Man: how did you get involved into it and what attracted you to that movie?
Lance Henriksen: I got the script, and it was like a forty-five page monologue and I thought "Oh my God, how can anybody pull this off?" It challenged me and I like challenges.
Gilles Nuytens: What can you say about the character you play Mr Darnell: what kind of person is he and what's your opinion of him?
Lance Henriksen: Let me see… When you're doing science fiction what's really going on is that you're dealing with things that are actually happening today or at least you're dealing with the fear of what's happening today. So to play somebody that's going back in time, it's not very difficult with all the phobias we have about politics and the way it might go, so the character that I play is bringing back the news.
Gilles Nuytens: Ok, now that the film is about to be released, what could you say about your whole experience on that movie?
Lance Henriksen: I was working with a young director. He was twenty-four years old and he had written the screenplay. We all rehearsed for a week and then we went to the set and shot for seven days. It was a very unusual experience since normally a film takes a couple of months to shoot. I think it's worth watching because it's an interesting journey.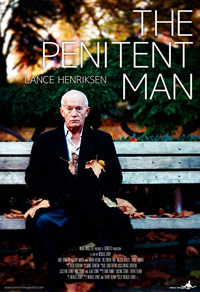 Gilles Nuytens: So the whole movie was shot in seven days or only your part?
Lance Henriksen: The whole movie.
Gilles Nuytens: Ok, that's quite impressive for only seven days! Normally it's the time that a TV show takes! One week for one episode.
Lance Henriksen: When I did Millennium, it took eight days for only one episode, so this was very intense.
Gilles Nuytens: I see that the release of the film is very limited, only a few screenings in some US cities. Why is it so limited?
Lance Henriksen: One strategy they use is to do a limited release to find out how the public perceives it.
Gilles Nuytens: There must be some nice moments during the shooting; is there any that you would like to share with us?
Lance Henriksen: It was a conspiracy with the director.
Gilles Nuytens: Can you say something to motivate people to see the movie?
Lance Henriksen: It's better than staying at home watching television.
Gilles Nuytens: I've read that when you were a kid, you were quite shy, that you voice was hardly heard, how did you fix that to become the man you are today?
Lance Henriksen: Oh my God, that sounds like a compliment! When I did theatre in Minnesota at the Guthrie, it was a very large house. When I first rehearsed there, they said they could not hear my voice, so during rehearsals they forced me to go to a voice coach, which really worked.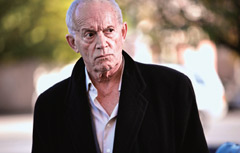 Gilles Nuytens: In your whole career, you played in a lot of sci-fi movies, was that just opportunities or did you look for this project more specifically? Is that a genre that you like more that others?
Lance Henriksen: No, it didn't happen that way… I'm not one of those guys who plans his career; I just sort of take what is offered.
Gilles Nuytens: I think you also like westerns.
Lance Henriksen: I like them. I ride very well and I shoot guns well. The "Lone Man" is part of the American mystic.
Gilles Nuytens: You've got such a big career and from what I've seen you still have a lot of projects, what keeps you going on? Have you ever considered slowing down a little bit and have a break?
Lance Henriksen: No.
Gilles Nuytens: What is the kind of role you would never accept to play?
Lance Henriksen: I have a very big problem with anybody that hurts children. I don't do roles where a child is in jeopardy, it makes me crazy.
Gilles Nuytens: There have been rumors about a fifth Alien movie, maybe you could get a part in it, do you know anything about that?
Lance Henriksen: I've heard Ridley Scott is doing it, and the thing is that if the writers in the middle of the night need something familiar, then they'll end up saying maybe we'll get Bishop back! I have no idea.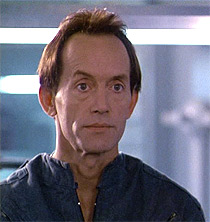 Gilles Nuytens: So you'll like to be part of it?
Lance Henriksen: Oh I've done four of those movies.
Gilles Nuytens: What is your best memory from the Alien saga?
Lance Henriksen: When James Cameron and Stan Winston and all those guys showed up, you're going to war to make those films. It's a great experience.
Gilles Nuytens: There have been rumors about a possible Millennium movie. I remember the show had its conclusion in an episode of The X-Files. How are they going to bring back Frank Black, Any idea?
Lance Henriksen: There's a big push to do it.
Gilles Nuytens: With such an experience have you ever considered to direct a movie or to write one?
Lance Henriksen: I've written movies and I have one in production right now called Independence. Directing, no. Nothing you do in this business happens overnight. Sometimes it takes a couple of years, so I'm very patient. I don't get lazy and I do the work now, knowing that down the road, something will happen with it.
Gilles Nuytens: What is the most intense, the most sensational experience you ever had on a set?
Lance Henriksen: Oh, that's a really hard question! The first thing that comes to mind is that when I add up all the films, it's an accumulation of moments.
Gilles Nuytens: Do you ever identify so much to the character so that you missed playing the character after the shoot?
Lance Henriksen: That's a problem for me. Sometimes it takes a month or so to unplug.
Gilles Nuytens: How do you feel about being an icon for some people?
Lance Henriksen: That comes from the outside. I don't really think about that much. I just blend in.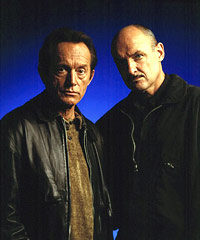 Gilles Nuytens: What are your upcoming movies you're the most excited about?
Lance Henriksen: I have Wilderness, Good Day for It, which I did with Robert Patrick, Robert Englund, Kathy Baker, Christian Kane and Hal Holbrook, Beautiful Wave, which is a surf movie, and Ambush, which I'm most excited about.
Gilles Nuytens: What do you prefer, playing bad guys or good guys? You play a lot of bad guys, do you have any preference?
Lance Henriksen: That's a kind of morality question. I think that no bad guy thinks of himself as a bad guy, and what they do is not bad all the time. As far as I'm concerned, I've never killed anybody nor do I want to. In terms of drama, you get forced into this kind of situation, but I don't mind bad guys. I'm usually playing good guys that everybody thinks are bad but actually turn to be good guys.
Gilles Nuytens: I think your most famous good guy was of course Franck Black from Millennium.
Lance Henriksen: In both "Penitent Man" and "Powder" I played a good guy and I enjoyed those roles.
Gilles Nuytens: As we are mostly speaking of Sci-fi, how do you see the future of mankind?
Lance Henriksen: I think there's a thing called singularity; the computers are going to become self-aware. It's going to change the world. I think the worry is that the people who make the seeds for our food are genetically modifying them, and we're going to get screwed up. We may end up living 250 years but what will our quality of the life be?

Note: For those interested about "The Penitent Man", here are some info:
The film will have limited release in the following cities:
1. LOS ANGELES
Date: 5/28
Location:
TBD
2. SEATTLE
Date: 6/11
Location:
Pacific Palace AMC,
6th Ave & Pine St
Seattle, WA 98101
3. AUSTIN
Date: 6/25
Location:
TBD
4. MINNEAPOLIS
Date: 7/2
Location:
TBD
5. BOSTON
Date: 7/16
Location:
TBD