Date of publishing: 21st February 2008



Leela Savasta was born and raised in Vancouver, Canada. She is also a dual citizen with the United States. After studying at The University of British Columbia, Leela took time off to explore India, and New York City. Here, she discovered her passion for acting, and she has been working non-stop ever since. After Leela's acting debut on the hit series 'Smallville', she booked her first leading role on the Showtime mini-series 'Masters of Horror' as the beautiful and mysterious Elise Wolfram. Soon after, she was offered another leading role in the film 'A Girl Like Me', directed by Oscar Nominee, Agnieszka Holland ('Europa,Europa') and starring Academy Award winning actress Mercedes Reuhl ('The Fisher King', 'Gia'). Leela appears in the political pilot 'Orpheus', starring Mena Suvari, and as a part of an ensemble cast, in the 2006 feature film remake of 'Black Christmas' directed by Glen Morgan ('Final Destination'). Savasta has earned co-starring credits for her work on Warner Brother's 'Supernatural' and ABC's 'Traveler', and she can be spotted as a recurring character on Chris Haddock's crime drama series 'Intelligence', on NBC's Battlestar Galactica and on the fifth season of Stargate Atlantis. (Biography from www.leelasavasta.ca)
Gilles Nuytens: You said you discovered the passion for acting, can you develop a bit and explain what attract you in acting, why is that such a passion?
Leela Savasta: I have an appreciation for living in the moment, and I found this quality in the craft of acting. I love the play of acting, I love being on set, and I love finding pure moments of true connection with my scene partners.
Gilles Nuytens: I remember you very well in last year's Stargate Atlantis episode as "Dr. Esposito" (and hoped to see you back). Honnestly I find this quite confusing/disturbing to see you 1 year later as someone else (means also that Dr. Esposito won't be back). I know it happens often (and quite a lot to be true) in the business. Occasional viewers could be confused as well. How are you and the studios going to manage this? And what is your opinion?
Leela Savasta: Each character will have a life unto itself.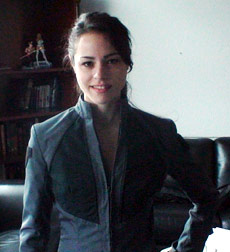 Gilles Nuytens: "Alison Porter" became "Alicia Vega", is this change because the name "Vega" fits more to you than "Porter"? Is there a backstory about this you are authorized to speak about?
Leela Savasta: Alicia Vega is a more dynamic name for a more dynamic character.
Gilles Nuytens: You have also a recurring role in the upcoming season of Galactica, playing "Tracey Anne". What can you tell us about this character?
Leela Savasta: You'll have to tune in this season to find out.
Gilles Nuytens: A lot of sci-fi is shot in Vancouver, and you've got roles in many of them (Smallville, Supernatural, Bionic Woman, ...). Sci-fi is a large concept, there are many different things, so what kind of scifi do you like (if you like it of course!!) and what do you prefer, to play on scifi productions or to watch it?
Leela Savasta: I like Sci-fi that uses metaphors which connect fantasy to real life. I like sci-fi in all forms, watching it and of course acting it!
Gilles Nuytens: I see at the end of your demo reel: "original music by Leela Savasta". So you sing as well or is that just for the purpose of the demo reel?
Leela Savasta: Yes, I sing and play guitar.... for fun.
Gilles Nuytens: Comedy roles or dramatic roles, what's the easiest to play for you? Any preferences?
Leela Savasta: I like both comedy and drama as they each have their unique challenges......