Date of publishing: 28th March 2009


Lina Esco was born in Miami, Florida in 1985 and lived there for 14 years. From there she moved to France where she did some modeling, and then moved to London where she worked in theater. She then moved to New York to pursue acting and her career brought her to Los Angeles where she currently resides. Besides her acting for Heroes in the Destiny webisodes, Lina has portrayed "Katie Vega," a principal character in the television series Cane (2007); "Angie Watson," a guest star character on an episode of CSI: NY (2006); and "Kelly," a part in the film London (2005). She also appears as "Lena Capriolini" in the film Kingshighway (2008).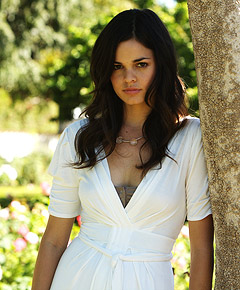 Gilles Nuytens: First of all, what decided you to become an actress?
Lina Esco: I have always been a huge fan of the art of cinema... and expressing myself through it excites me MORE than anything in this world!
Gilles Nuytens: What do you enjoy the most when you work, what is the thing you wouldn't exchange for nothing else, that little thing that makes this job THE one job for you?
Lina Esco: The thing I most enjoy when I work is turning the script into a reality and working with amazing people. The one thing that makes this job more exciting than anything is that I know one day I will have enough of a name to do the films that ROCK my world. I LOVE WAKING people up... getting them off their paradigm... ROBOPATHOLOGY has taken over this world. Humans act like robots! Thats why being an Artist is living your life the way we all should live it. I can't wait to speak my mind through the roles that excite me.
Gilles Nuytens: How have you first heard about the Heroes webisodes?
Lina Esco: My agent called me.
Gilles Nuytens: How was the audition process for it? Was it as hard as it could be for a "standard" episode?
Lina Esco: It was the same process as a main show.
Gilles Nuytens: Do you know of any project to make you appear in the main show? Any chance to see you again on Heroes?
Lina Esco: I don't know because I don't think New Media has picked up yet as they thought it would... the idea of webisodes; online 5 min episode shows is going to take a few years... when our attention span grows smaller and smaller :)
Gilles Nuytens: How aware were you of Heroes before that?
Lina Esco: I was aware of it but never watched it...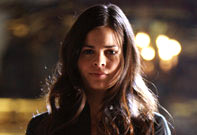 Gilles Nuytens: The webisodes are officially for US viewers only (NBC website refuses access to non-us viewers), so that means that non-US people cannot access them on the official and legal way, this is like forcing people to download them on illegal sites if they want to see it. What's your opinion about that?
Lina Esco: I agree! They should provide the world with same things they provide us... I believe we are all one at the end of the day and these imaginary borders have to come down one day. The Internet is ONE world so having walls for particular things makes no sense at all!
Gilles Nuytens: What was the most difficult part you had to play for this series of webisodes?
Lina Esco: The most difficult was the night shoots... they kill me... I love to work during the day... nights shoots make me weak... and I feel like shit the next day... like a zombie... it's like you're off the current... off your flow.
Gilles Nuytens: And what was the most enjoyable?
Lina Esco: The most enjoyable were the stunts! The action scenes... I think working with Eagle the director was exciting in itself.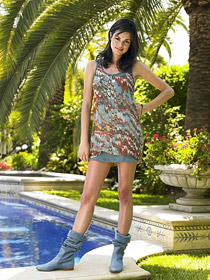 Gilles Nuytens: What would be the differences to play for this webseries, compared with playing for Cane?
Lina Esco: Big difference, CANE is real life drama, Heroes is SCI-FI.
Gilles Nuytens: What else would you like to add about Heroes that we haven't yet talked about?
Lina Esco: I think we all know a lot about it already :)
Gilles Nuytens: You were one of the main characters in Cane, what will you keep in mind from that show?
Lina Esco: I will never forget the quality of actors I worked with... humble, talented and amazing people.. Jimmy, Hector and Rita were great example in every category!
Gilles Nuytens: What's next for you, do you have any other projects coming?
Lina Esco: I'm working on a true story project... very excited about it!!! stay tuned :)