Date of publishing: 30th May 2007



Loyd Bateman works in the movie/TV industry mostly as a stunt double and has worked in a lot of big productions such X-Men: The Last Stand, Eragon, I Robot, Underworld: Evolution, Elektra, ... His TV credits includes also Stargate SG-1 & Atlantis, A Dog's Breakfast, Blood Ties, ... His most recent works are a movie called "War" starring Jet Li, and "In the Name of the King: A Dungeon Siege Tale" with Leelee Sobieski, Burt Reynolds & Kristanna Loken. More information about Loyd Bateman can be found on his website: www.loydbateman.com
Loyd's Myspace: www.myspace.com/stuntsarefun
Loyd's message board: dazzlingstarz.com/loydforum





Download the audio interview by clicking here (Zipped MP3 file)
Disclaimer: Please, do not direct link to this file, link to the page ONLY.

Linda Craddock: Tell us a little about your role in "Chemical Evil"? Has a location been determined for the film?
Loyd Bateman: We've actually shot a trailer for it and I was part of the editing process and part of doing some of the visual effects on it as well as performing in it. My performance role wasn't very big. But I did a lot of the editing and post production on it.
Linda Craddock: In the movie "War", starring Jet Li, John Lone and Jason Statham, just to name a few, are you a stunt double for Jason? Tell us a little about the film.
Loyd Bateman: Yes, I was a stunt double for Jason Stratham in that movie and it was an interesting stint because he is a very talent performer himself, I mean there's a lot of stuff that he is physically capable, does a lot of his own fight stuff so he was really a "stunty" thing, he did a lot of things on his own so I just kind of jumped in there whenever he needed to hit the ground really hard or something. So that was a great experience for me. It was a great experience working with the Asian team that, the Chinese team that came over to do the second unit directing. The design for all the action on that was, that was a pretty amazing experience and a good learning process, too.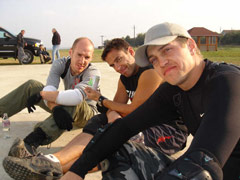 Linda Craddock: Great. The movie was filmed in your home town Vancouver. How convenient was that for you?
Loyd Bateman: Very convenient, it works out great (laughs)
Linda Craddock: A lot of people don't view credits to identify background or Stunt Performers. What do you enjoy most about the role of Stunt Performer and the risks you take?
Loyd Bateman: Well, it's interesting, yeah, I guess stunt performers kind of get lumped into one region of the credits down at the bottom of the list, which is fine. It's kind of cool being the anonymous unsung, I dare say heroes, but the people who try to pull everything together behind the scenes and make the stars look as powerful as possible and as strong as possible and help them achieve that along with the directors and everyone to make the character that has been written as talented as possible. So it's kind of an interesting experience and at the same time you don't want to take away too much from what the actors doing with their character, you kind of want to blend and be as close to what the actor designed for their character as possible because you never want to take away from their performance. So it's an interesting position to be in and it's great too because I mean there's anonymity factor. You still get to work on all the movies that you love and enjoy but you don't walk down the street and have people ogling you funny and every now and again you get kind of someone look at you like "I've seen your face before". (laughs) but for the most part it's not really, you don't really get viewed as a recognizable face in a crowd, it's kind of cool.
Linda Craddock: You and fellow stunt performer James Bamford with whom you have worked with in an episode of "Stargate Atlantis", performed stunts in the movie blockbuster "X-Men: Last Stand". How was this project presented to you and what was your role?
Loyd Bateman: Well actually the way it came around for us was both of us were working in Hungary at the time on "Eragon" and one of the stunt guys we were working on that show with is engaged to the assistant of the second director of "X-Men" three so we kind of got back into town late last minute when they were already shooting a lot of stuff and so we all kind of through our friend that we had met in Hungary, she had introduced us to the second director and the coordinator so they hired us because of that.
Linda Craddock: Talk a little about the movie "Eragon".
Loyd Bateman: "Eragon" is a great film to work on. We went mostly for the last sequence so we spent 2 ½ months out in a big crater in the middle of the Hungarian country side, working six days a week, all night shoots and we kind of made our own little posse and were around this little town so on Saturday's, on weekends, we'd go and find this little pub and we'd all go and hang out there afterwards and it really became the "Eragon" hangout. So it was a great experience to work with the Hungarians and see the country there was amazing and then working on the film was great, unfortunately, a lot of the stuff that we shot didn't remain in the finished product. Maybe half of it is in there, but that's always the unfortunate thing, too, about putting in a lot of work into a show. A lot of it winds up on the cutting room floor.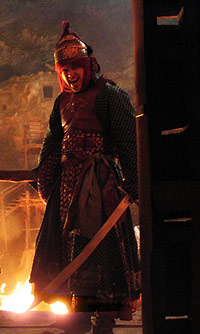 Linda Craddock: Set the stage for us and give us an example of the directors preparation including props and equipment used for stunts performed for "In the Name of the King: A Dungeon Siege Tale", with Jason Statham.
Loyd Bateman: That was an interesting film. I wasn't a double on that one. I was what they called "crubbs". So we were wearing prosthetic suits for that show and that was a very difficult experience. The setup for that was basically with any stunt in general. The director will say what he wants. They'll talk to the stunt coordinator. The stunt coordinator will prepare what they could do with a scene and then start to plan it out and then get together to do some rehearsals and figure it out so we can sort of organize what's gong to happen. And usually you film it, stick on a DVD, show it to the director so they can get approval on it and then take it to more rehearsals and then shoot it. So that's usually the way that it works. Again, "Dungeon Siege" was an interesting experience because we worked mostly on the second unit and that was the second unit director Tony Ching, he did the movie "Hero" and "Hose of Flying Daggers", two very popular Asian films, so again, it was a very interesting experience because the way they work in China, fast, fast pace. And all of us who were in these prosthetic suits, didn't really have time to get used to them or prepare because the sort of work all of their own stuff out and then they just through people wherever they're needed. So we wound up having to do very fast fights and things in these two or three inches of foam rubber 7:30 in raw field into the suits and nobody was really prepared for that so there were some difficulties with hydration and all that on the first day, particularly. It was one of the most challenging days I've ever had actually.
Linda Craddock: Wow
Loyd Bateman: Yeah, very difficult - having people ripping their masks off. One person had to be cut out of the suit. It was a very difficult show to begin with and eventually we all got used to it. You build up a tolerance for it but yeah, the pace was amazing. It was so fast and the weather was so hot and we were not used to these very thick prosthetic suits that don't allow for much flexibility and there's no room to breathe and basically it's like wearing a triple thick wet suit in the hot sun. It was very difficult, but it was a fun show. We had a lot of fun on that. We got to do things you would normally not get to do in those types of gear and it was pretty cool. It was a good show.
Linda Craddock: Stunt performers are obviously in tip top physical conditioning. What do you do to stay in shape?
Loyd Bateman: Personally, I go to gymnastics a couple of nights a week so I definitely train in acrobatics and things in an environment that's suitable to it trampolines, sprung floors and things. A lot of times I'll go out to my sister's place and ride horses. I've been down to L.A. to do a couple of driving courses and motorcycle driving courses and I work out 3 or 4 times a week outside the gymnastics. I do martial arts. You sort of try to cycle things, mix it up. My main martial arts is Capoeira which is a Brazilian art form. That is what I started with. I started doing that 12 years ago and that was what actually lead me into doing film work which was great.
Linda Craddock: You were stunt coordinator for David Hewlett's directorial debut in the short film "A Dog's Breakfast". What were some of the points of interest as coordinator working with a familiar cast from "Stargate Atlantis" and "Stargate SG1"?
Loyd Bateman: It was interesting because what happened was James Bamford was the coordinator for the show and there was a few days where he wasn't available so he asked me if I'd cover for him so on the cover days when I was there, it was great because I was already friends with them with a lot of the cast members from working on "Stargate" on both shows "SG1" and "Atlantis", so I really felt comfortable. I didn't feel like, I didn't have to get to know a whole new cast of people. I didn't have to try and ingratiate myself with people who weren't sure about me because they already knew me so it was good all around. We all got along before that ever happened so it was great. We were sort of comfortable and familiar to step in and do what I do and help them out with their show. A great experience, yeah.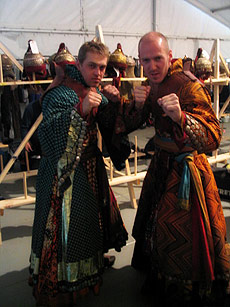 Linda Craddock: "Underworld: Evolution" – Were you a Lycan in this film?
Loyd Bateman: No, actually I was one of the vampire in the opening sequence. If you were watching the opening sequence, there's a bunch of soldiers on horses and three of us on foot. It looks like there's 20, a hundred even, but there's only three of us, there was myself, Jeff Robinson and Paul Wu were the foot soldiers and we did all the ground fighting in that sequence and there were 5 or 6 guys on horses who were doing the horse falls. One of the biggest stunt I did in there was, I did what we called an "air ram", backwards through the barn wall into the interior of the barn, then get up and fight a couple more werewolves inside the barn.
Linda Craddock: In the film "Blade: Trinity", you were a stunt performer also. Tell us one of the most challenging aspects of that movie for you.
Loyd Bateman: That film – there was a bit of a political fiasco so there was a coordinator that left and then he was replaced so there were some interesting things that I had never experienced at the time being fairly new when that movie was filmed so that was an odd experience but also a great learning experience. I learned a lot about doing fight scenes in big features. Before that point I'd done a lot of bits and pieces on TV shows but actually being part of a feature film experience is different because usually TV shows everything is really rushed. In feature films you get a lot more time to rehearse and a lot more time to plan things out and I got to do some bigger stunts rather than just doing fighting which was cool. I got ratcheted backwards through a window in the Phoenix tower sequence at the end of the film and also ratcheted into the ceiling walkway in that same sequence so it looks like it's different people but I did both of those stunts there and it was really great and in a few other places like in the police station where some of the guards were running through shooting at him. They did a sort of Montash where they were beating up all the familiars in the sequence, I was one of those, in one of those sequences as well. They pepper you a lot throughout the film. That's one thing that happens a lot to stunt performers. You never really notice as an audience member but the same person could be used for 3 or 4 different things throughout the film and change wardrobe and dye your hair and whatever and they'll put you somewhere else and do another piece. So that happens quite frequently.
Linda Craddock: Yeah, that brings me to another question, I was going to ask you that very thing about the stunt performer for a project are you required to report to location at the beginning of the shoot, do you remain for the entire production shoot, or are you just there to perform the task hired for, it was that information I was looking for.
Loyd Bateman: Sometimes it's both, actually. Sometimes you could just be called in for a day, sometimes you're there just for a day or two depending on the stunt you are required to do is. So maybe you'll do a rehearsal and just that day on the entire show and that's it. Sometimes you could be on for the run of the show. So sometimes if there's a, they have a small group of people that they need or if you're a lead double or whatever or you can get onto the show for the whole run of it or you'll just get called in for a day or two, so it depends.
Linda Craddock: The movie "I, Robot" was certainly very high tech with CGI. Give us a little background on coordinating stunts for the special effects sequence?
Loyd Bateman: The way that they did it, on that show specifically – a lot of shows are different but at that time and the way that they would shoot it, they used a system called "motion control" where a camera would be able to do exactly the same pass over and over again. So what they would do is they would shoot a scene on a green screen or on a set location and they would have stunt performers wearing green costumes as a reference for the artist, for the computer graphics artist. So they would make the camera do, the thing pan once with the performers in green, and the actors and then they would do another pass exactly the same move with just the actors so that the CG artist could compare the two and it makes what they call a clean slate for them to be able to paint parts out and put in the animation and CG effects. Then they would do a third pass which is the total clean plate with nobody in it and then they do a forth pass with a light reference, which is like a grey ball, a shinny ball so they get the shadows and the reflections of where the lighting is in the room. That way they can layer it all together and use the reference pass and everything and put in the 3D character and match it up to the environment so that it looks naturally in that environment. So basically you have to make the movie 4x's over when you do it that way.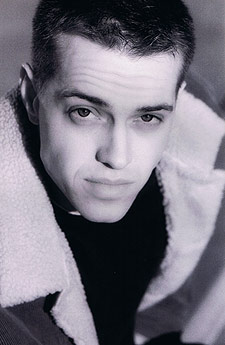 Linda Craddock: I would imagine when you are cast as a stunt double, that the requirements would be that the stunt performer at least share the same body type, complexion, perhaps close in height and weight proximity? With today's technology with video movement in action films particular, have there been a lot of deviation from those criteria?
Loyd Bateman: Not as a stunt double. Usually that's exactly what it is. The performers will go in for a "look see" and they'll call in a couple of different people who have similar shape and size to the actor that needs to be doubled and they usually stand you right next to the person, man or women and compare you to see if you look close enough and if you don't look close at all and they just basically do it that way. As much as computer technology and everything has changed, the fact of the matter is it still takes a lot of time and costs a lot of money to do. Anything you can avoid doing in close production is better. If you can match up the hair line and all that stuff and make sure your body type is as close to that performer's body as close as possible then that's usually the way they'll go. Sometimes it's a matter of preference on the coordinator's part, too. I mean if there's two people that are very similar, they'll go with the person they either trust more or know has the best skill set. They're a few other factors too. Sometimes somebody's not quite as good as a double but they're an amazing driver. In a car, it really doesn't matter if a person is 6" taller. So if you're sitting down, it's no big deal. So for example you could be a great match for the person but if it's a driving show, they'll use the guy whose a better driver, of course, or vice versa, if it's a fight show, and you have a guy whose a gymnast or somebody whose really good at hitting the ground but never done martial arts, they're not going to get picked for the role, either. So that's sort of a two fold thing, there are specialists and there are general performers who are pretty good at a lot of things so we try even though specialist is the easiest way to get into the business, you usually, once you get started working, you want to try and broaden your skill base as much as possible so that you can do as many things as possible. With the job, half the time you'll go in, you won't be able to do the job if you're not able to do the skill set that's required.
Linda Craddock: Let's talk about the 5 episodes in the TV series "Blood Ties" and your role as stunt double for Kyle Schmid's character "Henry". How did you get involved with this particular project?
Loyd Bateman: Actually it sort of came out of the blue. The coordinator for the show, Steve Mc Michael called me up and I guess he had a couple of people in mind, but I was at the top of his list for choices, at the time so I went down and met Kyle and we started rehearsing and training together a bit and it kind of went from there.
Linda Craddock: Yeah, I remember the second episode where I actually caught a glimpse of you in the fight scene at the skate park.
Loyd Bateman: Oh, right, yeah
Linda Craddock: Do you have a hero and mentor?
Loyd Bateman: I do actually. My mentor and my hero for me, my Capoeira Master, my instructor Mestre Bãrrao and he's basically – when I started training, he taught me everyting that I knew from the martial arts but was also a good guide for me in life in general. Taught me to pursue what I was interested in and if it weren't for his blessings and teachings I never would have been able to get involved in film and follow the dreams that I had had.
Linda Craddock: You have obviously met a lot of people in your career. Tell us one of the most valuable lessons you have learned as a stunt performer?
Loyd Bateman: well, actually the most important lesson came from just learning to be good to all the people you work with and just be straight forward and honest with everyone and make sure you are, what's the word I'm looking for, integrity. Have integrity in everything you do and that usually works for everybody no matter their personality or temperament, it just makes work go so much better. So that's pretty much the most important thing I learned through so many different people.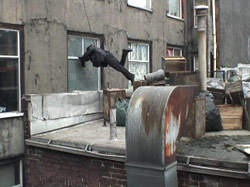 Linda Craddock: Have you set any goals to be more visible on camera as an actor?
Loyd Bateman: Not really. Actually the direction I'd like to head in eventually is directing. Me and other friends get together and we shoot projects and shorts and things that we're interested in because we want to learn more about that side of the industry as well, the production side as well as the performing side so for me, I think that's kind of more the direction I'd like to go with it. Learn about that. That's where I am trying to set my focus. I don't mind being on film every now and again I'll get role that's sort of a stunt actor thing where you get a line or two or you're a character with your face and then you do a stunt so I like that type of stuff. That's always been great because you really get to show your face on film and when you look at it later, it's you. You don't have to see someone else, and then you do your stunts and then back to the other person so it's kind of cool to be your own character but I think I'm more interested, actually in directing films.
Linda Craddock: Well, you mentioned the challenges in "The Name of the King" and I was going to ask you to tell me what two projects were the most challenging and took more preparation than usual?
Loyd Bateman: (laughs) Well "Dungeon Siege" was definitely one of them and let's see, probably "Eragon" because of language barriers and a foreign environment and that sort of thing but I love what I do so I don't really think of it as a challenge. It's always hard, difficult and it's always a process, but it's an enjoyable process so I never really fill like I'm working, do you know what I mean?
Linda Craddock: Yeah
Loyd Bateman: I always feel like I'm doing what I like doing so its never a hardship, it's never like too much even when it's really, really difficult. I never really think about how this is too hard. It's all a great challenge, but it's all an enjoyable challenge. That's kind of the way I view it but "Dungeon Siege" was one of those that made you break a sweat.
Linda Craddock: Talk about your most serious injury as stunt performer and what project you were working at the time?
Loyd Bateman: Actually I haven't been injured too bad. I got a bit of a concussion on "Blade III" and I had banged my head and split my brow open on "Blood Ties" and had to go get stitches but I haven't really broken anything. My most serious was in training. I torn my ACL actually doing a fighting competition, I think it was in 2000 and had to have that rebuilt and I also dislocated my left elbow, bent it back all the way the wrong way, some training as well, so I had a few tears, difficulties bending the wrong way but it's all usually training because you get into that mode and every now and again, you have a bit of a doubt in your brain and that usually leads to a crash and hurt yourself that way, but performance wise I haven't (knock on wood) bashed myself up too bad.
Linda Craddock: Thank God
Loyd Bateman: Yeah, thank God
Linda Craddock: I noticed on your website you have what is called a "stunt list" for union members, tell us a little about the membership.
Loyd Bateman: The way that it works at the moment, it's actually just a phone list at the moment. Performers who are in the union, to get into the union you have to be one credit as an apprentice on a union show and then you have to get six credits to become a full union member and then to get onto the stunt list you have to you actually have to have six stunt credits so performing actual stunts. So if you've been called and hired for an actual stunt, and you sign your contract for that, then that's considered a stunt contract at some credit to get you onto that list which is basically a phone list that coordinators use in order to look for people if they need different people and it's got sort of height, weight, shape, all types of stuff so that the coordinators can show it to producers and directors and try and hire people from there.