Date of publishing: 07th March 2013



Mark Hildreth has excelled in not one, but two facets of the entertainment industry. He has been blessed to have enjoyed a
thriving career in both music and film, his two passions. As an actor Mark had amassed an enviable resume of film and TV credits by the time he graduated high school as well as having established himself as a premier talent in the voice over community. Mark's career as an actor began at a young age as a series lead in Young Blades. This was only the beginning of his impressive resume, which also lists guest star appearances on the CW's Supernatural, CBC's Being Erica, and SyFy's Eureka. Mark has had stand out recurring roles on Showtime's The Tudors and ABC's sci-fi drama V, among others. In 2007, Mark appeared in Pirates of the Caribbean: At World's End with Johnny Depp and Geoffrey Rush and this year he appeared opposite Greg Grunberg in SyFy's apocalyptic spoof "End of the World".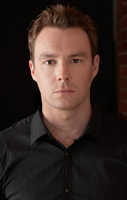 Gilles Nuytens: Hello, I am pleased to speak with you. So, you're a musician and voice over actor as well. Two crafts in the audio business. What's the story behind your passion for music?
Mark Hildreth: I had two grandparents who were born deaf, and for some inexplicable reason I could teach myself Beethoven when I was 10 years old. So my mum and dad bought me an electric piano and I never quit! Later I discovered Elton John, billy Joel and Stevie wonder and my world forever changed.
Gilles Nuytens: Tell us how you started in the voice over business.
Mark Hildreth: When I was a kid I was hired by a wonderful woman named Marsha Goodman to play Beany in Beany and Cecil and it all went downhill from there.
Gilles Nuytens: Your grandparents being deaf, how do you deal with your success being a musician and your grandparents being unable to enjoy your talent? Or they probably enjoy it a way we are not used to?
Mark Hildreth: I think when you are missing a sense, your other senses are heightened. And my grandparents had a wonderful inner life that I think would rival many of ours who CAN hear, they really enjoyed life deeply despite or maybe because of their special natures.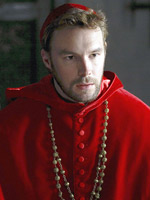 Gilles Nuytens: What do you enjoy the most about song writing and singing?
Mark Hildreth: Telling stories in my own words.
Gilles Nuytens: And what do you enjoy the most about acting and doing a voice over job?
Mark Hildreth: Connecting with a different and new part of myself every time.
Gilles Nuytens: End of the World! What did you do and where were you on December 21st?
Mark Hildreth: Hiding under a table.
Gilles Nuytens: I heard you had a lot of fun shooting that movie. Is there anything that was just more fun than anything else on the sets?
Mark Hildreth: Being an idiot with Greg Grunberg and neil Grayston. Two people I highly recommend being an idiot with.
Gilles Nuytens: What draws you to a role in general?
Mark Hildreth: The humanity and secrets of the character.
Gilles Nuytens: What was the most challenging role you had so far?
Mark Hildreth: Richard III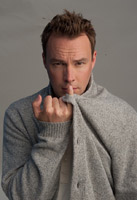 Gilles Nuytens: Do you like it when you're recognized on the street and people come up to you asking for autographs or photo?
Mark Hildreth: It's a double edged sword.
Gilles Nuytens: There are a lot of V fans checking my site, and I'd say I loved the show too! Now already 2 years after the show has been cancelled, what would you say about it, weak points and strong points?
Mark Hildreth: It was one of the most compelling roles I have ever had the fortune to okay. But unfortunately we didn't manage to take the show overall where it had the potential to go.
Gilles Nuytens: What did you enjoy the most being on that show?
Mark Hildreth: Each character had a secret and that is a lot of fun to play.
Gilles Nuytens: What are you the most proud of about that show?
Mark Hildreth: Really looking like I was talking to someone when I was really talking to a ping pong ball.
Gilles Nuytens: I'm not speaking on behalf of them but there's still a strong fan base (called "Project Alice") that fight for a future of that show, they have more than 31000 fans on Facebook! They support you and the rest of the team of the show, even 2 years after it's been cancelled. How do you feel about that? Anything you'd like to tell to them?
Mark Hildreth: No show goes anywhere without its fans. I hope I can make another project that will honor their support as much.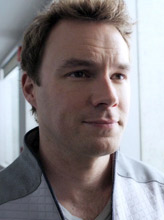 Gilles Nuytens: We love hearing funny stories about the show we love, anything funny to say about V?
Mark Hildreth: We shot all the alien mother ship sets on green screen. So if you saw the oriels footage, you'd laugh because its really just Morena Baccarin and I walking around in what looks like a giant green bath tub talking to tennis balls.
Gilles Nuytens: I see you love Shakespeare! What do you like so much about it?
Mark Hildreth: You can say it and say it and say it and never get to the bottom of what he's saying.
Gilles Nuytens: If you had the choice to play in an adaptation of Shakespeare for the cinema, what would you like to play, why and which character?
Mark Hildreth: Hamlet. I see more of myself in him than any other character I've ever read.
Gilles Nuytens: You said that your all time favorite movie is Back To the Future, what do you enjoy so much about this movie? And what about episodes 2 and 3?
Mark Hildreth: Michael J Fox has been a hero of mine since I was a kid. He grew up near me in Vancouver and the first agency I signed with I signed because he was there. 2 and 3 are great too, but nothing beats the original.
Gilles Nuytens: Anything exclusive you could share with us, career related or whatever you wish? Future projects?
Mark Hildreth: My new album Signs Of Life is now available through iTunes, Amazon and at www.mark-hildreth.com!