Date of publishing: 24th November 2006



Born in Toronto on April 9th, Matthew moved to Vancouver at age twenty where he spent his first four years establishing his career.
He is now a professional actor for thirteen years and he split his time between Toronto and Vancouver.
You will recognize him for his role of Lieutenant James Calley in Total Recall 2070, Cold Squad (the show that inspired "Cold Case" and for which he has been nominated for both a Gemini and Leo award), Stargate SG-1 and Battlestar Galactica where he plays the cylon "Aaron Doral".
Visit his website at: http://www.matthewbennett.ca


Gilles Nuytens: We don't know much about you, can you speak about yourself, who is the actor behind the cylon?
Matthew Bennett: Well, I've been a professional actor for thirteen years and I split my time between Toronto and Vancouver. I like to ski and watch movies, and I like to walk around and check things out. I like music, and I like to travel.
Gilles Nuytens: What were your motivations to become an actor?
Matthew Bennett: It seemed like a good fit. I was eighteen when I made the decision. I had considered other professions but I got a part in a play and I enjoyed every aspect of it. I felt focused. I thought it would be a great way to make a living.
Gilles Nuytens: What was your first motivation to audition for the role of Aaron Doral in Galactica? was it an audition amongst others or was it a role you were specifically interested in?
Matthew Bennett: I had heard that they were going to be shooting the Battlestar mini-series well before the auditions. We had all heard about it. It was a big show that was coming to town and I had watched the original show as a kid.
When it came to the audition I didn't actually know I was auditioning for Doral. The scene I was given to read when I showed up was the tour scene that starts the show. It was a lot of dialogue, but the director, Michael Rhymer, told me that he wanted me in the show and so we worked in the audition room to find it. It seemed to work. Michael likes actors and for me that's everything. He's a guy who has a lot of trust in what we do and so I wanted to work with him.
Gilles Nuytens: What do you enjoy the most about playing him, what is the most interesting facet of this character?
Matthew Bennett: It's definitely Doral's precision. His objectives are very clear, very black and white, and that makes for an interesting path as an actor.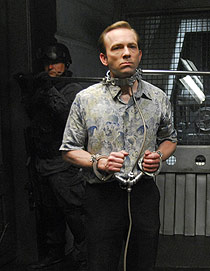 Gilles Nuytens: What is your overall opinion on Galactica and especially on season 3, which is much more darker than the previous seasons, it describe the reality of the world, human feelings, emotions with such a realism, they definitively go deeply in the psychology and character development, it's not often that we see that on a sci-fi television show!
Matthew Bennett: I think the show has found a unique audience. I've had a lot of people coming up to me on the street who are not necessarily sci-fi fans. I'm talking to entire families and people in a variety of age groups, it's a show that's developed a wide fan base. I think this show has opened up the genre to a whole new group of viewers.
Gilles Nuytens: Is it hard to give some nuance to the number of Aaron you play in Galactica? I mean they are clones but they also have their own personality.
Matthew Bennett: Does each copy of a particular model have their own personality? I've never talked to the producers about this and quite frankly I'm still trying to figure it out. In my mind you hit the whole point when you said "clones". Aren't all of the Doral copies the same? Would they not all respond in exactly the same way if they were all put in the exact same situations?
I've taken the approached that he's the same character all the way through, one personality in a lot of numbers.
Gilles Nuytens: It isn't a secret that so many sci-fi productions are shot in Vancouver, do you have a special interest in sci-fi?
Matthew Bennett: I like the themes that can be explored in science fiction very much. I think the genre allows us to look at our lives and explore the world we inhabit in a very interesting perspective.
Gilles Nuytens: On what project(s) are you working on for the moment?
Matthew Bennett: I'm working on a movie that I've written and that I'll be directing in the spring. It's a love story about a luckless guy named Percy Crease who after disappearing for three years comes back to his family's motel to steal his brother's wife. It's a very exciting time for me right now.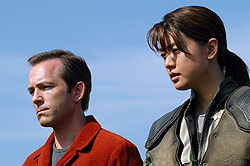 Gilles Nuytens: You are credited as "Malcolm LeBlanc" in an upcoming TV movie called M.V.P., can you speak a bit about this movie and the role you play on it?
Matthew Bennett: MVP is actually a pilot for what may become a new Canadian TV series. I describe it as a hockey show that's not about hockey. It focuses more on the lives of the players and their families. The character I play (Malcolm LeBlanc) is the team owner. He's pretty out there. He's a shark who's all about the dollar. He's pretty low on the moral scale.
Gilles Nuytens: You played a leading role in Total Recall 2070, a really great show, what do you keep in mind from your time there?
Matthew Bennett: Total Recall was my entrée into the world of science fiction and it had a big effect on me. It was a show based on the idea that there were five companies running the world and that the machines that man had created had developed a consciousness. It covered a lot of issues that we struggle with today in society. I realized then that it was a powerful genre that could have an effect on a lot of people.
Gilles Nuytens: Tell us a little about your experience in the role of "Cutter" in Andromeda?
Matthew Bennett: It was a great experience and a different character than I usually play. I got to work with a director named Jorge Montessi who's a good friend, (and who also directed at least six episodes of "Total Recall 2070"), and I got to work with Kevin Sorbo who's a fantastic guy. A show like that is a lot of fun if you're ready to work and you don't take yourself too seriously. Plus my wife liked me in the leather pants.
Gilles Nuytens: What draws you to a role in general?
Matthew Bennett: I try to look for something different every time. If it's a type of character that I've played before then I need to find something unique about the role that I haven't explored.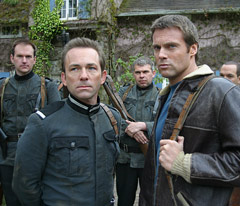 Gilles Nuytens: Do you follow any fan-based review/comments on what you are doing?
Matthew Bennett: No. I don't think that there are any venues where you can actually get a true interpretation of what the 'fans' think of your what you're doing.
I know that for every one person who's writing something on a board, there's a hundred others who aren't. It's hard to clear gage when that's the reality.



Gilles Nuytens: You played 2 different characters in Stargate SG-1, "Ted" in "Point of No Return" with Willie Garson and then twice "Jarrod Kane" in season 8 and 9. Which of these characters did you enjoy the most playing?
Matthew Bennett: Definitely Jared Kane. I was fortunate no to have to wear anything weird on my head and I was also fortunate with the episodes. There was a lot to play with. I also got to work with Michael Shanks who's good for some laughs. We had a good time on set.
Gilles Nuytens: Any pranks/jokes you'd like to share about your time on Galactica?
Matthew Bennett: How about my Aaron Doral "Teal Vegas Suit", that's kind of a joke isn't it… or how about my 'pressed form hair'… that might actually top the suit!