Date of publishing: 13th November 2007



Michael Rymer is a film director and writer. He is noted for setting the tone and direction for the entire re-imagined Battlestar Galactica series in terms of how the show looks on film, namely due to his direction of both the Miniseries and various episodes for the series itself. Rymer was born in Melbourne, Australia, but completed his studies in film at the University of Southern California, where his abilities in writing, producing and directing short films earned him the Warner Communications Scholarship for Directing in 1987. Following this, he wrote two plays, Darkness at Noon and Ensenada before he returned to Australia to work on a number of films, initially as a production co-ordinator and as a writer. He made his directorial debut in 1995's "Angel Baby", which premiered at Robert Redford's Sundance Film Festival, and won a total of seven Australian Film Institute Awards including Best Film, Best Director and Best Screenplay. Rymer also won the Australian Film Critics Circle Award for Best Director, and the Writers' Guild of America award for Best Original Screenplay. In 1997, he returned to the United States, where he wrote and directed "Allie and Me", following it up with two directorial stints with "In Too Deep" (1999) and the less-than-stellar "Purfume" (2001), described as an improvisational film. In 2002 he helmed "Queen of the Damned", the sequel to 1994's "Interview with the Vampire" before taking the director's chair for the pilot episode of UPN's television series, "Haunted". From here he moved onto the 2003 Battlestar Galactica production. Biography from: Battlestar Wiki
This interview has been done in collaboration with a young film maker, Brandon Smith for The Scifi World.

Brandon Smith: When you were a kid, did you work on any projects independently before you entered the industry professionally?
Michael Rymer: When I was 12, I decided I wanted to be a writer. My great passion was movies, so it seemed like "Film critic" seemed like the perfect idea. My friends and I joined a hobby class in school called Film Criticism but it turned out to be a misnomer when the teacher, Mr. Walton, showed up with a super 8 camera and some cartridges of film. At first we were very disdainful "We don't want to make films, we want to watch them!" But Mr. Walton told us "too bad". Several weeks later, I had my first horror movie "The Fantom of the Shrine" in the can, and I had the bug.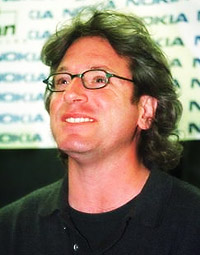 Brandon Smith: Did you ever have to work as an unpaid intern? If so, what position, and how did it help you? If not, would you recommend it?
Michael Rymer: I was so desperate to be near a film set, I interned on every student project that would have me - I was an undergrad at USC. After film school I survived while I was writing screenplays by working on Rock Videos and Commercials as a PA, and as a script reader. Both were low paying gigs but invaluable experiences. So I'd say hang around sets as much as you can - its all valuable.
Brandon Smith: What would you say is the smartest move after you graduate from college? Find an agent? Freelance? Unpaid internship? Or something else?
Michael Rymer: I was in filmschool when "Sex, Lies and Videotape" came out and that was an epiphany for me - that a filmmaker could achieve a huge effect with a good script and a few actors. So I went and studied acting for two years - which was the best thing I ever did for my training as a director. It's easy to make cool shots. It's much harder to know how to talk to actors to bring the most out of them.
Brandon Smith: Would you say that to someone that wants to be a director also needs to be good at writing their own stories?
Michael Rymer: There is a very simple way to get a career as a director: write a screenplay that's so exceptional, they have to let you direct it. That's what I did with "Angel Baby" - but it took me a dozen attempts before "good" or "very good" became "exceptional". There is no better way and like dealing with actors, it's much easier dealing with writers when you've written yourself and understand the process. The broader question I'd ask a young filmmaker is "Why? Why should anyone give you money to make your film? Do you have something to say? Stories to tell?" If you don't know yet, figure it out now.
Brandon Smith: What would you tell young people who want to be filmmakers but are discouraged because of the high competition market and/or low/no paid jobs.
Michael Rymer: That's a tough question because its always changing - my most personal bit of advice is make films - particularly now with the high quality of video cameras. Don't wait for someone to give you permission to do what you love. Oh and by the way, make sure you love films and filmmaking enough to deal with years of rejection and frustration because, no matter who you are or where you are in your career, that will be a constant for the rest of your life. My other trick was being completely useless at everything else - I had no other choice.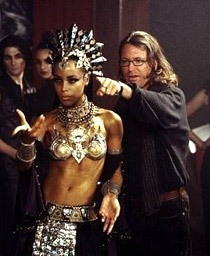 Brandon Smith: What process did you go through in getting noticed in the industry?
Michael Rymer: I made a student film that got me an agent but it didn't get me a job. So I had to start writing - as I said above, I wrote a dozen screenplays before producers were competing to option my screenplay.
Brandon Smith: Why did you choose USC to study filmmaking? Why not something like the New York Film Academy, or a digital arts school?
Michael Rymer: I didn't know any better. I was supposed to be a lawyer or a doctor, so at least I could get a degree at USC to keep my family from freaking out. I think NYU, UCLA or AFI would have been fine. I don't know about the other programs - I think the truism to remember about all education is that its as much about the quality of your peers as much as the teachers or program
Brandon Smith: What do you think sets you apart from other directors?
Michael Rymer: I have a strong visual style and sense but I think lots of directors do - I think young filmmakers tend to overrate the importance of cool images and shots. Yes, filmmaking is a visual medium, but first it's about storytelling. I'm a big believer in "seeing" and "being present" on set - because all the planning in the world would mean the result will be what you were expecting. So you have to really see what's happening and use it and work with it, in the moment as it's happening. I studied acting very seriously, so I consider myself very good at helping actors create truthful and real behaviour. My particular forte is with improvisation - I've done a couple of movies with no screenplays - so when things aren't working - when there's a crisis that needs to be solved on the spot - I'm in my element and I can help magic happen.
Brandon Smith: How did you find out about the Warner Communications scholarship you received back at USC?
Michael Rymer: Very undramatic - I was on a list on a pinboard .