Date of publishing: 24th March 2009



Neal Acree is a film, television and game composer whose music can be heard in the Sci-Fi Channel series Stargate SG-1, Stargate Atlantis, the opening cinematic for Blizzard Entertainment's World Of Warcraft: Wrath Of The Lich King, Witchblade, as well as numerous independent films. A fan of movies and their music from a very early age, Neal's first records were soundtracks by John Williams, Jerry Goldsmith, James Horner and others. Though originally planning a career in art, his early experiments in instrumental electronic music began to take over his life. After studying classical, ethnic and electronic music, Neal began to see that film scoring was the ideal outlet for his love of movies and music.
Early in Neal's career he had the opportunity to work in cartage, transporting and setting up music equipment between major Hollywood scoring sessions. This gave him
a unique "fly on the wall" perspective of nearly all of the A-list Hollywood composers at work including Jerry Goldsmith, James Horner, Hans Zimmer, Thomas Newman, David
Newman, Randy Newman, John Barry, Shirley Walker, Bill Conti, John Debney and James Newton Howard. This proved to be an invaluable learning experience, as well as an opportunity to meet and eventually apprentice with such distinguished composers as Marc Shaiman (Hairspray, City Slickers), Richard Marvin (The O.C. , Six Feet Under), and Joel Goldsmith (Stargate SG-1, Witchblade). Visit: www.nealacree.com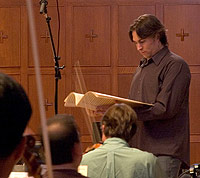 Gilles Nuytens: Could you introduce yourself and speak about your background?
Neal Acree: Well, I'm a film, television and game composer. I've worked with Joel Goldsmith on the music for Stargate SG-1 and Stargate Atlantis as well as the Witchblade series. I also scored the opening cinematics for World Of Warcraft: Wrath Of The Lich King and World Of Warcraft: The Burning Crusade. I started out playing guitar and was planning on becoming a graphic artist but at some point in college I decided to go into music full time. Once I decided to become a composer I did all kinds of things from music editing, orchestrating, music preparation and being an assistant to learn the business from all angles and support myself while I scored student films. I also did cartage for a while which involves delivering and setting up music equipment for recording sessions. It was a physically difficult job and one that a lot of people looked down on, but I got to meet most of the composers I had looked up to and watch them at work. I can't think of a better way to have gotten immersed in the business.
Gilles Nuytens: You've worked on film music as well as on video games music, how different is it to work for each of these medias?
Neal Acree: The main difference between the two is in their function. Both game music and film music serve to help tell a story by (among other things) establishing mood and pacing except that with video games, the viewer/player is an active participant in the drama and thus game music must be designed to change in real time to follow the the actions of the player. The music has to be created in a way that can loop seamlessly and be layered in a way that will allow the game engine to decide how long the music plays, how intense it is, or what mood the music is conveying at any given time. Music in film, while less technically involved in its implementation, can have a much more complex role dramatically. Its role is influenced by the actors performances, the pacing of the editing, both linear and non-linear storytelling, sound, as well as all of the dramatic subtext that exists in the story but isn't necessarily on the screen. Film music must accompany all of these things in a way that often leads the viewer's emotions more than follows their actions.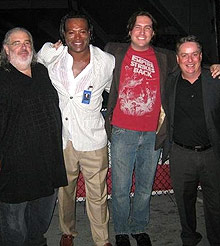 Gilles Nuytens: How is it to work with Joel Goldsmith?
Neal Acree: Working with Joel has been great. I started out as his assistant and learned a lot from him over the years. Even though I have my own studio now and projects of my own, I still enjoy working with him very much. We have developed a very efficient workflow over the years and complement each other's styles very well. Joel and Rick (Chaddock, Joel's music editor) are like family really. We've all been through a lot together.
Gilles Nuytens: We have many Stargate fans here, could you explain your participation to the Stargate music?
Neal Acree: I started out as Joel's assistant right before Season 3 of SG-1 and that involved everything from engineering to programming samplers and even the occasional orchestrating. I eventually started writing some of the music for SG-1 beginning in season 8 and for Atlantis starting midway through Season 3. With all of the music that the Stargate series have there's just no way for one person to write, orchestrate, perform, and record it all at the level of quality we produce at the fast pace of a weekly television schedule.
Gilles Nuytens: What interest you in film music, why did you choose film music instead of pop/rock, etc?
Neal Acree: I did actually start out playing guitar and singing in a heavy metal band when I was 14. We were never very good and the band members usually consisted of friends I had coerced into learning to play instruments. More often than not I found myself writing instrumental music and as I learned more and started experimenting with recording and different instruments, my music started to sound more and more like it could lend itself to a film. It took me a while before it even occurred to me that I could have a career as a composer. I had always liked movie music though. My record collection when I was 6 years old consisted of the soundtracks to The Empire Strikes Back, Superman II, The Black Hole and even Annie to name a few. I always knew subconsciously that music was a big part of why I loved movies and how I felt when watching them.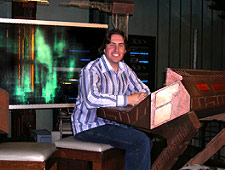 Gilles Nuytens: Which (music) artists have influenced your works? And what are your other influences?
Neal Acree: I listen to a pretty wide range of music. In terms of composers who have directly influenced my music, there are a few and I'm constantly hearing new things that intrigue me. John Williams more than anyone was the one who first got me excited about movie music as a kid with the Star Wars, Indiana Jones, Superman and E.T. scores to name a few. I've always believed in the importance of thematic music in film and though he didn't invent the idea, he certainly brought it to a new level. There is nothing I can say about him that hasn't already been said by every composer ever to try their hand in this craft. He's the standard by which we are all judged. In addition to the amazingly bold music and dramatic sense of Jerry Goldsmith, he also had a very practical approach to the craft that I've always aspired to. I was fortunate to have known him through Joel and often remember his frank observations which always give me comfort in this crazy business we're in. I really enjoy and am influenced by the work of so many composers for so many different reasons and it's hard to narrow them down. James Horner, James Newton Howard, Thomas Newman, Howard Shore, Elliot Goldenthal, Philip Glass, Christopher Young, Hans Zimmer, Tchaikovsky, Stravinski, etc. Beyond even orchestral composers I find influence in ethnic, electronic, industrial, rock and pop music. It often amazes me how something completely unrelated can spark an idea for me but that's where inspiration comes from; our experiences and the world around us.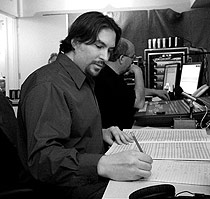 Gilles Nuytens: Could you describe your working methods, the creative process until the finished product?
Neal Acree: Well, the first thing I do is watch the film (or show) in a rough form often without sound effects or visual effects as those are being done concurrently with the music. Sometimes there is temporary music that has been added in by the editor and director (though not in the case of Stargate). This initial reaction to watching the film for the first time is the most important because it allows me to experience it as the audience will and usually sparks a lot of ideas which I begin to compile immediately. This is where I begin to write themes and assemble a palette of sounds that will define the tone of the score. The difference with Stargate is that Joel generally takes the lead with this stuff and I work with the themes he comes up with. After watching it a couple more times and meeting with the director to spot the film or discuss where music should go in the film and what it should try to accomplish, I make a list of all the music (or cues as we call them). In the case of Stargate we usually only have time to watch the show once and then we're off to scoring it. Once I have developed the thematic ideas I begin going down the list (usually chronologically) and writing the cues, one after another. The writing process for me involves playing back each scene on a television in front of me and playing along with sounds that are generated from my computer. I then record these sounds into the computer which allows me to record multiple tracks on top of one another to create the layered effect of a full orchestra. That's the simple explanation of it. The process changes a little if there will eventually be a live orchestra playing the music but even in that case, the music first gets written with orchestral sounds from the computer. Next, there is a review process where the director (or producer in television) listens to the music and either asks for revisions or approves it. Then, once the music is mixed, it is taken to a dub stage where re-recording engineers combine it and balance it with the sound effects and dialogue to create the final mix you hear in the theater or on tv. That's the whole process in a nutshell.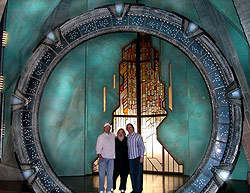 Gilles Nuytens: Will you participate to the score of Stargate Universe?
Neal Acree: Yes. Joel is already at work on establishing the musical identity of SGU and as soon as the shows move into post production I hope to be helping Joel out in the same capacity as I did on SG-1 and Atlantis. I'm very excited about the show and am looking forward to being involved.
Gilles Nuytens: On what are you working for the moment and what's next?
Neal Acree: I'm working on a couple of things at the moment which I will hopefully be able to announce soon including some more work in the game world. The rest of the year is looking pretty busy with Universe among other things.
Gilles Nuytens: "You've been nominated for Game Audio Network Guild Award for your work on the cinematic of "World of Warcraft: Wrath of the Lich King", what can you say about your work on that? Was is very challenging?"
Neal Acree: Wrath Of The Lich King was the second cinematic I did for Blizzard Entertainment, the first being for World Of Warcraft: The Burning Crusade. Both were challenging in the sense that the size and scope of the cinematics, the level of detail in the animation and the depth of the lore are so great that it was a little intimidating. Not to mention the reputation Blizzard has with their cinematics and the popularity they have with the fans. At the same time there is a lot of material to draw from in terms of previously established musical themes and even languages. Not many people are aware but on both of the cinematics the choir is singing specific lyrics in languages from within the game as well as augmented by latin where necessary. That was a lot of fun to do because I love the idea of a piece of music being able to function on multiple levels, even if it's on a deeper level than most people will see. Working with Blizzard is always a great experience. They put so much pride and mastery into every minute detail of their projects and being a perfectionist myself I feel very much at home in that environment.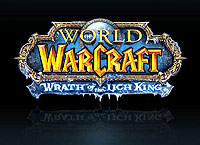 Gilles Nuytens: "What is the most challenging part of your work, and what has been the most challenging project you did so far"?
Neal Acree: I think the hardest thing for me and probably for most composers is trying to come up with something fresh. Even though everything has been done to a certain degree, every once in a while I still hear something in a film score that makes me say "Why didn't I think of that?". I'm referring to those interesting juxtapositions of styles or ethnic instruments that find their way into film scores for the first time that really make everyone stop and listen. That's the challenge for me. To be able to move people emotionally while at the same time challenging their expectations. As far as most challenging project that's almost impossible for me to decide. I put a lot of myself into my work. Every project I do consumes me completely and takes years for me to see objectively. The ones that are the most challenging are probably the ones make the biggest effort to break new ground with. The films that I've done with director James Seale (Throttle, Juncture) always inspire me to top myself and that's always a personal challenge. It's always worth it in the end though.