Date of publishing: 10th May 2011



Actor Patrick Gilmore can currently be seen in the series regular role of "Dr. Dale Volker" on the hit SyFy series "SGU Stargate Universe". In addition to SGU, Patrick can next be seen in a multi-recurring role in the new highly anticipated AMC drama, "The Killing". Later this year you will be able to enjoy the lighter side of Patrick when he stars in Sunflower Hour, an indie mocumentary about the underbelly of puppeteering. The movie was written and directed by Aaron Houston. Also in 2011, Patrick has a supporting role in the horror thriller, Cabin in the Woods directed by Drew Goddard (Lost/Alias) the film stars Chris Hemsworth (Thor), Richard Jenkins and Bradley Whitford.
Patrick grew up in Edmonton, Alberta, Canada after his father; a pro hockey player was traded from the Los Angeles, Sharks to the Edmonton, Oilers in the 70's. Having spent most of his childhood exploring the outdoors and very little time in front of the television, Patrick knew at a very early age he wanted to pursue a career in acting. He says that while in the third grade he became very familiar with the principal, and at that time truly found his love of acting. However, not until his dad brought home a video camera did he utilize these skills for good rather than evil.
Patrick's TV credits include "Final Days of Planet Earth," "Dear Mr. Gacy," "100 Days in the Jungle" and the Disney Channel hit original TV movie "16 Wishes." His feature film roles include The Last Mimzy, and Roland Emmerich's 2012.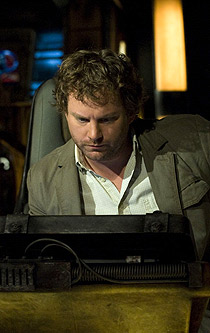 Gilles Nuytens: Firstly, SGU viewers knows you as "Dr Volker", but now let us know who is Patrick Gilmore, except acting, what drives you in life?
Patrick Gilmore: This may sound like a negative reinforcement, but stick with me… what drives me is Regret. I don't ever want to regret. I want to be able to look back from any point, at any point and be happy with the choices I've made.
Gilles Nuytens: What do you like the most about acting?
Patrick Gilmore: I like reacting to situations I may never be a part of. I remember when I was 6 pretending my tree fort was the Millennium Falcon… I get to do that for a living now.
Gilles Nuytens: Is SGU the kind of show/story you like or was it just a simple job for you?
Patrick Gilmore: I lucked out. I love this kind of show. Going into it I didn't know what SGU was going to be. But once the scripts started coming in, my excitement mounted. I've never been a fan of "Monster of the Week" style shows. I like the overall arch. Every episode has a story but it all builds on the bigger picture. I want to know we're going somewhere, and not just endlessly going on meaningless adventures. SGU turned out to be the perfect show for me.
Gilles Nuytens: Where you surprised when the announcement of the cancellation of SGU was done, or did you expect it?
Patrick Gilmore: Looking back, the writing was on the wall. There was a perfect storm riding against us. MGM's financial troubles, SyFy rearranging their format & schedules, following 15 previous seasons of the franchise, plummeting DVD sales, the new age of media (Neilson ratings vs. iTunes, Hulu, etc.), an outspoken minority of fans crucifying the show before it even aired... I could go on. Seeing it all listed there makes me wonder how we got 2 seasons. There isn't one reason, which is frustrating because we want to blame someone, something. We can't. But against all those circumstances I held onto the idea that art, creativity, talent would win out. This was a solid show that boasted award winning actors, SFX & writing. It's been voted one of the top SciFi TV shows of all time by many critics…the story isn't complete…of course we'll get 5 seasons. No? How about 4 seasons? No? 3? No. Two movies? No. One movie? Nothing! I understand business, I understand TV, but the 'nothing' shocks me.
Gilles Nuytens: Brad Wright has announced at a convention that SGU won't come back, at least not in the near future. How do you feel about it?
Patrick Gilmore: Brad sent the cast an email the day before the convention and gave us the heads up. After finding out about the initial cancellation over Twitter in December, I was at least able to rest knowing Brad was fighting our fight when I was helpless and had no say as to the show's future. And Brad fought. Right to the last second. I am so grateful for his effort. We did all we could do.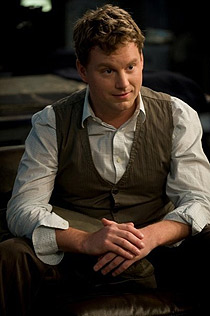 Gilles Nuytens: What are your favorite SGU moments?
Patrick Gilmore: My favorite Stargate moments are not on the screen. I would drive to set on my days off just to have lunch with the cast and crew. So, there are numerous private moments and laughs that I'll never forget. As far as my favorite onscreen… Riley's death was a defining moment for the show. I loved that we had the guts to go there. TJ's flashback montage death in 'Epilogue', Brody fumbling with the iPod in 'Hope', Rush & Young's fight at the end of 'Justice', Rush's reaction to killing Telford in 'Twin Destines', the discovery of Destiny's bridge by Volker, Brody & Eli… I could go on and on.
Gilles Nuytens: Stargate is a "fan show", how do you feel about conventions and all this stuff?
Patrick Gilmore: Seems to be a popular question… I love that they exist. The fan base surrounding SciFi is humbling and at the same time daunting. I've never officially been to one and I've looked into it. However, there's a lot of hoops to jump through, SGU isn't represented well at conventions, you need to sign with a booking agent, or this convention has to invite you, this one you have to apply to, you need to print and bring your own headshots, there are 10,000 other SciFi actors people would rather see, there's a time commitment attached, crowds make me anxious, I'm afraid I'll tell an inappropriate story, my autograph is boring, I sweat when I'm nervous, I'd probably miss the event because the hotel has a pool, I'm bad at 'small-talk', I'd feel the need to hire an assistant to hold my hand because I'd get lost and overwhelmed… at this point I'm just making excuses. All that being said, I need to do one just to experience it and say that I did it. But mostly just to thank the fans face to face.
Gilles Nuytens: Which parts of the personality of Dr Volker are close to your own personality and which ones are totally different? How close are you from him?
Patrick Gilmore: Volker and I often use comedy as a crutch, we both have a befuddled approach to love, and I think we both think too much. Aside from the education, and general genius, the biggest difference between us is our reaction to Authority. We both resist it, but I tend to smolder from a distance. Volker became more confident to challenge Rush, and even enjoyed it near the end. I want that. I want to be able to laugh at the thumb trying to keep me down.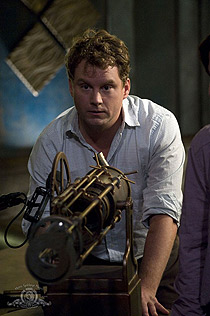 Gilles Nuytens: When you have a long range of continuous text to learn, what are your techniques to make sure you are going to tell them correctly and naturally? Do you spend a lot of time to practice your text before the shooting day?
Patrick Gilmore: I have bad study habits that I brought with me from school. I tend to cram the night before. I'll read the material the moment I get it and spend the time until filming thinking about it, exploring it, questioning it, feeling it, going back to it. Regardless of best intentions the actual memorization of the specific words doesn't happen till the night before. By that time I know the emotional beats and the rhythm, but now I have to cram in the text. It's not perfect, and it has bitten me in the ass on a few occasions, but it works.
Gilles Nuytens: Being in front of the camera can be sometimes stressful, especially when you have to play a difficult scene. How do you manage your stress?
Patrick Gilmore: Ha… I don't. Any tips? Being in front of the camera usually isn't the stressful part. Auditioning is where I go crazy. I've had close to 400 auditions. Can you imagine 400 job interviews? Ludicrous, but part of the game. I'm still trying to find new ways to keep my blood pressure down when I find out I have an audition. Getting the gig and being on camera is the reward. That's the fun part.
Gilles Nuytens: To my opinion the script, story and drama of SGU is far superior than its sister shows, the show itself is superior in every aspects, so why do you think so many people are snubbing it?
Patrick Gilmore: Ha ha, wow, that's a touchy question and probably an even touchier answer. Here's the fun thing… SG1, SGA & SGU were all written by THE SAME PEOPLE! After 15 seasons of the same shows Brad, Rob and the entire producer/writing team wanted to do something different. That's what good artists do. They test their boundaries. They succeeded in one genre of Sci-Fi and wanted to try another. So they came up with SGU, and in two short seasons created one of the most memorable SciFi shows. It was snubbed by an outspoken minority of original Stargate fans who would have loved 15 more seasons of the same stuff.
Gilles Nuytens: Downloading TV shows on internet. Different aspects and point of views. A dangerous/slipping subject, but interesting to talk about... Let's speak about what is called "illegal downloads". We know that US networks only pay attention to the US ratings of each show. So, people outside of the US that download "illegally" the shows don't influence the choice to renew or cancel a show, they even don't have the choice to watch it most of the time (local networks don't buy it). So downloading is their only option, because the "legal download" is also "US only". So, it doesn't make the networks to lose money. A big hypocrisy?
Patrick Gilmore: Sure. This is all new technology and we're all scrambling to catch up. To my knowledge the network looks at Neilson ratings, and that's it. So illegal downloads are of course not counted… but what about Hulu, iTunes, Netflix, Amazon?…it's time for our Networks to catch up.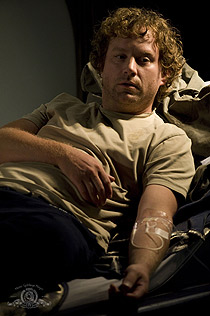 Gilles Nuytens: SGU deals with a lot of actual subjects, such homosexuality, to give an example. To you, what was the most interesting or favorite one to have been covered in the show?
Patrick Gilmore: SGU touched on Religion briefly in Air, again in Faith and a few times in Season 2. With the discovery of the "message" I was looking forward to an exploration of the creation of the Universe and how the crew dealt with questions of a "creator". It was the bigger picture, the reason behind the journey, the "destiny".
Gilles Nuytens: In one of the latest episodes to date, your character suffer from "the good friend" symptom... is that something you already faced yourself, and what advices would you give to your character if you could?
Patrick Gilmore: Aww... ya. I have a strong track record of becoming 'the friend'. If I had to give Volker advice on how to win over Park… "Join the military!"
Gilles Nuytens: Sunflower Hour, what could you tell us about this project and your part on it?
Patrick Gilmore: Sunflower Hour is a movie I'll be keeping from my parents. Aaron Houston and Aisla Webster, the creators of the movie, have been friends for some time and when it came to doing this movie I jumped at the opportunity. Sure, they were friends, but the real reason I wanted to do this movie was that the part of 'Leslie' terrified me. He is a closeted gay puppeteer, a fundamentalist Christian married to a dissatisfied wife. I read the script and had no idea where to start with him. I wanted the challenge, they were able to work around my SGU schedule and we filmed on weekends. It's wrapped post and being submitted to film festivals now. Very funny, crazy stuff. Keep your eyes on the lookout for Sunflower Hour.
Gilles Nuytens: Same question about "The Killing" & "The Cabin in the Woods".
Patrick Gilmore: I filmed 'The Cabin in the Woods' during Season 1 of SGU. Joss Whedon's script is incredible. It was a lot of fun and should be a crazy movie, but it's been on radio silence for a time. The last I heard Lionsgate bought it, but I have no idea what will come of it. It should be seen, and Joss Whedon fans will adore it.
The Killing is a new TV show on AMC and this is THE watercooler show right now. What a thrill it is to have in Vancouver and, man, am I lucky to be a part of it. I play Tom Drexler, an eccentric dot-com millionaire who gets involved with politics. If you like the new breed of TV, The Sopranos, Mad Men, The Walking Dead… you must watch The Killing!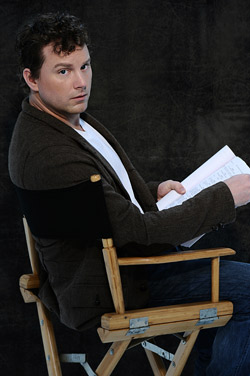 Gilles Nuytens: Would you be interested to write your own project to get your "dream role"?
Patrick Gilmore: I'm content now to play the roles other people write. I'd like to go back to theater for a time. In theater I was able to play 100yr old men, Sorcerers, Women, Children, and on and on. In Film & TV I get cast in very safe roles. So when Sunflower Hour comes along, or The Killing, I run at the opportunity. I write, but not enough to create a film script. One day it'll hit me. A role I've never played, and I'll put pen to ink.
Gilles Nuytens: Do you have other project that aren't yet mentioned somewhere?
Patrick Gilmore: Are you kidding? The internet knows about my career before I do!
Gilles Nuytens: And finally, tell something about a subject that is close to you, whatever it is as long as it matters to you.
Patrick Gilmore: I guess it all comes down to how blessed I feel to be able to live a creative life. I'm making a living by art, which is something most people can't say. And being able to make a living affords me the opportunities to develop as an artist. I enjoy twitter (@PatrickGilmore) because I can interact with the fans and it forces me to craft concise jokes. I have a degree in English Literature but I rarely get an opportunity to use what I've learned. Twitter, as indulgent as it is, becomes an outlet. I'm inspired by blogs, like the one of SGU producer Joe Mallozzi, or my favorite daily blog www.keepinitleal.blogspot.com. Joe & Leah have a routine and a creative outlet I think we all should have. So, I started my own blog, http://patrickgilmore.wordpress.com. Short stories, rants, pictures, just something to keep the tool sharp. Whether it's writing, painting, or acting, I always say creativity is like a muscle, if you don't exercise it, it will atrophy.


You can leave comments on this interview on the Facebook page here!