Date of publishing: 17th March 2011



Paul Becker has etched a very unique career for himself as of one Hollywood's busiest choreographers, working in both feature film and television. From hip hop and capoeira to ballet and tap, Paul uses his vast knowledge of dance, multimedia and film making to create elaborate spectacles.
On the big screen, he has two major motion pictures being released on March 25, 2011. Look for his elaborate musical numbers in Warner Bros' SUCKER PUNCH starring Vanessa Hudgens, Jena Malone and Carla Gugino. Paul also lends his talents to Fox's DIARY OF A WIMPY KID: RODICK RULES. His upcoming feature film projects include Joss Whedon's THE CABIN IN THE WOODS for Universal, and Wes Craven's MY SOUL TO TAKE.
Considered to be a protégé of the genius Kenny Ortega (Michael Jackson's This Is It), Paul has worked alongside Mr. Ortega on several occasions, including recently when he choreographed the Ortega directed JONAS BROTHERS' CONCERT WORLD TOUR. His versatility comes from his vast knowledge and diverse background of many styles of dance, martial arts, stunts and the ability to seamlessly transfer this into all media.
Check out the trailer for Sucker Punch here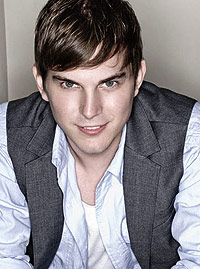 Gilles Nuytens: Could you introduce yourself to those who doesn't know about you? Tell us something about what drives you in life as well as in your job?
Paul Becker: My name is Paul Becker. I am a director and choreographer of many films you may know. I am driven by creativity in life as well as my job. I love creation.
Gilles Nuytens: So, you are a choreographer and dancer, how did you land into the movie business?
Paul Becker: I have been in the film industry as a dancer and actor since I was 13. It wasn't until I was 19 years old that I got my first gig as a choreographer. I was hired to dance partner to Kate Beckinsale in a commercial for Japanese commercial. What happened was, the choreographer did not show up. I quickly volunteered.
Gilles Nuytens: What's the most difficult part in your job?
Paul Becker: The most difficult part of my job is teaching actors and finding ways to make them look good.
Gilles Nuytens: And what's the easiest?
Paul Becker: Coming up with steps.
Gilles Nuytens: Sucker Punch, the first time I've watched the trailer, I was just like "wow". How was the whole experience on that movie?
Paul Becker: Sucker Punch was one of the most amazing experiences I have had on film. It was such a learning experience to watch Zack Snyder in action.
Gilles Nuytens: How much time did you prepare the girls for the movie? Was it difficult? Did they learn quickly?
Paul Becker: We worked with the girls in rehearsal every day for over 7 months. They each had their own style to learn.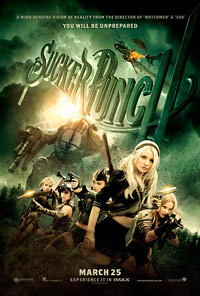 Gilles Nuytens: Could you describe a classical day of work on Sucker Punch (or on every other movies)?
Paul Becker: On Sucker Punch, I started my first days on the whole concept in an art room with Rick Carter. We came up with crazy concepts and pitched to Zack. Then once Zack evolved the idea, we started to workshop it with dancers. Once we had the routines built... we brought in the actresses to rehearsal. There were so many elements, lights, props, set pieces etc to work in much like a broadway show.
Gilles Nuytens: Which part of your job do you like the most?
Paul Becker: I love filming and directing.
Gilles Nuytens: Before training the actors, how do you prepare the whole piece? What is your inspirational source?
Paul Becker: I countinue to get inspired by art, movies, etc to stay fresh.
Gilles Nuytens: If one of your actors doesn't feel comfortable with choreographies or dancing, what do you do to make him/her more comfortable with it?
Paul Becker: Then I create a dance within a story, so they get comfortable telling that story. Actors are storytellers...
Gilles Nuytens: What is your biggest success and what or who are you the most proud of?
Paul Becker: My biggest success is having my daughter Marlee!!!! I wish I can be with her more.
Gilles Nuytens: What are the techniques/skills you are using the most to train your actors?
Paul Becker: Each actor is different and they all come at me with different skill levels. I adapt quickly.
Gilles Nuytens: What are the most important elements that an actor can get out of dance?
Paul Becker: That dance is everywhere... from a finger snap to the way you walk... it is everywhere.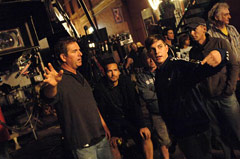 Gilles Nuytens: Is it the same to work with actors than actresses? Any different approaches?
Paul Becker: Nope.
Gilles Nuytens: What does dancing mean to you?
Paul Becker: Dance is an escape.
Gilles Nuytens: What are your future goals?
Paul Becker: I want to produce and continue to direct my own films.
Gilles Nuytens: What else would you like to share related to Sucker Punch?
Paul Becker: I can't or I will be shot.
Gilles Nuytens: Would you give me Vanessa Hudgens phone number?
Paul Becker: She would shoot me too.


You can leave comments on this interview on the Facebook page here!