Date of publishing: 2nd June 2008



PAUL KASEY is a very talented actor, physical performer and movement director having choreographed and performed in many well know film and TV productions. He can be seen as Foxy in the new Foxy Bingo Commercials and as various characters in the Doctor Who series. He has recently played the Cybercontroller, the Cyber Leader, Cybermen, a Clockwork Android and The Hoix. He has also played an Auton, a Slitheen, an Ood, an android and a member of the Forest of Cheem. He has made frequent appearances as himself on Totally Doctor Who, often in costume. He also appears on Doctor Who spin-off Torchwood, where he plays the recurring role of Janet the Weevil and in The Sarah Jane Adventures.
He played an infected victim on 28 days later and went on to be the movement advisor on 28 weeks later, choreographing the infected scenes and playing the lead infected. Other films include Blade II, Finding Neverland, Pride and Predjudice, Room 1408, Inkheart. Paul is also an excellent dancer and contortionist. He also works as a model.

This interview has been done in collaboration with the French website Beans On Toast
A French translation is available at this address:
http://www.doctor-who.fr/d_itw_kasey.php

Gilles Nuytens: Can you introduce yourself to French speaking Fans?
Paul Kasey: Bonjour, my name is Paul Kasey and I have played different creatures/monsters and characters on films and TV shows, such as Blade 2, 28 days later, 28 weeks later, Finding Neverland, Room 1408, Dr Who, Torchwood and The Sarah Jane adventures.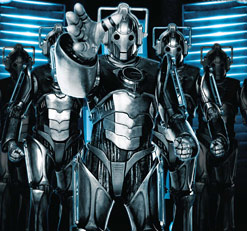 Gilles Nuytens: How did you get into Doctor Who for your first character "Auton"?
Paul Kasey: Well right in the beginning my agent called me and said that there was going to be an audition coming up for a new TV series and they were looking for people that had, background in movement skills, prosthetics, creature suits and mask experience, which I had and would I be interested in going up for the audition. Well how could I have said no ?Iit sounded exciting ! So when the audition came about we were seen in threes and were told how to move and the scene that we had to act out. This was done by Ailsa Berk who is the movement choreographer. Any way to cut a long story short, I was offered a re-call a couple of weeks later. I think there were about 18 of us in the re-call. It was a workshop with Ailsa, which went on for about 4 hrs even though it felt like about 10mins, in front of the producers and director of the first block. I found out on that day that they were looking for about 5 people to play different parts throughout the series, 3 guys and 2 girls. I remember that evening so well, it was a Friday and I was out having a drink with a friend in Covent Garden when my phone rang and it was my agent saying that they would like to offer me a part on the first block and the TV series was going to be Dr Who and the part I was going to be playing was an Auton. Well you can imagine I was over the moon and of course had to stay for a couple of more drinks to celebrate.
Gilles Nuytens: And how did you get into the 3 other "Whoni-verse" TV shows roles after this?
Paul Kasey: Well after playing an Auton on the first block I was asked back to play a Slitheen, Tree from Cheam, and Zuzanna an android, all of which were on the first series of Dr Who.
Gilles Nuytens: You appeared on Blade 2 and 28 Days Later, do you have other movie projects? Still in SF or Fantasy?
Paul Kasey: I have been asked to play a couple of parts on different films and maybe be the movement adviser on another, but it is still very early. There is a film going to be released at the end of this year beginning of next in which I played a creature that gets read out of a book. The film is called Ink Heart and it is a children's fantasy.
Gilles Nuytens: Were you a Doctor Who fan? Can you try to explain to us the impact of this incredible show on British culture?
Paul Kasey: To be honest with you I was not what you would call a dedicated Dr Who fan but as time has gone on I`m probably as much of a fan of the show as most people are here in Briton and around the world. I think Dr Who, like in the past, has had a huge impact on British culture probably more so now than ever. I would say there`s not a child, or adult for that matter, who would not want to have a Tardis in their back garden for themselves.
Gilles Nuytens: Then, which is your favorite Doctor?
Paul Kasey: Which is my favourite Doctor? That`s a hard question to answer. Out of all the Doctors I`ve seen, I have enjoyed them all for different reasons and think that they have all made him as successful as the previous one.
Gilles Nuytens: How did you come to play all the freaky masked monsters?
Paul Kasey: Well originally my first ever so called freaky monster character was one of the Reapers on Blade 2 and I had such a fantastic time filming out in Prague and playing the part, along with wearing the prosthetics that I thought to myself if there was ever the chance to play more monsters I would jump at the chance and could not refuse the opportunity. And it did happen, once I had got a few credits on my CV, the ball started to roll and I hope it keeps on rolling for a very long time to come.
Gilles Nuytens: Was it your choice at the beginning to specialize yourself with physical, costumed characters, or was it some unforseen turn in your career?
Paul Kasey: You could probably say that it was some kind of unforseen turn in my career. I had come from a movement background as I trained as a professional dancer/singer/actor with gymnastic and contortion skills. So for many years I had done parts from West End Shows to pop videos , so my knowledge of movement and the physical aspect of my training has come in very handy playing the type of characters I do. I never once sat down and made a decision to do what I`m doing now, it just came about. But if I had been given the choice though, I would choose it time and time again. I suppose you could say I have the best of both worlds as I still do what I was trained to do as well as choreograph now, and of course the majority of my work for quite some time has been to bring the creatures and monsters alive.
Gilles Nuytens: Did you have special training for this?
Paul Kasey: Apart from the training I had already aquired, no I did not have any special training to play the creatures/ monster charactors that I have done. I do think though that you are continiously learning and training, there is not a day that goes past that you do not learn something new on or off set. But I must say that I have worked with Ailsa Berk for quite some time now on different projects and if there is one person who has a wealth of information and knowledge and is an inspiration to me, it`s her.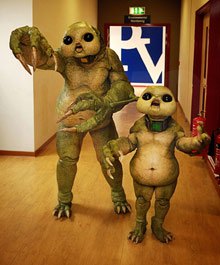 Gilles Nuytens: And which are your favorite monsters that you portrayed over the 3 shows? Which one did you prefer to play, and why?
Paul Kasey: Which are my favourite monsters I`ve played ? Well that`s easy to answer, they are all my favorites for different reasons it would be so hard to pick just one. Each one is so individual and unique, but if my arm was twisted I would probabley have to say "Cyberman" because they are so cool.
Gilles Nuytens: How about the make up? Is it painful?
Paul Kasey: Each character is so different in terms of there make-up and costume. Like for example, the longest application for prosthetic make-up so far on Dr Who for me was the Tree from Cheam, which if I remember rightly, took about 4 hrs to apply and about 1 1/2hrs to take off, and was on for the whole filming day. Whereas with the Cybermen costume takes about 30 mins to put the whole suit on except the head piece, which would be put on and taken off before and after rehearsals and takes. And with Ood Sigma it was different again, I would be dressed in his costume and the animatronic head would be put on and taken off for rehearsals if it was needed and filming. All the suits and heads are made from my body cast,which I had done for the first series, so they are all made to fit like a glove. As yet, I have not worn a make-up or suit that I could say has been painful, but that`s all down to Neil Gorton and his team at Millennium FX.
Gilles Nuytens: In terms of visual effects and make up, which characters or species do you consider (as) the most achieved?
Paul Kasey: I would say that all the visual effects and make-ups have been so brilliantly achieved, and every time I sit down to watch another episode it outdoes the one before in every aspect, not just the visual effects and make-up.
Gilles Nuytens: Is there some kind of monster you don't want to play? And is there some monsters that would be your dream to play?
Paul Kasey: No I don`t think there is any type of monster I would not want to play, and I dream of playing all different types of monster as they are all so much fun to bring alive.
Gilles Nuytens: How do you prepare for a role? Are you coached by a choreographer?
Paul Kasey: Once again there are different ways of preparing for a role. The majority of the time we have workshops with Ailsa Berk who is the choreographer and movement specialist. She will break down the scripts and will work with us to gain the best results and movements required. Where other times it`s down to my interpretation of the character and script, along with working closely with the director to achieve what is needed.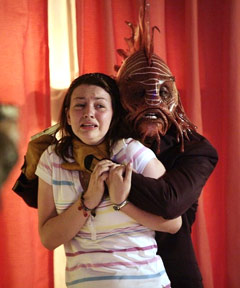 Gilles Nuytens: We see you so many times as so many different freaky monster characters : how did you give an incredible and different touch to each of them : Cybermen, Ood, Weevil, Slitheen... ?
Paul Kasey: That`s very kind of you to say such a thing, but unfortunately I can`t take all of the credit as the costumes, make-up and great story lines are a huge factor for each different character having such a unique and incredible feel to them.
Gilles Nuytens: And would you like to play a good guy like a companion to the Doctor?
Paul Kasey: As we know all the parts I`ve played over the last 4 yrs have not been baddies towards the Doctor, but if there was an opportunity where I was offered a character that was a companion of the Doctor's how could one refuse such a role?
Gilles Nuytens: Can you describe us a typical day or week on stage, please?
Paul Kasey: Well a typical filming day for me would start by getting up at around 5 :30 am and being picked up from the hotel about 7 am and taken to unite base of which could be at the studios or on location. After having some breakfast in my trailer and picking up my sides for the day, I get asked to start getting ready if I`m in the first scene of the day. Everybody then gets called on to set normally to do a line run and then a block of the first scene followed by a crew showing. Whilst the different shots for the scene are being discussed and everything is being set up we tend to go back to base to finish off getting ready. Once everything is ready we get called back to set to start filming. Lunch is normally called at around 1 pm so everybody goes back to unite base, I tend to have some of my costume taken off before lunch first. After lunch we get asked to go back to costume or make-up for checks, ready to be called back on to set ready to start the 2nd part of the day. Sandwiches and cakes arrive at adout 5-ish and wrap is about 7 pm. Then it`s back to unite base to de-rig out of the costume and gather my stuff, ready to be taken back to the hotel. If I`m filming the following day I get given my call sheet. Once I`m back in the hotel I tend to check the call sheet for any changes, read through the scenes, freshen up and make my way down to the restaurant for a bite to eat and hook up with any one who`s around and chill out, then it`s time for bed.
Gilles Nuytens: Do you have a funny story you'd like to share about filming in the "Whoni-verse"?
Paul Kasey: I do re-call one particular funny moment. We were filming one of the scenes from Satan's Pit. The one where all the Oods are on a gantry, all looking hard at work as the Oods do so well. Well, we had rehearsed what every one was to do in the scene and the timing and traffic and journies that we were all to take throughout the scene. In fact, quite a few times to make sure it worked, one for the Oods and two for the camera. Anyway, every time it was rehearsed it worked perfectly and there was no hiccups or collisions, for that matter. Well as you might have guessed, on the first take action was called and at the start every thing was going as rehearsed until all of a sudden there was a huge Ood jam in the middle of the gantry, and because of the limited vision no one could work out where to go or what to do. At that point all I could hear was huge amounts of laughter coming from around the set, and then everybody on set joined in, it was one of those moments that nobody could help but laugh.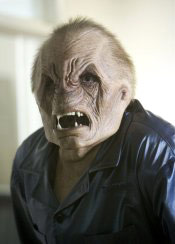 Gilles Nuytens: Steven Moffat will run the show in 2010, can you tell us something about him and the changes that would be involved by his nomination?
Paul Kasey: The first episode I did that Steven had written was The Girl in the Fireplace, which was great to be a part of and one of my favourite stories. As for the changes from his being nominated to run the show in 2010, it is the first I had heard of it. But if that is the case I am very excited for him and 100% sure that the future of Dr Who is in good hands.
Gilles Nuytens: You have just begun filming Torchwood S3: in a French interview of Naoko Mori, she speaks about her character in S3. Will she be back? Is she the only one?
Paul Kasey: Unfortunately I have not read the interview and have no inside infomation on the questions asked. Sorry!
Gilles Nuytens: In the same interview, we read that the 3 shows are filmed at the same stage, in the same period. Is it difficult for you to handle this?
Paul Kasey: Well yes, all three shows do film at the same studios but they all have their own sets and also tend to film out on location quite a lot depending on the scenes and what is needed. There have been times when there have been slight overlaps with the productions but where I`m concerned if I have have to be on two different productions the schedule is sorted out so there are no problems or clashes.
Gilles Nuytens: About Torchwood, Janet, the weevil and the funny blowfish, will they be back too? And do you think the blowfish character is a reference to the shark monster in Buffy the Vampire Slayer (6.08 tabula rasa)?
Paul Kasey: I would like to think that both of the charactors that I have played on Torchwood will come back at some point, and as for your remark about the reference between the Blowfish and the shark monster in Buffy I can not comment as I have not seen that episode of Buffy.
Gilles Nuytens: With the Blowfish (TW) and the Hath (DW), there's a lot of inspiration from fish : do you know who creates them and how they are created? What do you think ofthem?
Paul Kasey: I would say it`s all down to the writers who create the characters, and how, that`s down to what I would say in having a very good imagination. I think they are both completely different in every way and both have been so cleverly created to make an impact on the audience and captivate the viewers in there own way.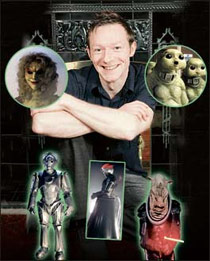 Gilles Nuytens: Please can you talk about the atmosphere on the 3 shows? My guess is that it is different, how exactly?
Paul Kasey: Yes, you would guess right that the atmosphere is different on the 3 shows. How exactly is probably down to the fact that the cast and crew working on them are all different and because the material on each show is intended for a different type of audience.
Gilles Nuytens: We saw you on "DW a celebration": which are your best memories of this "brilliant" show? And are you involved in the new one on July 27th at Albert Hall ? Can you speak about this new fantastic event?
Paul Kasey: I would say I have three great memories from that show, one would be where it took place, the second would have to be performing in front of the live audience, and the third would have to be the amazing orchestra. As far as the event you have mentioned on the 27th July at the Royal Albert Hall, I was unaware of it happening but I will keep you posted if I hear anything.