Date of publishing: 21st October 2005



Paul McGillion was born in Paisley, a small town in Scotland and emigrated first to Ireland then to Canada when he was young.
Paul studied both education (major) and theatre (minor) at University, and also got involved in various sports including becoming a freestyle wrestling champion. After graduating the actor began his career teaching theatre in Toronto, squeezing in time to attend auditions.
Paul's first appearence in the Stargate franchise was in the episode "The Torment Of Tantalus" (Stargate SG-1) playing the young Ernest Littlefield. When Stargate Atlantis launched in July 2004, he got a recurring role in the first season as Dr. Carson Beckett, and became a full main cast member since season 2.


Gilles Nuytens:

Hello Mr McGillion, Can you tell us what motivated you to become an actor ? And what motivates you today in the actor job ?


Paul McGillion: I am one of seven children - I had to act to stand out and get noticed, not to mention fed and clothed!! Today - great writing and embodying interesting characters such as Carson Beckett.

Gilles Nuytens:

So, you are speaking with the Scottish accent in Atlantis, isn't it too difficult to speak naturally and think with this accent ? Do you sometimes speak with this accent after the scenes are shot ?


Paul McGillion: I was born in Scotland and grew up in Canada - but I've spent my whole life listening to my mother and father speak with the accent - so it comes naturally! Every once in a while I'll break into the brogue for fun, it's just in my blood and such a fun accent to play with!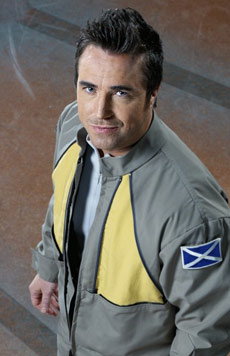 Gilles Nuytens:

You became very popular amongst Stargate fans in a short time, how do you manage this success ?


Paul McGillion: Thank YOU and the fans for that. I take it all in stride - one day at a time - and just try to do a good job! I think it's important also to focus on being true to your character and not let all the hype get to you...just tell the story, and hopefully you'll be interesting to the audience.

Gilles Nuytens:

Now you are a full "main cast" member of Stargate Atlantis, what are the differences with this new status ? Or is there really a difference ?


Paul McGillion: There isn't really a difference. In season one, I really felt like I was part of the main team - so the transition has been easy. I am also very thankful for getting the main cast status, not to mention being in the front credits.

Gilles Nuytens:

How could you describe Carson Beckett, his psychology, his way of life, thinking, and how do you see his evolution in the future ? What would you like to put into this character and did you build him a past, a life to give him a more realistic and better play ?


Paul McGillion: Dr. Carson Beckett is a very interesting and complex character who wears his heart on his sleeve. He is passionate about his work and has a very moralistic backbone. The character has developed greatly since the pilot - thanks to his interactions with all of the other characters and great story lines from great writers. From comedy to drama - Carson has seen it all and will hopefully continue to get bigger and broader with every encounter and challenge. Initially, the character of Beckett did not have a distinct nationality - when I auditionned for Atlantis, I came in with a Scottish accent, and thankfully the producers responded in my favour!

Gilles Nuytens:

Similar question to the one above: Would you like to write an episode focused essentially on Beckett, to build him a past, to explore his mind and his past more deeply and to give a bigger dimension to this character ? Do you think the producers may be interested in that ?


Paul McGillion: As far as writing an episode for Beckett - at this point in time, I think I'll leave that in the competent hands of our terrific writers. Beckett has been involved in some great story lines and I'm very happy with the way the character is progressing.

Gilles Nuytens:

At the time we are speaking, on which episode of Stargate are you working, what is it talking about and how much episodes are still to do for this season ?


Paul McGillion: We have just wrapped Season Two of SGA. Oh what a season it's been! You are all in for a treat! Great stories, action and fun for the fans!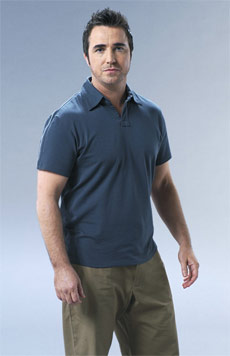 Gilles Nuytens:

It seems that Lt. Laura Cadman, played by Jaime Ray Newman, has some affinity with Dr Beckett, how will this relationship evolve ? Will anything happen this year between them ?


Paul McGillion: I will say that we do see Cadman in more than one episode this year. My lips are sealed and there can be no pillow talk from me!

Gilles Nuytens:

Outside of acting, what do you like to do in your free time ? And what are the things that are the most important in your life and in general ?


Paul McGillion: Running, movies, theater, watching lots of sports on television. Most important in my life are : my friends and family who are all dear to my heart.

Gilles Nuytens:

Now, my favorite question: What is the last funny anecdote that has happened on the set of Stargate ?


Paul McGillion: In the episode DUET - when we rehearsed the infamous kissing scene between myself and David Hewlett, he surprised me by planting me right on the kisser for REAL in the rehearsal - everyone on set lost it! I'm still in therapy for it.

Gilles Nuytens:

What did you find the most difficult about playing Dr Beckett ?


Paul McGillion: The continous medical jargon can be challenging at times. But overall, he is a JOY to play.

Gilles Nuytens:

What do you think to bring to the Stargate franchise, as a person and as an actor ?


Paul McGillion: Hopefully I bring integrity and a strong work ethic to the already successfull Stargate franchise.

Gilles Nuytens:

If Stargate Atlantis would continue as long as SG-1 does, I mean nearly 10 seasons, would you stay as long as the show continue ? For how many season have you signed ?


Paul McGillion: I'll play Dr. Carson Beckett as long as they'll have me!

Gilles Nuytens:

What are the episodes you enjoyed the most to do ? As an actor and as a person, what did you learn from it ?


Paul McGillion: My favorite episodes are the pilot RISING, POISONING THE WELL, DUET, just to mention a few. All the episodes show a different side of Beckett and give me, as an actor, the ability to portray range in the character.
Thanks so much for your interest in Stargate - and especially Dr. Carson Beckett. I wish SciFiWorld great success - and to all the fans out there - THANK YOU!!