Date of publishing: 24th August 2007



Paul studied both education (major) and theatre (minor) at University. Paul's first appearence in the Stargate franchise was in the episode "The Torment Of Tantalus" (Stargate SG-1). When Stargate Atlantis launched in July 2004, he got a recurring role in the first season as Dr. Carson Beckett, and became a full main cast member since season 2. In season 3, his character is killed off for unclear reasons but is "resurrected" for a few episodes in season 4 thanks to the overwhelming fan campaign, but we don't know yet "how" the character will return. The Scifi World had the opportunity to sit down with him a few minutes during Fedcon 16 last June in Germany.


Gilles Nuytens:

The fan campaign to save your character is amazing. It has been mentioned in newspapers around the globe! How are you feeling about the campaign today?


Paul McGillion: The campaign to save Carson Beckett has been great. The people that put it together they just did such a great job for me. I think it is Michelle and Jenner and TJ they loggerheaded the whole campaign and it's just been fantastic. It's very flattering to be honest with you I've never in my life imagined that I would have a campaign and a band, putting the band on the Today Show and the press, the London Times and all over the world like you say, I mean I never imagined anything like that happening for me so it's very flattering to say the least.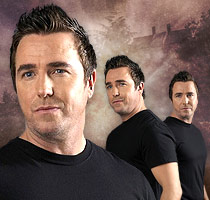 Gilles Nuytens: You are getting two episodes in Season 4, can you give us some hints about what we can expect?
Paul McGillion: No, I can't. I can't give you hints about what to expect because I don't know what to expect, I haven't got the scripts yet so I really don't know what they're going to be doing. All I know is that I'm coming back and I'm not going to be a ghost so it should be interesting so we'll find that out in a few weeks I'll be in Vancouver to shoot.
Gilles Nuytens: We haven't seen or talked about the relationship Carson shared with Laura Cadman this year, is that something you would have loved to explore more?
Paul McGillion: It was great, Jaime Ray Newman was great she's a fine actress and it was a lot of fun to do. But I don't know if she's coming back on the show and I don't know if they're going to explore that relationship more. I mean I wish they would and if it wasn't her maybe some really attractive woman would be good possibly from France if you could arrange that if you could help me with that that would be good.
Gilles Nuytens: Do you think that it would have been a great idea to see Laura Cadman, Jaime Ray Newman, in Sunday where your character died?
Paul McGillion: I think it could have worked I don't know in what capacity we could have a little date in between, certainly it would be nice for Beckett to get a little bit action before he was dead, so that might be a good thing.
Gilles Nuytens: But they didn't…
Paul McGillion: They didn't give me anything gross, no I got nothing. No one fished with me I could go fishing, nobody would hang out with me and no girls for Beckett; sad, a truly sad episode. Not only that they kill him with an exploding tumour which is even worse.
Gilles Nuytens: I'm curious how Beckett can survive this ...
Paul McGillion: I know, it's terrible. We'll see how he comes back.
Gilles Nuytens: Can you speak about your experience in Sanctuary?
Paul McGillion: It was great to work on Sanctuary, it's such a fun project to be a part of. I think it was the first internet based series solely shot on green screen and an extremely high budget for an internet based series. So it was great to be a part of it and Martin Wood directed it, who I'm a huge fan of and Damian Kindler was one of the writers on Stargate for years and was one of the co-producers, he's such a great guy and a chance for me to work with Amanda Tapping. My characters name is Wexford, all I can say about it because Damian Kindler asked me not to say too much about it but it's a very excentric character, very different than Beckett, crazy outfits and quite a bizarre accent which is not Scottish, it's very different. So it was kind of fun for me to play a different character like that and I do have some prosthetics so it's kind of an interesting role and he serves as a confidante of Amanda Tapping's character so hopefully we'll be seeing more of him.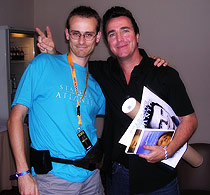 Gilles Nuytens: I heard you had a small part in a movie called Loch Ness, can you speak about your experience on that movie?
Paul McGillion: Well I was also killed in Loch Ness as well, it seems to be a recurring theme in my career. I was eaten by the Loch Ness monster, I can say that, that's for sure, so they chewed up my character and I was a Scottish character so it was quite interesting.
Gilles Nuytens: What can we expect from you in the coming months?
Paul McGillion: Well I'm down in Los Angeles now and I'm just auditioning for projects and I'm going back in three weeks to shoot the episodes of Stargate so I'll be up in Vancouver shooting episodes of Stargate and hopefully on some other film projects very shortly in the new year. I think it's time right now I know we have to go on stage in a minute but thank you for all your great interviews over the past few years, it's a pleasure to meet you finally and to all the fans out there who have been so supportive of my character, I really truly appreciate you giving me all that support and rallying behind Save Carson Beckett because you're the reason I'm here today and the reason I'm coming back onto the show so I appreciate that.



Talk about this interview on the forum