Date of publishing: 18th August 2008



RHI Entertainment, a leading developer, producer and distributor of made-for-television movies, miniseries, and other television programming, announced that two of its most popular productions (Flash Gordon, a 22-hour adventure series, and The 10th Kingdom, a 10-hour fantasy saga) will be seen on the ION Television Network's RHI Movie Weekend beginning Friday, August 1 (7/6c). This August, Eric Johnson will star in the title role of SCI FI Channel's original action-adventure series, FLASH GORDON, a modern day retelling of the classic comic strip franchise. This was the occasion to ask a few question to Peter Hume, the show runner!
For more information about Flash Gordon and RHI Entertainment, click here.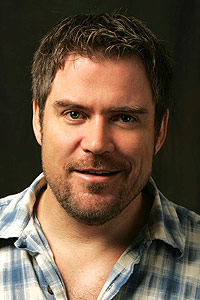 Gilles Nuytens: Firstly, how did you get into writing for television?
Peter Hume: Like everyone, I wanted to direct. I wrote my first script in film school because I couldn't find anything to direct that I liked. So I read Syd Field's book, "Screenplay", wrote a short comedy, and shot the movie. It played at some festivals, was seen by a producer, and he hired me to write a feature (I still planned to become a director.) The script caused some excitement in Hollywood, there was even a little blurb about it in the trades, and it lead to an introduction to Dan Petrie Jr. (Beverly Hills Cop, The Big Easy.) Dan had a deal at Disney, and they hired me to write a T.V. Movie. The movie later became a Television called "Stick With Me Kid." The series shot in London and suddenly I was a TV writer. That was fifteen years ago. I'm still planning on becoming a director.
Gilles Nuytens: I think before Flash Gordon, one of your biggest jobs was on Charmed, what did you learn from your years on that show?
Peter Hume: Creatively, I don't think I took a lot from Charmed. But Brad Kern was a very good show runner. And apart from the fact that all of us lived in fear of getting fired (he fired people a lot) he taught me how to run a tight ship. He was very organized and knew how to get the job done.
Gilles Nuytens: What is the "genesis" of this new version of Flash Gordon and how did you get involved in it? How did it all begin?
Peter Hume: Flash was a gift really. There had been another pilot script developed but it was not received well (I never read it, but I hear it was good.) The network had an air date, and the Flash Gordon title and nothing else. They called me in to pitch, and I gave them a take on the show that fit the network mandate of having the series take place both on earth and on Mongo. The network liked my take, and I went to script. We were shooting a few months later. It was a crazy scramble in the beginning, with dangerously little development time, and I think our initial episodes suffered because of this, but somehow we pulled it off.
Gilles Nuytens: My friend Andee Frizzell played the Omadrian woman "Cleric" on last week episode, what did you like in her performance?
Peter Hume: What's not to love? I've seen that show about 50 times and she still makes me laugh. Not an easy task during a castration.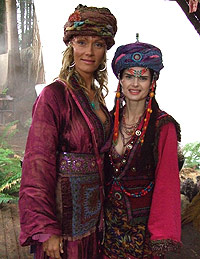 Gilles Nuytens: Episode "Assassin" is coming on ION Television this Friday, give us some insights and comments about this particular episode.
Peter Hume: We wanted to keep the emotional story of Flash's search for his father alive. We also wanted to show how the Rift generator posed a threat to earth. The story was designed set up the idea that Flash's quest to find his father, might very well not end well. I think James Thorpe, who wrote the episode did a great job. I really like Baylin in this episode. The scene where she swallows the bomb is great.
Gilles Nuytens: So, the main plot of this episode involves the bio-cloaker and the use of a 'mindtap'... how did you get the idea for this episode?
Peter Hume: We wanted to find a way to play Flash coming into contact with a doppelganger of his father. The bio croaker allowed us to play this mystery, and amp up the emotional stakes for Flash. I like the final scene, where the assassin dies, and cycles though all his incarnations, the last one being Flash's father, Dr. Gordon. That final scene then, becomes a sort good by to his father.
Gilles Nuytens: You all got a wonderful time doing this show, is there a particular moment that you will remember more than something else? One of your best memory?
Peter Hume: There are too many good memories to recount. I was working with a fantastic cast (Eric Johnson IS Flash Gordon) a great team of writers and producers, we had no time, no money, no special effects budget, but we had spirit, and all of us loved making that show. It was an extraordinary group of people and we had the time of our lives doing it.
Gilles Nuytens: As a classic in my interviews, do you have any "blooper", anecdotes, funny moments you'd like to share about Flash Gordon?
Peter Hume: There was a shot where Karen Cliche, who plays Baylin, was to swing though a plate glass window on a rope, shattering it. She swung down on the rope, and smacked into the glass, but it didn't break. Ouch.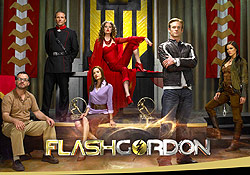 Gilles Nuytens: Now that the show has been cancelled, how would you review the whole season?
Peter Hume: This is a tough one. I think our first seven episodes were not what they could have been. We rushed them into production to meet our air date and it shows. The look is weak, and the stories play too much on earth. Then, at episode seven "Alliances" we turned a corner. The shows became more Mongo based, and complex.
Gilles Nuytens: What was your favorite episode and why?
Peter Hume: There are two I like. First episode 13 "The Sorrow" because it tells us the history of Mongo, and lets us know how Ming uses the circumstances of his world to control his people and his family. I also like episode 16 "Thicker Than Water" because it introduces Terek – and begins to sew the seeds of revolution.
Gilles Nuytens: As many shows lately, it doesn't have a proper ending, so do you think there would be any chance to close the story, with a TV movie for example??
Peter Hume: I have been trying. Please write letters to Sci Fi. A TV movie would make me very happy.
Gilles Nuytens: When you wrote the final episode, did you write it knowing that the show could never get a second season? Has this influenced the writing of that episode?
Peter Hume: Actually, our ratings had been getting better, so I thought that we had a good chance of coming back. The last four episodes of the show were actually written in just five days, because of the impending writers strike – a nearly impossible task. Gillian Horvath wrote the Frigian episode (another favorite of mine,) in just 18 hours. We sent the scripts in at 11:53 on the night before the strike. Then we opened a bottle of champagne, and passed out from exhaustion.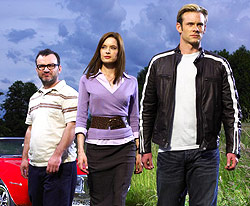 Gilles Nuytens: What are the things that you think you put in Flash Gordon that are totally unique to your vision?
Peter Hume: I liked the way we built on Alex Raymond's mythology, and tried to give logic to this planet with all these warring tribes. I think we found a way to take a premise from the 1930's and updtate it so it would resonate with our world, and what we see happening today. I also liked Baylin, who was a new character, and I think brought a lot the series.
Gilles Nuytens: Is the show going to get its DVD release anytime soon?
Peter Hume: I think so, but I don't have a date.
Gilles Nuytens: What did you like the most about being the "show runner", even if of course everyone is important, how is it to be THE most important guy on a show?
Peter Hume: It was a privilege to work with such wonderful people every day. To be leading a team of amazing and dedicated creative professionals. And it was an honor to be allowed to add to the Flash Gordon cannon. There are some that hated the show (I've read the posts,) but many more that loved it. I am proud of the work we did. I will always be indebted to RHI and The Sci Fi Channel for giving me the opportunity.
Gilles Nuytens: I think you are working on a TV series called "The Wild Roses". What can you tell us about this show?
Peter Hume: It's very different, and I did not create it. I was just brought on to run it. It's a big splashy soap set in oil country. A new take on Dallas if you will. And Lord I hope they let us change the title. Who is going to watch a show called Wild Roses?
But what I am really excited about is my new pilot. An adventure comedy about jewel thieves. I'll keep you posted.
Gilles Nuytens: Thank you very much for having entertained us with Flash Gordon!