Date of publishing: 17th July 2006



Pierre Bernard, Jr. is a graphic designer and comedian for the NBC show Late Night with Conan O'Brien. He regularly appears on a sketch known as "Pierre Bernard's Recliner of Rage", where he complains about issues that concern him. Presumably, he sits in a recliner during these segments simply for the sake of comfort. The issues that he complains about are typically esoteric in nature and deal...
His most famous sketch was focused on a complaint that Stargate SG-1 was better without Dr. Daniel Jackson (played by Michael Shanks). Pierre Bernard has gained somewhat of a cult following in the Stargate SG-1 community due to his series of sketches about the show. Because of this, he has appeared as an extra on the show and he was a guest at a Stargate SG-1 convention. He will appear in the 200th episode of SG-1, now as a zombied O'Brien, and will be shot by a main character....


Linda: When did you begin to watch Stargate, are you a fan since the movie?
Pierre Bernard: I had seen the movie and liked it. But more often that not when movies are turned into series they usually don't work. And that was my main reason for not watching the first few seasons of Stargate.
My first time watching an episode was while it was in syndication here in New York. I was working around my apartment and had the television on for background noise. I knew the series existed at the time but never really made time to check it out. But that afternoon it happen to be on. The episode that was airing involved Replicators on a sub. (I now know the title to the episode was Small Victories) I remember stopping what I was doing and becoming totally caught up with the story. From that point I was hooked.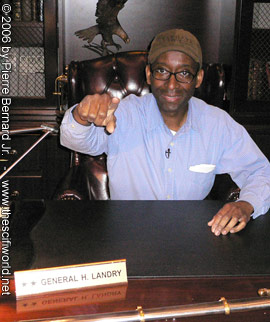 Linda: Will you participate in the Scifi Inside this year?
Pierre Bernard: I wish I could have. But I was so honored and thankful that I was able to be a part of Stargate's season 8 and 10 and a special! I grew up watching Star Trek and Batman. And I always thought how cool it was when different actors made guess appearances on these shows.
There was an episode of Star Trek Next Generation in which Kelsey Grammer made an appearance as a ship captain caught in a time bubble. I wanted to be him, I wanted to be on Star Trek! Of course that never happened. And at the time if someone had told me wait your time will come, I'd looked at them as if they were crazy. I am a graphic artist / illustrator. To be a fan of a show and suddenly finding yourself involved with it in a personal way, I can't begin to tell you how I still feel.

Linda: What are your projects outside of Stargate and The Conan O'Brien show?
Pierre Bernard: I love to draw. My main project these days is making portraits of friends. I started doing a collection of portraits of some of the people I've met during my trips to Vancouver. I had 4 of the images on display last year at the New Jersey Stargate convention. Also, am always promoting my illustrated coloring book on New York, "Welcome to New York City the Coloring Book Guide" (Go to amazon.com and get a copy or two).

Linda: What are the things you like the most about Stargate?
Pierre Bernard: I love the story archs. I think it one of the main reason why it's still a great show. The characters are well developed. They are written with growth, they drive the stories and the out comes. A lot of people were upset when RDA's character was removed but I felt it added a certain level of realism to the show. It was a bold change
but in doing so they bought in new characters and thus new stories new point of views. Also, I can watch Amanda, Rachel, Torri and Claudia all day. I absolutely love those ladies. They're all gorgeous!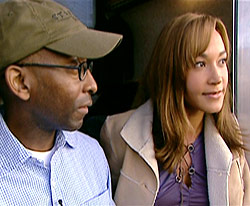 Linda: Can you talk about your experience on Stargate this year (season 10)?
Pierre Bernard: My experience on Stargate for season 10 was incredible. The high lights of this trip was of course meeting all the new cast members, Ben Browder, Beau Bridges and Claudia Black, both of whom were giving me acting tips. Meeting Don Davis for the very first time. He's an artist and I have to say has become a big inspiration to me after talking about art and life with him. Seeing Tony Amendola (but I didn't get a chance to talk to him) Another major, huge experience was meeting Grace Park. Yes, Grace of Battlestar Galactica! It's great that we've been able to bring Stargate to Late Night but in order to make it fit in the time allowed things get cut. On this trip it was Grace and my visit to the set of Battlestar! I got to sit in a Viper!!!! I even posed with Grace who pretended to shoot me on the table of the Command Information Center (Admiral Adama style) Grace is a wonderful person.

Linda: Do you have a funny anecdote you'd like to share about your time on the sets of Stargate "200"?
Pierre Bernard: This is a comment more that an anecdote. If I could become an actor
it would be so I could have a reason to be interviewed again by Patty Chong of Back Stage Pass. And that's all I will say on that.

Linda: You play a Zombie in this episode, how Daniel is going to kill you? I assume this IS Daniel ...
Pierre Bernard: I'd love to answer this question and many others like it. Imagine know the answer to the meaning of life but not being able to say cause it might upset the balance of the universe. O'k, I know we're talking about a television show. And personally, I don't mind spoilers, but I know there are people out there who love surprises (Am one of them) so I'll only confirm the zombie part. As to who shoots me this time lets just say that by the time Stargate gets into it's 15th season, I might have been shot by every one of it cast members... Well maybe not everyone (Does that last comment qualify as a spoiler?)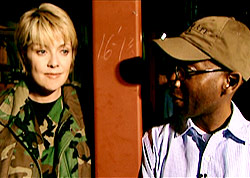 Linda: When you are on the sets of The Conan O'Brien Show, are you "yourself", or do you play a character?
Pierre Bernard: You are watching me being me. All those recliner bits were actual problems occurring in my life at the time. Really scary, huh.

Linda: What are your expectations for the future of Stargate?
Pierre Bernard: Stargate will make it into season 15. At some point in the series, the Stargate will become public knowledge. And the final seasons will deal with the effects that that knowledge will bring to our planet. In that time there will be at least 2 major movies. Each will make at least $30-50 million in their opening weekend. The Stargate franchises will be bigger than Star Trek and X-Files... together.
There will be a Stargate holiday marathon (I hope it will be for New Years).
And before anyone says the words, "You Wish". Look up some of my old interviews from a couple of years back during the begining half of season 8, when I said there would be a season 10 while everyone including Brad and Robert said not likely. Where are we now?

Linda: What type of welcome did you receive upon arrival to SG1 set after "Recliner of Rage" sketch and how do you feel about landing extra role as result? And now for a second time ... ?
Pierre Bernard: Everyone in Vancouver have made me feel like am part of their Stargate family. I find it funny at times when I read on line comment from other fans who think there's some war going on between me and Michael Shanks. Michael got the recliner and we're fine. We both thought people would get it when we did the interview in the Gate room or at the New Jersey convention when I came on stage during his interview. As a fan of the show there's a lot of great moments I'd love to share with everyone but a lot of it is personal, there are limits.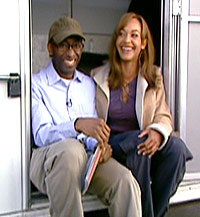 Linda: What do you think of Battlestar Galactica, do you watch this show? What would be your "Recliner of Rage" for this show?
Pierre Bernard: I've been watching Battlestar since the beginning (Since it was on right after Atlantis) I really love the show. If I had to do a recliner about it, it would be on the fact I have to wait till November for the new season to start mean while that Doctor what his name is occupying the time slot. Let's get rid of that already and bring back Battlestar!

Linda: What did you think of season premiere of SG1 and Atlantis last night?
Pierre Bernard: They are both off to a fantastic start. The Ori are quickly becoming my favorite villains. If I had to make a compliant, it would be that they didn't make the two show stories tie in with each other. The fact that Landry didn't informed Weir about the Ori threat seemed like a major mistake. But hopefully they will correct it in a future episode.

Linda: Are there any plans for a new collaboration with SG1/Atlantis in the upcoming season(s)?
Pierre Bernard: I hope, I wish, I pray... I'll keep you posted.

Linda: You are an artist, what are your sources of inspiration?
Pierre Bernard: Some of my sources for inspiration are comics (major fan of Alex Ross). Well rendered animation shows.

Linda: So you are a fan of anime, do you know "Gankutsuou", a recent adaptation (from last year) of The Count Of Monte Cristo? If yes, what do you think about it?
Pierre Bernard: I am a fan of anime. At the moment am not familiar with Gankutsuou, but after this interview I will check it out. As a lot of people know, am a big fan of Cowboy Bebop. And earlier this year I've begun watching Ghost In the Shell. What a series. Now I understand where the idea for the Matrix movie came from.


Linda: Ok, last question, as an artist yourself, what do you think of The Scifi World website?
Pierre Bernard: Last question!? I am just getting started. The SciFi World website is incredible. I must admit I thought I had seen all the major Stargate sites out there. This is one great site! I've been looking at the wall papers, WOW! I will be making some them my desktop real soon. I've bookmarked it and have begun to spread the word about it at work already. Thanks guys for giving a forum to re-live these great moment
in my life.

Check out Pierre Bernard's website at: http://www.totallygraphic.com
>> Comment this interview on the forum