Date of publishing: 6th December 2011



In June 2005, Rachel Fox and her family went on a family vacation to Los Angeles. During their LA family vacation, Rachel attended a movie and television acting camp, while her sister attended tennis camp. They never left Los Angeles, going back to Ohio only to pack their things they had left behind. Within 3 months, Rachel was on the set of the hit Disney TV series, That's So Raven, in a recurring role of Buffy, Muffy's little sister. After a role in Passions and a co-star on Hannah Montana, Rachel made her way to primetime television, playing Young Jennifer Garner (Sydney) on the Series Finale of Alias.
Rachel next landed the role for which she is best known, Kayla Huntington Scavo, on Desperate Housewives. The role called for six recurring episodes, but quickly turned into a two-year series regular stint, as Rachel played evil Kayla wreaking havoc on the twins, Lynette and Doug Scavo, and all of Wisteria Lane.
Rachel began working in film on her first feature, independent film 'Spork,' which debuted at Tribeca and showed at BFI's London Film Festival, and festivals around the world to rave reviews. Rachel's second film, Dream House, is a supporting role for Rachel in a star-studded masterpiece directed by Jim Sheridan. Rachel plays Naomi Watt's daughter in Dream House, and is flanked by Daniel Craig and Rachel Weisz.
Rachel is currently recurring on ABC Family's number-one-comedy hit series "Melissa & Joey." She plays Holly Reback, girlfriend of Ryder (Nick Robinson), in this hilarious multi-camera sitcom.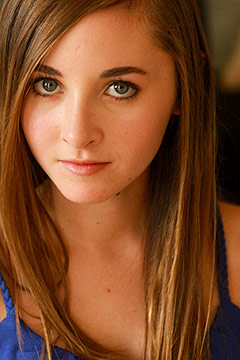 Gilles Nuytens: Hello and nice to meet you! Firstly I would like to know what drives you in life?
Rachel G. Fox: Hi and thank you :) It's very nice to meet you as well. I am extremely self-driven, so your question "What drives you in life?" is a great one. What drives me in life is the living of the moments of working in front of a camera with a director and lines and a script and living all the amazing parts of a film or tv show. Some people are driven by the fame that comes as a result of their work on film or tv, but for me the great reward is acting.
Gilles Nuytens: You started very young, so it is probably as if you always did this, but what drives you to continue acting?
Rachel G. Fox: What drives me to continue acting is pure passion and love for acting, which is speaking, moving, and being another person for a temporary period of time, such that the viewer thinks only that you're the other person and not yourself.

When I watch other actors such as Colin Firth, Helen Mirren, Meryl Streep, Tom Cruise, and Stanley Tucci, I see their character and it is inspiring and just right. When a person's gifts and talents match what they get the opportunity to do, whether it is to play piano, sing, speak, or whatever, it is harmonious and the output is just perfect.
Gilles Nuytens: Acting is quite a little like a virus, once you start, you can't stop anymore... but if you had to do something else in the future (studies or job), what would you like to do? I know you also sing...
Rachel G. Fox: There are so many wonderful things to do and passions to pursue. In addition to acting, I am lead singer and rhythm guitarist for two different rock bands. Acting is much different than singing/playing guitar in a rock band. You can go on camera when you're a baby, and you can knowingly act at a very early age. Singing in a band is much different. You have to cultivate your voice and your movement, and have to sync with the band, which happens organically over time. That's why you don't see high-level touring bands with 15 year old band members. By high-level, I mean playing at Madison Square Garden or Wembley. Justin Bieber is an exception, but he is a solo act and he toured radio stations and built a following, with a very strong agent/manager he carved his path. Justin didn't have to gel with anyone. His music was created and his huge persona and wonderful gifts of performing and singing came together at a young age.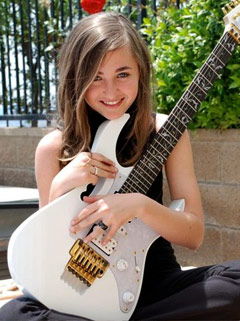 I'm cultivating and creating with the bands and am patiently impatient, wanting to perform at huge venues, but working to grow and progress vocally and in all the necessary ways to have a successful band. One other thing... track singing is really common in performances. It's whatever it is for other performers, but I'd rather wait a year or two to perform and do it without a vocal track. Singing live at concerts is what makes rock music great and its dedicated fans passionately love the bands and musicians that they love because the music is raw and real.

So other than acting and singing/playing rhythm guitar in a touring band, I'd be a day trader (I do this a bit already), an entrepreneur (billboards, real estate), and a pilot.
Gilles Nuytens: As a young actress, how do you manage your celebrity to be able to stay down to earth?
Rachel G. Fox: I think I am down to earth because I am a human, who lives and breathes and is imperfect, just like everyone else. Because I've been casted in amazing television and movie roles, it does not mean I am better or worse than any other person. Some of the most amazing celebrities are down to earth because they know they'll live, breath, and die just like everyone else. When we see people who are not down to earth, it's not pretty.
Gilles Nuytens: When you see some young celebrities that quite disconnect from reality, what kind of advices would you give to them?
Rachel G. Fox: When I see young celebrities that are disconnected from reality, I'm not sure if I could give them advice that could help them. The reason is because much of their behavior comes from their parents and their own inner thinking that tells them that they're better than other people, which no one is, so it's not an easily changeable notion in their mind that could make them be real and right. Not everyone cares about rightness. Some people have a pile of insecurities and issues that they hold onto and don't want to improve and they go around and mistreat others or misbehave. That's why some people bully others or lie to others or are just plain mean to others.

If I were to try to give advice to a disconnected young celebrity I'd say, when you're 90 years old, you will look back at your life. You won't remember every script or every project, but you will remember people and the lives you touched. When you look back, will you like what who you were and who you are?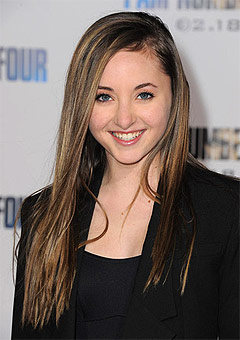 Gilles Nuytens: Which actresses (their work, play, etc) have influenced you so far? Anyone in particular that is a model to you?
Rachel G. Fox: From a pure acting perspective, I'd say Meryl Streep has influenced me because she is so amazing in every role. I have not a second of doubt that she is the character she is portraying. I'd say the same about Helen Mirren. I do not know that much about Meryl Streep or Helen Mirren in their personal lives, so I don't know if I'd model myself in their play and off-camera lives. In an overall sense, Melissa Joan Hart is an amazing role model. She's is an incredible actress, she's hysterically funny, she's an entrepreneur, she has amazing longevity working on so many long-term projects, she's focused, and she is an incredibly nice and loving person. When I'm on her and Joey Lawrence's set, I feel so welcome and loved. Not every set is like that and not every actress is warm and welcoming; with her success, she doesn't have to be, but she is really that amazing and more.

As far as actors, from a pure acting perspective and not knowing about their personal life, I'd say Colin Firth, Geoffrey Rush, Daniel Craig, and Stanley Tucci. As an overall role model from the male side, I'd say Daniel Craig and Joey Lawrence.
Gilles Nuytens: And what about directors, any favorites or anyone you'd like to work with? And why?
Rachel G. Fox: I love so many directors I've worked with, but the most memorable and incredible directors I've worked with are Marc Cherry, David Trainer, Ted Wass, and Jim Sheridan.

There are many directors I'd love to work with. David Fincher, who directed The Social Network and Benjamin Button, is one of the most awesome directors I'd love to work with. The Curious Case of Benjamin Button was amazing and the script, I think, was good but so difficult to make into a beautiful movie. David Fincher was successful at doing the nearly impossible job of that, and The Social Network is hands-on one of my favorite movies. I would like to work with Tom Hooper, who directed The King's Speech, another one of my favorite movies of all time. Tom Hooper's extreme edge framing is unique and subtle and helps create emotion in the viewer.

Other directors I'd like to work with are James Widdoes (Two and a Half Men), Will Gluck (Fired Up), Guillermo del Toro, and Rob Reiner.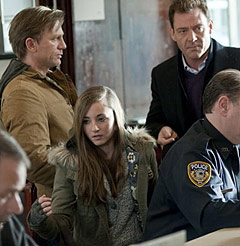 Gilles Nuytens: How was the shooting of Dream House?
Rachel G. Fox: Shooting Dream House was incredible! It was fun working in Toronto. It was supposed to be cold and snowy but the snow didn't fall, so they had to bring in the snowmakers, which was very cool to watch.

Working with Jim Sheridan was a perfect dream because he is an artist with a vision and a genius, really. He is so interactive, which makes the set so fun and social and everyone feels the great energy of creating something. Jim Sheridan calls for meetings for feedback and to really connect with what the actors are thinking. I will never forget those amazing meetings with Jim Sheridan, Daniel Craig, Naomi Watts, Marton Csokas, and others. Working with such amazing actors is so incredible because I drank up every detail of their ways and habits and learned so much from every single person.

Jim Sheridan has a very specific emotional vision and he works and interacts constantly until he sees what he wants to see on playback. We did many takes and had a lot of interaction and there is a lot of dialogue and changes and it was all very artistic and I absolutely loved every minute of shooting Dream House.
Gilles Nuytens: Any good memory or anecdote you want to share about Dream House?
Rachel G. Fox: On my second day on set, we shot the diner scene. Daniel Craig had to burst through the door in anger. On one of the takes, Daniel burst through the door and the glass in the door shattered with the force of him opening it and everyone took a deep breath because they were afraid he might be cut or hurt. After a few seconds, Daniel Craig said, "Ah… a smmashing take," and everyone burst out laughing. It set the tone and everyone was happy he was unharmed.
Gilles Nuytens: You played with James Bond! Daniel Craig, was it easy to work with him?
Rachel G. Fox: I played with James Bond!! Yes… an experience I'll never forget. It was brilliant to work with Daniel Craig because he is so focused and he is present and is there to create a person, and he embraces the moments he is working. I've noticed some other actors who seem to work to get finished but Daniel Craig works to create and the intensity is rich and fulfilling and, I'll use this word again, absolutely brilliant.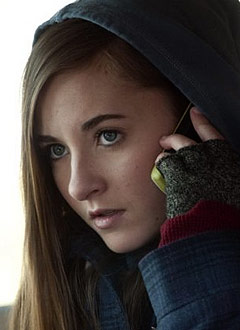 Gilles Nuytens: After the Dream House, my question is: do you have a dream role?
Rachel G. Fox: My dream role for tv is a remake version of the old tv show The Avengers. I'd play Emma Peal.

My dream role for a film is …… well it's out in th the world right now and I've never ever read a script or a book or a poem or a short story that I love so much! Because it will be casting soon, I don't want to have its name in print because I don't like to talk about projects until I'm standing on the set. Fingers crossed :)
Gilles Nuytens: What are the best memories you have from Desperate Housewives?
Rachel G. Fox: One of my favorite memories from Desperate Housewives is when we shot the ice cream scene in Season three. Mr. Marc Cherry directed that scene and he knew exactly what he wanted. I ate ice cream and screamed for over an hour and it was amazing working with Miss Felicity Huffman in that scene. We were on location at a restaurant and there were tons of people and a lot of buzzing energy. Many other great memories from Desperate Housewives were from shooting scenes on Wisteria Lane. Wisteria Lane is a magical place to work and every time I walk down that street it feels just like it is the first time. I loved the tornado scene on Wisteria Lane, when Porter, Preston, Parker, Penny, Mrs. McCloskey, Mrs. Greenberg, Tom Scavo, and Lynette Scavo and I as Kayla, were trapped under a house. It was intense and fun because before we shot the scene, a stunt person took us to a cellar that they built especially for us to be in so that they could film us emerging from the tornado, one person at a time. Working on Desperate Housewives is such an amazing part of my life!
Gilles Nuytens: Which is the role you preferred to play at this point, the best one, the one that most marked you?
Rachel G. Fox: As an actor, you grow and change with each role you take on, and each role has a very big learning curve effect on you, and you change a great deal after learning new characteristics that you take on that are not part of your own persona, which is mostly all of them. I love every single role I have ever played. I think I am still best known for my role as evil Kayla Scavo on Desperate Housewives, and adore my role as Holly Reback on Melissa & Joey as well. I have received amazing compliments from fans around the world about my dramatic acting for my role as Chloe Patterson in Dream House. All things considered, I am so thrilled to be able to create these memorable characters for people to know me as the girl who played them.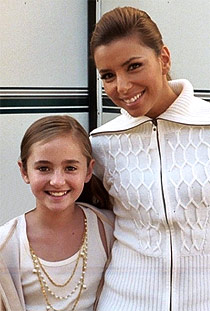 Gilles Nuytens: What are your future projects?
Rachel G. Fox: I am a recurring guest star on Melissa & Joey, which has been and continues to be one of my favorite projects ever. Live audience sitcom is so fun and so demanding, and really, not easy work, but I love it. I recently finished filming Jewtopia with Jon Lovitz, Rita Wilson, Joel David Moore (Avatar), Ivan Sergei, Jennifer Love-Hewitt, Jamie-Lynn Sigler, and others. It's funnier than funny. I am lead singer and rhythm guitarist for two rock bands and am cultivating my writing and performing and am loving it.
Gilles Nuytens: You've done modelling, acting, singer. What aspect of each of these jobs do you prefer? What aspect of being a singer do you like? What aspect of being a model do you like?
Rachel G. Fox: Acting –My favorite aspect of acting is creating a person, a memorable character that people know and remember forever.

Singing – My favorite aspect of singing is being on stage singing on the mic, commanding the audience and entertaining them. Performing music for an audience is like sharing awesomeness and there is such a common bond of passion because your audience is there because they like your sound and your vibe and it's like messing around with friends.

Modeling – My favorite part of modeling is working fluidly for the camera and presenting different looks that the camera will capture.
Gilles Nuytens: Generally, before playing a character, how do you prepare yourself mentally to be in the role?
Rachel G. Fox: The preparation for each role is very different, depending on the project and the role itself. For comedy, my prep depends heavily on repetition. For drama, my preparation is much more mental and emotional.
Gilles Nuytens: As an actress, what is the part of the job you are the less at ease with? And what is the one you are the most at ease with?
Rachel G. Fox: As an actress, there is no part of what I do that I am not at ease with. If I have to identify one thing I don't prefer about the acting business, I'd say I don't prefer actors who act for fame and who ignore the craft of acting. As an actress, I am most at ease with doing a million takes or doing three takes (I love doing a million). One of my nicknames on Desperate Housewives was "One Take Rachel" because they often got what they wanted from one or two takes.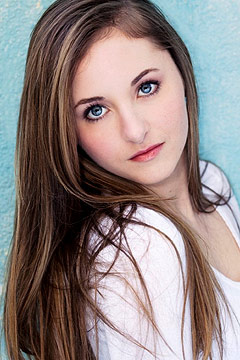 Gilles Nuytens: What are your interests outside of your craft, hobbies for instance?
Rachel G. Fox: Outside of acting, I love running, dancing, playing tennis, investing, travelling, playing guitar, hanging out with my family and my friends.
Gilles Nuytens: And finally, your favorite movies & Tv shows?
Rachel G. Fox: My favorite tv shows are: Two and Half Men, That 70s Show, Melissa & Joey, and Chopped.

My favorite movies are The King's Speech, The Social Network, Benjamin Button, A Few Good Men, Pretty Woman, Catch Me If You Can, and Singing in the Rain.
Gilles Nuytens: Thank you for this interview! Anything else you'd like to share?
Rachel G. Fox: Thank you for asking these different, thoughtful questions. I appreciate what you do as a journalist and I think your readers are quite lucky to have an interviewer like you.
Sci Fi World rocks :)