Date of publishing: 15th November 2005



Prior to joining the cast of Zixx: Level Two as Dwayne, Reece's television credits include a recurring role on Stargate Atlantis as Jinto, the boy from planet Athosia, and guest starring spots on Tru Calling, the Showtime series Jeremiah and as Greg Venner in The 4400. Reece also starred as James in the YTV series I Love Mummy.
Reece's film credits include Dreamcatcher, directed by Lawrence Kasdan, Undercover Brother and The Sandlot 2. Also much in demand as a voice-over actor, Reece can be heard on a number of animated series, including Master Keaton, Infinite Ryvius, Rockman and Inuyasha.


Gilles Nuytens: First thank you very much for taking of your time to answer
these questions! What decided you to become an actor?
Reece Thompson: Well really, I've always wanted to be an actor. Ever since I was a little boy I used to imitate actors in movies and TV. It got me into a lot of trouble actually.

Gilles Nuytens: I suppose it is not easy to manage the success of your career
with your personal life and your school life, how is it ? Can you describe your life on this subject?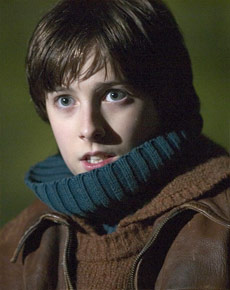 Reece Thompson: Well I'm homeschooled which helps a lot. Thanks to my mom who was willing to stay home with me and teach, as well as help me with my auditions by coaching and driving me all the way to all my auditions. And I'm really thankfull for my dad looking after all my financial stuff as well. He's really smart about that stuff and it's great that he did all of that and continues to do that for me.

Gilles Nuytens: You played Jinto in 3 episodes of Stargate Atlantis, how did you
approach the role?
Reece Thompson: Well Jinto is a kid, who's grown up on a planet that was kind of shadowed by the wraith which has left little room for development or evolution of any kind. So when the Atlantis crew show up it's like an explosion of new things, which leaves him wide eyed and ready to learn anything he can. He's almost like a four year old open to learn and explore as much as possible. Just to discover all that he can about his new surroundings (Atlantis) and learn about the ways of the Earth crew.

Gilles Nuytens: What did you put from yourself into it and how could you describe him?
Reece Thompson: The part of me that I think I put into Jinto's character was a sense of adventure. I'm always wanting to try new things and go to new places and heights.

Gilles Nuytens: What was the hardest thing from your time on the sets of Stargate Atlantis?
Reece Thompson: Always the hardest part is saying goodbye. I really got to know the rest of the cast and the crew even though we were only together for a little while. There was always the hope that they would bring Jinto back, but so far I haven't been called. But if I was I would definitely go back. Not only to see everyone again, but also because I think that Jinto had a lot of room to grow and I would've liked to see that happen.

Gilles Nuytens: We haven't heard of you in the show since the episode "Hide and
seek", do you think there are future plans for Jinto in Stargate?
Reece Thompson: Unfortunately, no.

Gilles Nuytens: How would you like Jinto to evolve in the show, he has grown
since the pilot episode so what would you like to put into him for a renewal of the character?
Reece Thompson: I would love for Jinto just to get older. I'd like to see him get stronger, and just turn into an adult. I think that it would be really great to have Jinto trying to convince Sheppard and the rest to let him join in on the missions and become part of the team, and maybe sneak along a few missions when he wasn't supposed to.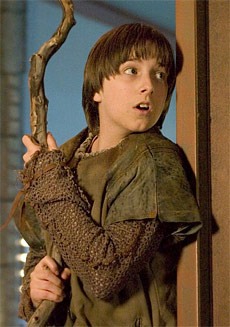 Gilles Nuytens: You played in several anime series, such as Inuyasha and
Rockman, how could you describe the atmosphere on the sets and how
is it different from "live movies/series"?
Reece Thompson: The main difference is that you're pretty much alone. You go into a studio and there's a director and a sound mixer. Then you go off into a smaller room or booth that separates you and the director with a pane of glass. In the booth is a tv screen and a microphone in the middle. You stand at the microphone and put on a pair of headphones. Then you hear three beeps and where the fourth beep would come in, you speak, and try and match it up with the video on screen. You could go a whole series of something and never meet the other cast members.

Gilles Nuytens: Could you describe a typical day of a "voice-over actor"?
Reece Thompson: In a typical day of voice acting I would go into the studio, maybe talk to the director for a few minutes(It's a very relaxed atmosphere). Then I would head into the booth, spend anywhere from five minutes to four hours(depending on how many lines I have that day). Then I'd finish and walk out. Talk to the director and sound mixer for a few minutes again, sign the paper work and go home.

Gilles Nuytens: Do you ever visit fan sites from the shows you work on? How do
you react to Internet fans' opinions of your work, and what would you like to tell them?
Reece Thompson: Sometimes I do, and I try to answer questions that people ask me. I know this may sound strange but I actually don't mind people criticizing my work because it makes me feel like there's room for improvement. It inspires me to be better. I never want to feel like I'm that great that I don't have to work at my craft. Even though I probably won't ever be like that, I know how easy it is to become wrapped up in yourself. And I just don't want to be like that. When people give constructive criticism, it's okay. But, sometimes there are people out there who seem to just like to insult actors. But, thanks to all those supportive fans out there. I really appreciate your feedback.

Gilles Nuytens: You have a regular role in the TV show "Zixx: Level Two", what can you tell us about your experience on this show?
Reece Thompson: Zixx was definitely a fun ride. I got to work with alot of great Canadian actors that are on the rise, like Brenna O'Brien, Michael Ekland, Barbara Mamabolo, Ephraim Ellis, and Tyler Johnston. I'm sure we'll be seeing a lot of them in the future. We all still remain friends and, I think I speak for everyone when I say, that we'd all like to work together again.

Gilles Nuytens: Do you have a funny anecdote in mind about your experience on the sets of Stargate Atlantis?
Reece Thompson: I do have one story. Actually when we were working on the set of Zixx, I got talking to the camera assistant, Laird, who a few of the other crew members had nicknamed 'Raphael'(camera Assistants always get stuck with strange nicknames). Anyway, I was talking to him one day about all the nicknames he had and he came up with Jinto. And I said, "You were Jinto!? I was Jinto!" I guess after I had left the Atlantis show, Laird had come on to do a few episodes and was nicknamed Jinto. So it was great to hear that the Jinto legacy was still thriving even without me there.

Gilles Nuytens: What is your best memory from Stargate?
Reece Thompson: I don't think I have just one. I just enjoyed hanging out on set with everyone. James "Bam-bam" Bamford, the stunt coordinator, taught me a little bit of Kali, which was awesome. I got to practice with Rachel and him alot while on breaks on set.

Gilles Nuytens: Would you be interested to audition for a role in the new Galactica series?
Reece Thompson: I'm willing to audition for anything. If the character really grabs me though, of course I gravitate towards it. I want to play different characters all the time.

Reece Thompson (Jinto), Joe Flanigan (Sheppard) and Casey Dubois (Wex) and David Hewlett (McKay) in the background at the premiere party of Stargate Atlantis.
Click the photo to enlarge it.