Date of publishing: 27th November 2006



A native of the Detroit/Southfield area, Rick graduated from Southfield Senior High School in 1985, and then from the University of Michigan in 1990 First a stage actor in Detroit, Rick later moved to Chicago where he worked with several prestigious theatre companies, before moving to Los Angeles to focus on television and film work. His father is a retired auto worker in the Farmington Area.
Rick has played in numbers of TV show and films such Battlestar Galactica, Stargate SG-1, Star Trek Enterprise, Voyager, Deep Space Nine, CSI, Dark ANgel, Odyssey 5, ...


Linda Craddock: Tell us about the dynamics of working on the set of Galactica particularly with Edward James Olmos and Mary McDonnel, two very distinguished veteran actors.
Rick Worthy: Working on Battlestar Galactica is great. The actors are all fantastic and the writing is top notch. Unfortunately I haven't yet anything with Mary McDonnel, an actress who is at the top of her game, but I did have a nice scene with Edward James Olmos. Working with him in some ways was a dream come true. He's a great actor, and he's very generous and welcoming. I've admired his work ever since Miami Vice, and when I found out he was going to play the Captain in BSG, of course I couldn't wait to watch the show.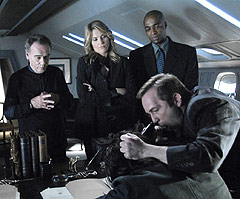 Linda Craddock: You are no stranger to the sci-fi genre, appearing in Star Trek: Enterprise, Stargate SG1, Star Trek Voyager, just to name a few. What do you think about the special effects in television and movies, CGI, etc?
Rick Worthy: I'm always amazed at what can be accomplished with current technology in movies and television. Right now I'm working on the miniseries "Fallen" (ABC Family) and I play an angel. The other day our special effects supervisor came by the set and showed us a computer generated set of angel wings that he put on an actor in a scene. It was amazing! They looked so real! Our producer also told us that upcoming feature film "300" all the battlefield scenes were CGI. They had all the actors do the fight choreography on a sound stage and then they CGI'd the exterior locations. Absolutely amazing.
Linda Craddock: Describe your character Simon in Galactica.
Rick Worthy: Simon is a scientist. He's not as religious as some of the other Cylons, but he definitely believes in a Creator. He wants for the Cylons what the humans want for themselves: the right to exist.
Linda Craddock: Is it hard to give some nuance to the number of Simons you play in Galactica? I mean they are clones but they also have their own personality.
Rick Worthy: I actually try to play the same Simon every time out, but as the story changes and evolves, so too does Simon.
Linda Craddock: We don't see you much in Galactica, could we expect to see more of you in the future?
Rick Worthy: I would like to come back to BSG for more eps. It depends on the producers.
Linda Craddock: What is your opinion of the war between Humans and Cylons" Do you think it reflects the situation on the world today?
Rick Worthy: I do believe it relects the situation of the world today, and the world of yesterday. The history of our species has always been about one group trying to suppress another. Look at what's going on in the Middle East, look at what's going on in Sudan.
Linda Craddock: With the presence of a biological weapon which can ultimately destroy resurrected cylons (duplicates), how do you think the writers will revive the presence of more machines rather than duplicates in episodes to come?
Rick Worthy: Honestly I have no idea if the writers/producers will revive more machines instead of duplicates in future eps.
Linda Craddock: You appeared in 10 episodes of Star Trek Enterprise. Tell us some of the interesting aspects of alien species in some of the episodes you were involved in.
Rick Worthy: I loved working on Star Trek: Enterprise. In fact, I loved all the Star Trek shows I've worked on. What I found interesting about my character is that he was afraid of water. Interestingly, other members of his race live in the water, and yet others, like the Reptilians, are ground creatures. But they are all Xindi.
Linda Craddock: With the story of man creating machine, machine turns against man, as told in Terminator with the difference being the fight in Galactica was engaged in outer space versus taking place on earth. With that said, what do you think makes Galactica so successful as a sci-fi television series?
Rick Worthy: I love The Terminator. I think James Cameron is a genius, and it's one of my favourite films of all time. I think what makes BSG so successful is that it's a strong, character-driven show. It's ultimately a story about the human condition. And even though this series takes place somewhere in a galaxy far, far away, we can relate to it very strongly. All the stories that are told on BSG are metaphor for what's happening here on Earth right now. All the pain, the suffering, the joy, and the love that we see on BSG we can immediately relate to. It's about us. It's always been about us.
Linda Craddock: What are your expectations for Simon? How would you like to see the character evolve?
Rick Worthy: I would love to see Simon more on the show. I would love to see him take a more active role in the direction the Cylons are moving. But hey, that's not really up to me. I'm ultimately a hired gun.

Linda Craddock: Given their story line as it appeared say during the episode "The Council" in Star Trek Enterprise, which species would you say was the most complexed, creating difficulty among the council members?
Rick Worthy: I'm not sure which one would be the most complex of the Xindi ... Perhaps the Reptilians. They're warhawks, really. They're bullheaded, and if's difficult for them to see others' point of view. This kind of character creates difficulty in peaceful negotiations.
Linda Craddock: Most actors describe extensive make up for particular role like "Jannar" in Star Trek Enterprise which require early hours for preparation. Did that hold true for you during your role with Enterprise?
Rick Worthy: For Enterprise they had me in the makeup chair for probably 1.5 hours or less. The makeup artists are top notch. I didn't mind at all.
Linda Craddock: Your speak with great eloquence, your voice resonates with authority as demonstrated in the Stargate SG1 episode "The Warrior" while you were speaking to the Jaffa, encouraging them to continue the fight against the Goa'uld. How do you compare acting in theatre versus television?
Rick Worthy: That's very nice, thank you. What I love about the theatre is that I can really use my vocal power. It's almost like singing the words out. When I read the script for Stargate, I decided early on that I wanted like him to sound strong and powerful and wise. It's the same approach I would use for King Lear or MacBeth. Once you've got the voice of the character right, you're 99% there in terms of creating the character. Everything else follows: how he walks, how he moves, how he picks up an object.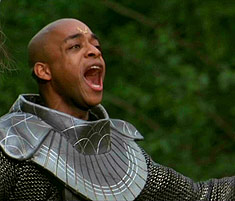 Linda Craddock: I especially enjoyed the fight sequence between K'Tano and Teal'C did it take a lot of preparation to perform stunts in Stargate SG1 "The Warrior". It was well choreographed. Did you have any prior martial arts training?
Rick Worthy: Thanks again. I studied Tae Kwon Do when I was younger, and I did some stunt fighting in The Magnificent Seven, but I had never done anything like this! I was so excited because it was new for me. I did some of the kicks and bo staff hits, but most of the really cool stuff was done by Bolo, a brilliant Brazilian master of Copeira.



Linda Craddock: I understand you are in the process of filming a new adventure called "Fallen". Can you give us a hint about story, plot, characterizations, etc?
Rick Worthy: Sure. "Fallen" which aired last July on ABC Family as an original movie of the week, will continue this coming summer as a 4 hour mini-series. "Fallen" is the story of Aaron Corbett, a teenager who discovers on his 18th birthday that he is half-human and half-angel. A group of killer angels, the Powers, are trying to find him so that they can destroy him, and Aaron is on the run with my character, Camael, the former leader of the Powers who has decided to protect Aaron instead of killing him. "Fallen" is adapted from characters created by Tom Sniegoski, a brilliant writer.
Linda Craddock: How was your experience with "Odyssey 5" series and the concept that a crew of astronauts returning to earth with a 5 year time frame to prevent the destruction of earth?
Rick Worthy: Odyssey 5 was really cool. Peter Weller made my whole experience fantastic. He directed the episode, and it was fun acting with him, and watching him direct the scene too... Peter is a great, great actor and director. He's also a huge Miles Davis fan and he plays jazz trumpet. He's also one of the smartest and most well-read men I've ever met. One night he and some friends went out to dinner and he invited me to come along, and we drank great wine, ate great food, and talked for hours about everything. It was one of the happiest nights of my life.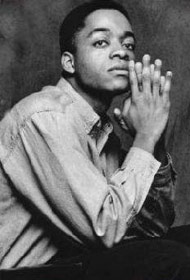 Linda Craddock: Any other projects down the pike?
Rick Worthy: I wrote and directed a short film entitled "pack" with my best friend, Trent Harrison Smith. We were in the "Reel Black Men Film Festival" at Raleigh Studios in LA this past August, we were just on "BETJ's Best Shorts Film Festival", and we will be in the upcoming "S.E. Manly Film Festival" November 30 - December 3rd in Los Angeles. So we're thrilled! Something that we wrote and directed and acted in is getting some really nice attention. I'm very grateful to God for that. We just wanna keep the ball rolling, and see how further we can go with our film.
Linda Craddock: We recently watched the 4 episodes of Season 3. This is definitely the reality of the world described there with atrocity, violence, sadness, and joys. With viewers discretion advised, for its realistic violence both emotional and physical and the fact that we have not seen such realism in a sci-fi TV show. It has a profound effect on viewers. That's a powerful experience for the sci-fi genre detractors that think sci-fi has no consistency with the characters. What do you think?
Rick Worthy: I think this show can keep up with and surpass the best one hour dramas on primetime or cable. I think it's due time for the Emmys to recognize and justly award a show like Battlestar Galactica. It'll happen, just keep watching!!!

God Bless All of You. And Always Remember: Follow Your Bliss.