Date of publishing: 17th December 2007



Rob Carpenter grew up 40 minutes north of Montreal and moved to Vancouver in the fall of 1996 to persue acting in the film industry. Rob adopted a 'hands on' approach to his career and decided it was worth taking risks in order to learn about the film industry as a whole. He began by creating his own short experimental films and served as Writer, Director, Actor and Cinematographer. Two of these films (Trauma, and Hunted) were shown at the Vancouver's Festival of Independents in 1999. In the same year he joined another Vancouver filmmaker, Vince D'Amato, to became a core member of Creepy Six films. They have since made 3 feature films (Vampires vs Zombies, Human Nature, Hell Hath No Fury) that have all reached the global video market. In the fall of 2005, Rob returned full force to his first love of acting. He's been cast in over 30 film and TV projects to date and continues ride the wave.
In Trevor Cawood's compelling short film TERMINUS, a man (Rob Carpenter) manages to escape from the shadows of his towering worries, but does so at a gruesome cost. His private fears and anxieties manifest themselves as daunting figments of the imagination in this visually innovative, surrealist piece.
Download the full movie (8 minutes) at: http://www.terminus-movie.com
Or on YouTube at: http://youtube.com/watch?v=nyiktNfn4AA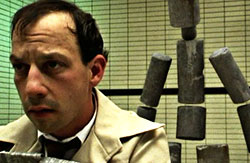 Gilles Nuytens: What did you think when you first read the script of Terminus?
Rob Carpenter: Honestly, the first thing I liked was that it was set in the 70's! One of my favorite decades regarding films and overall style. The other thing was the dark humour that was laced into the story.
Gilles Nuytens: What attracted you in this script to accept the role?
Rob Carpenter: I tend to love characters who are tortured in some manner. Whether they bring it on themselves or another character inflicts it. Depending on how you look at it, that's where Terminus was a great project to do. He's being stalked by this entity that is possibly a figment of his own imagination. So both apply to his torment.
Gilles Nuytens: What do those creatures represent for you?
Rob Carpenter: I think the creatures represent all the stresses of society and life in general. As much as we try to ignore or sometimes run from what weighs us down as human beings, it can eventually catch up to us.
Gilles Nuytens: Is it fair to compare those creatures to reflections of people's anxieties?
Rob Carpenter: Most definately. I think there are many ways to interpret this
project but that's one of the things that stands out for many people.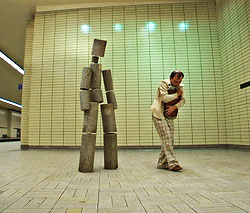 Gilles Nuytens: Your character is literally crushed by a bus at the end, and the creature goes off to annoy someone else ... what do you think this means, is there any sense to it?
Rob Carpenter: The director (Trevor Cawood) wanted to leave that up to the audience to decide for themselves. For myself, I feel it represents that others have the same torments that he had and he wasn't alone in the end.
Gilles Nuytens: Why do you think the story happens during the 1970's? Is there any special reason why this happens then and not now?

Rob Carpenter: Outside of the director's specific visual concept, I think what is being said within Terminus applies to today's society immensly. The stresses and feelings of solitude are something a person will always deal with no matter how much time passes.
Gilles Nuytens: Critics say that the success of the film is a lot due to your performance, and I have read that you didn't yet have an idea how the creature would look like when you shot it. How did you prepare for that?
Rob Carpenter: That's an amazing and humbling compliment! I have to say that Trevor is one of the best directors I've had the pleasure of working with. He knew exactly what he wanted and communicated that extremely well. As well, I knew that my 8 foot cement co-star was a scene stealer.... so I had to give it my all :) As far as performing with something that wasn't there at that moment, it actually lent itself quite well. This creature was something my character was only able to see, so it helped as I was performing to know that people passing by couldn't see what I was imagining.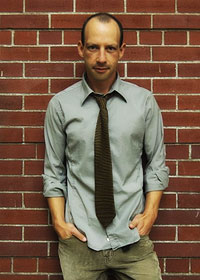 Gilles Nuytens: Has this movie opened some doors for your career?
Rob Carpenter: I've been sent a few scripts thanks to Terminus. The web site had had approximately 400,000 hits in less than a month. I'm just happy to be apart of a project that so many people have had the opportunity of seeing. That's definetly a great door to have opened.
Gilles Nuytens: What kind of memory do you keep from this experience?
Rob Carpenter: Outside of working with a great group of people, I think the best memory for me was filming back home in Montreal! I was excited to see my family and have them be part of the experience.
Gilles Nuytens: Is there anything else you'd like to add about this short movie?
Rob Carpenter: With all the projects I've had the pleasure taking part in in the past couple of years, Terminus stands out as the cream of the crop. I look forward to working with Trevor again if the opportunity arrises. He's a very talented artist and director who has a very bright future ahead of him.
Gilles Nuytens: You got a small part in Flash Gordon, how was this experience?
Rob Carpenter: I had the best time on set. I played a fortune telling monk who warns of Flash Gordon's arrival all spoken in an acient language. I had my head shaved for the part due to a detailed make up job of a painted skull. About 4 hours of work before hitting the set, it looked great. It was great to be apart of the cast and crew who all
love being a part of the show.
Gilles Nuytens: Darklands: what can you say about this movie? Does it have anything to do with the 1996 movie of the same name?
Rob Carpenter: Completely different film. I play Henry James, a hunter who disturbs an acient buriel ground. This feature should be finished in 2008 sometime. Darklands is where I first worked with one of the producers of Terminus. You can see a teaser trailer of the film on youtube. I can hardly wait for the finished project.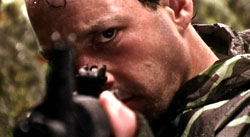 Gilles Nuytens: As an actor, what draws you to a role?
Rob Carpenter: I tend to be drawn to awkward or odd characters that I can break down and make somewhat real and believable. I love it if a character is a personal challenge. You know, one that makes me dig deep into myself to get an understanding of them. Whether it be a lead or smaller role, they have to be interesting to me.
Gilles Nuytens: As a producer and director, what kind of movies do you like?
Rob Carpenter: I spent a few years producing low budget horror films. I like the genre from growing up in the 80's because I think they can be just great, shocking, silly, fun and at times 'make your skin crawl' entertainment. More so, I learned a lot about the business that has helped me grow much more as an actor by being apart of the 'behind the scenes'. At the same time, I enjoy comedies, dramas and action films. Overall, if I read a script that kicks my imagination into gear (no mater what the genre is) I'll consider it. It's all about story telling and how it's told in the end. I'm just in the process of editing a short dramtic film I wrote and directed called 'Endings'. Overall, when it comes to directing, the creative process with an exciting story is what I enjoy the best.
Thanks so much for opportunity to talk! Have a Happy holiday!