Date of publishing: 25th April 2007



At 17, Canadian native Rob Stewart faced an abrupt change in his career plans. An injury forced him to turn down college athletic scholarships and set aside his dream of playing professional hockey. Instead, he earned money for school by singing and playing the guitar at local restaurants. Since then, Stewart has landed numerous feature-film roles, including Kounterfeit (with Hilary Swank), Someone to Die For, Motel Blue, An American Affair and the crime drama The Pawn. Stewart has also appeared on an array of TV series, although most viewers will probably recognize him from Sweating Bullets (a.k.a. Tropical Heat), in which he played the lead character, Nick Slaughter. Stewart wrote and directed several episodes of Sweating Bullets. His small-screen work also includes Sweet Deception (with Kate Jackson), The Christmas List (with Mimi Rogers), Missing (with Vivica A. Fox), Highlander, Nash Bridges, The Collector, Jake 2.0 and SCI FI's original miniseries 5ive Days to Midnight (with Timothy Hutton and Randy Quaid). You can now see Rob playing Andre McBride in the new Painkiller Jane TV show.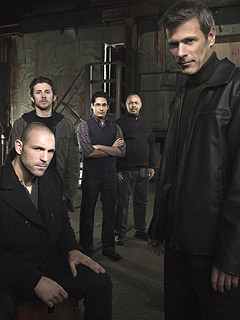 Linda Craddock: How competitive was the audition for the part of "Andre McBride"?
Rob Stewart: Not at all. I'm told they had exhausted all their options and were without an Andre two weeks before shooting. I was in Toronto and was asked by my agent to video tape an audition on my own and send it to Vancouver. I did so. It wasn't exactly a stellar performance, but they made an offer within a few days. I have to assume they were desperate.
Linda Craddock: Tell us about the role of "Andre McBride"?
Rob Stewart: On paper, by which I mean the script, there wasn't much there. A straight forward role: the stoic commander, ex-military, leader of the covert team that recruits Jane. The role was more functional (to the story) than anything else. But like many under-written roles, the fun - and the challenge - is in adding quirks that aren't on the page.

Linda Craddock: "McBride" is very focused on the job at hand, black and white, no shades of grey. Is that characteristic of Rob Stewart as well?
Rob Stewart: No. I'm an actor – everything is grey!
Linda Craddock: How many episodes for the series will be aired for the 1st season?
Rob Stewart: I assume 22, since that's how many we're shooting.
Linda Craddock: Will the writers take the powers of the "Neuros" beyond the ability to heal, can't die sort of thing, and the motion of objects during the course of the series?
Rob Stewart: The writers have steadfastly refused to tell us anything of the show's future. Whether this is to avoid leaks or is simply a lack of foresight, I cannot say.
Linda Craddock: Would all the "Neuros" have the same level of telekinesis and telepathic ability or are there various levels of power?
Rob Stewart: I can't see them pulling back on the powers now. They started out high and it would likely be seen as anti-climactic to craft stories of more subtle and limited powers. Maybe they should've started lower and slowly ramped it up over the course of 22 episodes. Who knows? As it is, I suspect all the Neuros will be "Super Neuros".
Linda Craddock: The series takes off from the 2005 movie where "Jane" was exposed and exploited by the government to develop a serum to be used by other soldiers and your show will feature her leading the hunt for other "Neuros". Can we look forward to a lot of action sequences in the series?
Rob Stewart: Yes. Jane will engage in all manner of action sequences. They got lucky with Kristanna: she's a natural action heroine and can handle any stunt they throw at her.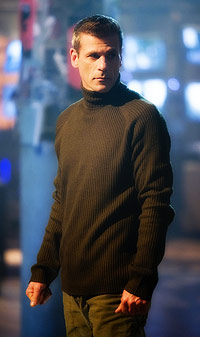 Linda Craddock: How do the writer explore the trust factor or, lack thereof, between "Jane", the government, and "McBride".
Rob Stewart: That's a slowly developed arc. What I see so far is this: Jane always wants to do the right thing, regardless of orders; Andre wants to do the right thing while appearing to follow orders; and the government has its own agenda which is a mystery to all but our secretive writing team (and perhaps even to them!).
Linda Craddock: How much flexibility with script ideas do you have as an actor with the writers and directors with the outcome of a scene or an episode?
Rob Stewart: Sadly, very little. It's nobody's fault, really, just the nature of the beast. By the time I get to read a script (which is usually the day before we shoot – at the cast read-through), so many people have left their finger prints on the script that one little change could bring down the house of cards. Beyond that, there are network notes, which are apparently sacred – or at least non-negotiable; there are future arcs that we haven't been told about, and therefore can't intelligently respond to even when a scene doesn't work for us dramatically; and there's the fact that I'm an actor and it's my job to act – not write. So we've had the usual creative differences you get on any show where people care, but at the end of the day I say the lines that I've been given and move on to the next scene.
Linda Craddock: Can we anticipate any writing or directing from you in episodes to come?
Rob Stewart: No.
Linda Craddock: How would you describe the energy and chemistry on the set?
Rob Stewart: The best I've ever experienced. A perfect blend of fun and professionalism – you need both, because we're in this for eight months.
Linda Craddock: I know a lot of television series have very short schedules during production which leaves time for other projects. Do you have any coming in the near future?
Rob Stewart: This isn't one of them! For eight months, which started in November and will end late July, Painkiller Jane owns me. I am beginning to look around for something in August.
Linda Craddock: Whenever time permits, are you still active with your hobbies – singing, piano and guitar?
Rob Stewart: At a tragically primitive level, yes. I seem to get worse as I get older