Date of publishing: 28th March 2009



Roberto Urbina has acted in several films. Known by Heroes fans for his role as "Santiago" in the webserie "Heroes: Destiny", he has starred in a couple Spanish language films that have also been released in English format: as "Sebastian" in Dependencia sexual (Sexual Dependency) (2003), and "Jose Gutierrez" in Hacia la oscuridad (Towards Darkness) (2007). Roberto also starred as "Guile Pardo" in The Argentine (2008), which was filmed in English and translated to Spanish. His other film roles include playing "Reese" in Blues (2008), "Rafael Ramirez" in The Ball Is Round (2008) and last but not least in "Che: Part One" from Steven Soderbergh with Benicio Del Toro and Julia Ormond. Besides his film career, Roberto has an activity of DJ, check out his website: www.camachoandvass.com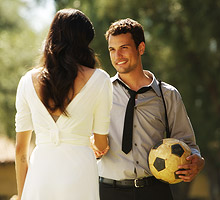 Gilles Nuytens: So you are firstly a DJ, how did you get into acting?
Roberto Urbina: That's not necessarily true. I am a DJ and an ACTOR. They are just different ways of expression. I began acting when I was very young. My first film was shot when I was 15 years old. And it came across by coincidence. I went with a friend to an audition that he was going to do, the director asked me to audition and I did, and got the part.
Gilles Nuytens: How have you first heard about the Heroes webisodes?
Roberto Urbina: Through my agent.
Gilles Nuytens: How was the audition process for Heroes webisodes? Was it as hard as it could be for the "standard" episodes?
Roberto Urbina: It was the exact same process as it would be for any other "standard" episode.
Gilles Nuytens: As for most of the webisodes, the story hasn't really a "proper" ending, do you know of any project to make you appear in the show? Any chance to see you again?
Roberto Urbina: I most certainly hope so. I really enjoyed this project, I got to work with great people and I think it had a very interesting storyline. As for making the character appear in the show I have not heard anything about it.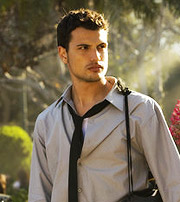 Gilles Nuytens: 4 episodes and approximately 20 minutes of video, so how long was the overall shooting?
Roberto Urbina: It took us about two weeks to shoot.
Gilles Nuytens: How did you enjoy this shooting, shooting for Heroes?
Roberto Urbina: I loved it. I got to work with really amazing people, Eagle, the director, was incredible. Lina was amazing too, we became good friends.
Gilles Nuytens: The webisodes are officially for US viewers only, so that means that non-US people cannot access them on the official and legal way, this is like forcing people to download them on illegal sites if they want to see it. What do you think about that?
Roberto Urbina: I completely agree with you. It was even more of an issue to me because I am Colombian, and my whole family and a lot of my friends are living in my home country. This restriction made it hard for them to see my work in my home country. I really think it should be available for any territory, even more so given the fact that Heroes has such an amazing following worldwide.
Gilles Nuytens: What was the most difficult part you had to play for this series of webisodes?
Roberto Urbina: Mmmmmm, maybe some of the wire work for the stunts ??? We had no prepping time, so I just had to go to set, rehearse a few times and then shoot…. But it was also the most fun.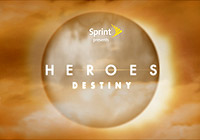 Gilles Nuytens: Is it different to play for a small webseries than for a feature film or a standard TV show?
Roberto Urbina: Well this are the only webisodes that I have done, and this particular one had a feature film style of shooting, so no.
Gilles Nuytens: What else would you like to add about Heroes that we haven't yet talked about?
Roberto Urbina: I think you pretty much covered everything.
Gilles Nuytens: You have a part in "Che: Part 1", how was the experience there, playing in the biography adaptation of a legendary man?
Roberto Urbina: I have to say that it was one of the most amazing experiences I have had. I am a Political science major and have always been interested with this character. Seeing Benicio become CHE was extraordinary. But what I enjoyed the most was talking to people that actually lived and fought in the Cuban revolution. Mind blowing.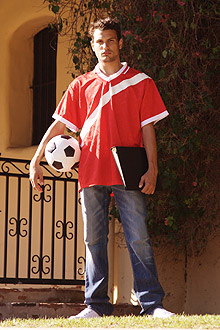 Gilles Nuytens: Will we see you in "Part 2"?
Roberto Urbina: No, my character stays behind in Cuba while CHE ventured into South America.
Gilles Nuytens: Anything else you'd like to share with us about "Che"?
Roberto Urbina: Not really, I just hope that A LOT of people watch it so that CHE becomes a little more than just a face on a t-shirt. He was an amazing character.
Gilles Nuytens: In "Towards Darkness", you share the lead role with America Ferrera, how was she to play with?
Roberto Urbina: She was very nice. We had a good time shooting that one.
Gilles Nuytens: What's next for you, do you have any other acting projects coming?
Roberto Urbina: I'm actually shooting an episode for Greys Anatomy, and there are a couple of independent features that I might do.