Date of publishing: 4th June 2007



Robin Dunne's feature film credits include lead roles in "The Skulls 2"; "The Circle"; "Cruel Intentions II"; "Borderline Normal"; "Teenage Space Vampires"; "The Big Hit," which was produced by John Woo and featured an all-star cast including Mark Wahlberg, Lou Diamond Phillips and Christina Applegate; The Road Home; and Strike, with Kristen Dunst, Gaby Hoffman and Lynn Redgrave. Dunne has also starred in the television movies of the week "Jewel" with Farrah Fawcett; "A Husband, A Wife And A Lover"; and "Au Pair II." He has also appeared in "In a Purple Haze" with Colm Feore and Jonathan Jackson, and in "A Strange Affair" with Judith Light and Jay Thomas.
Dunne's television credits include a series lead role on "Manchester Prep" (which, after being controversially cancelled by Fox, was reformatted as the feature "Cruel Intentions II") and the recurring role of A.J. Moller on "Dawson's Creek." He also starred in the TV series "Little Men," "My Life As A Dog," and "Side Effects." TV guest-starring roles include "The Hoop Life," "The Mystery Files of Shelby Woo," "The Adventures of Shirley Holmes," "The Adventures of Sinbad," "Ready or Not, "and Kung Fu: The Legend Continues." A native of Toronto, Dunne studied at the Etobicoke School of the Arts where he trained and amassed an extensive list of stage credits. You can now see Robin Dunne in the online exclusive show "Sanctuary" where he plays "Dr. Will Zimmerman", one of the lead roles of the show.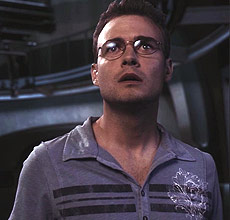 Gilles Nuytens: You play Dr. Will Zimmerman in Sanctuary, the first full show exclusively for online broadcast, how did you decided to take part in this groundbreaking project?
Robin Dunne: Director Martin Wood and I had done a film (an awful film) together some years ago and had stayed in touch. He called me and sent me the script for Sanctuary and I read it and loved it. I began to research the rapidly closing gap between the Internet and television and am very excited to have an opportunity to be on the cutting edge of that.
Gilles Nuytens: Simmilar question, do you think this delivery platform is where televison is heading in the future?
Robin Dunne: Absolutely. Online content is so much more easily accessible. It allows the audience to watch what they want when they want, and to be more actively involved.
Gilles Nuytens: Most of the show is shot with green screens, was that something difficult for you to play? Or is that easier to play a character on a "real" set to put yourself in the "mood/mind" of the character?
Robin Dunne: Damian Kindler's script is so rich that it is not at all difficult to know exactly where we are and what the context is without the green screen making much of a distraction, also I have the privilege of working with such fantastic actors. The green screen gives us a great opportunity as well, in the sense that we can set each episode anywhere without worrying (too much) about the logistics of building sets or traveling to locations.
Gilles Nuytens: The first episode is now avaiable online, have you already gotten some feedback? And because it is a show specifically for the internet, have you found yourself surfing for comments on the show?
Robin Dunne: I have taken part in online forums with the fans. It is truly awesome to be able to talk to people all over the world who are as excited about the show as we are. Very cool.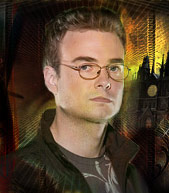 Gilles Nuytens: Playing in this new show concept, online shows, is that something you would recommend to other actors?
Robin Dunne: Certainly. There is a barrier that is removed by being an online show because everyone has more direct involvement.
Gilles Nuytens: What was the most interesting and enjoyable aspect of playing in Sanctuary?
Robin Dunne: Because it is a new media show, and we are on the cutting edge, we all feel as though we are part of a cause or movement and that makes it special. I know it sounds like a cliche, but it really is like a family environment we are working in. There's no ego. Everyone just wants the show to be a success and to have fun. I think that is the most enjoyable aspect.
Gilles Nuytens: And what was the most challenging aspect?
Robin Dunne: I think the most challenging aspect of working on Sanctuary is having a day off while shooting. We have such a great time making this show that you're disappointed when the weekend comes and you can't wait until Monday to go back to work.
Gilles Nuytens: What parts of you, characteristics, do you bring to Dr. Zimmerman?
Robin Dunne: There is a vaulting curiosity that Will and I share. He has completely jumped into this world head first, acting on his gut impulse. I've done that in my life.
Gilles Nuytens: What was the best gag joke or funny experience during the shooting of Sanctuary?
Robin Dunne: As I've said, we have a great time on set. Because we all know each other so well there is a lot of joking going back and forth. Nobody is safe from the teasing. I get a hard time about my acting, Damian gets a hard time about the script, etc. To be honest, Martin is the ringleader. I'm really looking forward to many years of Sanctuary. The one downside will be dealing with Marty and his bad jokes. Nothing is perfect.
Gilles Nuytens: A lot of the cast & crew from Sanctuary come from Stargate, how did you feel entering in this "family"?
Robin Dunne: I had worked in Vancouver a few times before Sanctuary and had worked with some of the crew so it was really nice to reconnect with them. It was a very welcoming environment. The second I showed up (and the teasing started) I felt right at home.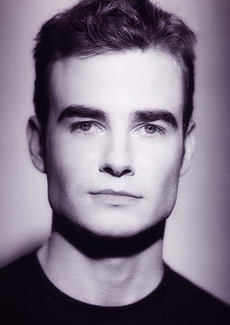 Gilles Nuytens: Would you consider playing in Stargate Atlantis?
Robin Dunne: I had seen Atlantis before working on Sanctuary and like the show. It was a lot of fun working with David Hewlett (on Sanctuary). I think I'll probably have my hands full with Sanctuary, but working on Atlantis sure would be fun.
Gilles Nuytens: You play a psychiatrist, did you do some researches for the role? How did you prepare for it?
Robin Dunne: I did quite a bit of studying before I began the project because I wanted to make sure Will had an authenticity to him. I also spent a lot of time discussing the character with Damian. Not only did Damo create the character of Will, but his father is a psychiatrist. During shooting I was constantly checking in with Damian to make sure that my approach to various scenes were accurate and believable.
Gilles Nuytens: We don't know much about him yet, what could you say about his personality, his past and his role on the storyline (if you are authorized to speak about it)?
Robin Dunne: Will is a guy who, because of the nature of his job, has had to constantly keep his cool no matter what the situation. I think we may see him snap at some point.
Gilles Nuytens: Some people are reluctant to watch a show on their small computer screens, even if there are ways to connect the computer to the TV, the technology isn't available for everybody. What would you say to people to motivate them to watch the show?
Robin Dunne: We are cusping a wave of the joining of television and the Internet. What is great about having a show available online is that it is much more interactive. Fans are able to participate in a way that traditional television cannot offer. I even had doubts myself whether or not online content would work, but since seeing the enthusiasm that the show has generated from the fans it's a no-brainer.
Gilles Nuytens: When did you first know you wanted to be an actor?
Robin Dunne: It is the strangest thing. I have always wanted to be an actor. I can't remember not wanting to be in this business. For me it is the greatest job in the world - especially being able to work on such a great show, with such great people as Sanctuary. I consider myself extremely lucky.
Gilles Nuytens: What motivates you in life and what do you like doing when you're not acting?
Robin Dunne: I tend to be quite a workaholic, and this business can be all-consuming at times. Several years ago (geez, it might even be ten) I discovered long distance running and I fell in love with it. It is the perfect zen pastime for me. It really clears my mind. I've just run the Los Angeles marathon and I'm gearing up to run Toronto in October.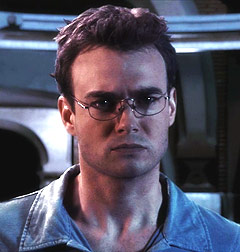 Gilles Nuytens: You are credited in a movie called "The Dark Room", can you speak about this movie and the role you play on it?
Robin Dunne: The Dark Room was a television pilot that got canceled. It is unfortunate, too, because I felt it had a lot of promise. The story took place around the greed and secrecy of a very wealthy political family. I played a young Bill Clinton type who will do anything it takes to climb the political ladder. I have a interest in politics so it was quite a fun project. I also was able to work with my friend, director Bruce McDonald (Highway 61) which was a blast. He's a great guy and - much like Marty Wood - a maverick director. To be an actor and be able to work with guys like that is an honor.
Gilles Nuytens: Same question about "Roxy Hunter and the Mystery of the Moody Ghost" and "Jack and Jill vs. the World".
Robin Dunne: Roxy Hunter is a TV movie series that I co-created and co-write for Nickleodeon. The films center on a young girl who has moved to the country with her mother and is constantly discovering strange mysteries in the new town she lives in. The first film will air on Nick in October. Also, you can look for the books around the same time.
Jack and Jill vs. the World is a film that was written and directed by my multitalented girlfriend Vanessa Parise. It stars Freddie Prinze Jr. and Taryn Manning. I helped her produce it and played a small part in it. It will be released next year.
Gilles Nuytens: You have also played in an episode of CSI: Miami, was that an enjoyable experience? How is it to play in a "blockbuster" series like CSI?
Robin Dunne: I've really liked David Caruso ever since I saw him in Proof of Life. So I really lobbied to get on the show. I was a lot of fun. David is a really nice guy and to work on a show that has such a huge audience is mind blowing.
Gilles Nuytens: A few years back, you played in Species 3, can you speak about your experience on that movie, on the sets?
Robin Dunne: Species was a lot of fun. It was nice to be able to a part of such a great Sci Fi franchise. It was also the first time I worked closely with prosthetics which was a great learning experience for me.
Gilles Nuytens: Have you some special interests in sci-fi/fantasy? Or is that just work and opportunities?
Robin Dunne: I, of course, grew up obsessed with Star Wars. Those first three films are in a large way responsible for my interest in the film industry. And now to be able to work in the genre is great. Who knows, maybe we'll have the same kind of success that Star Wars had.