Date of publishing: 17th June 2005



Ron Blecker is the military advisor and weapons handler/armorer on many shows such Stargate SG-1, Stargate Atlantis, X-Files, Millenium, Smallville, New Battlestar Galactica and big movies such X-Men 2 and 3, I Robot, and many more. He also played a role in Stargate SG-1 "The Lost City" as a member of SG-3, in Stargate Atlantis and the new Battlestar Galactica. But Ron is first of all a military person, he spent almost 15 years in the Army then was forced to give up his career in 1998 when he was injured. Quite simultaneously Chris Carter contacted him to help them on the X-Files show as military advisor. Hence he rapidly became one of the foremost wanted Technical Advisors in the industry. Don't hesitate visiting his web site for more information about him and his job: http://www.def-con-5.com

Gilles Nuytens:

Can you speak a bit about yourself, about what your role on Stargate consists of and about your work in general ?


Ron Blecker: I'm from the United States and was born in Illinois and raised in Oregon. I joined the United States Army right after graduation from High School. I spent almost 15 years in the Army and shortly after that was working in the motion picture industry. My role on Stargate depends on the episode. Sometimes I will work as the Technical Advisor and sometimes I work as the weapons handler/armorer and sometimes both. I was asked once to be in an episode and that was a good time although at the time I was doing all three jobs.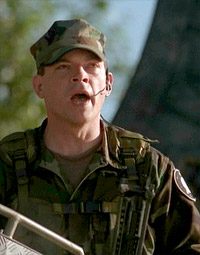 Gilles Nuytens:

You contributed to an impressive number of TV shows, how are the things going between you and the crew/cast members? Are you still in touch with some of them ?


Ron Blecker: My relationship with the cast members I have worked with has always been a good one. When actors meet military advisors for the first time they don't know what to expect. Sometimes they expect me to be rude and yell all the time but thats not the way I work. I have established some very good working relationships and long lasting friendships with cast members. As for the film crew's it seems as though I have a new family with most of them. The industry is a small one and I can walk onto any set and run into someone I have worked with before. It's always nice to see a friendly face when I walk onto a new project.

Gilles Nuytens:

Do you miss your military career?


Ron Blecker: As for my military career I do miss parts of it. I miss my friends and the adventure. I loved the Army and I met some fantastic people and learned about myself and my character. Many people go through life never really being challenged and not taking advantage of the opportunities that come with learning about yourself. I am glad I did it and I'm glad that it has led me to the job I have now.

Gilles Nuytens:

The producers of the Millennium show came by themselves to hire you in order to give help on their show, and that started your new career and influenced you to create Defcon-5. What do you think had led the producers towards choosing you ?


Ron Blecker: It was actually the producers of the X-Files that gave me my first break in the business. They also produced Millennium but the X-files was my first job. They had heard about me from the Vancouver Police Department because I had done some training with the Vancouver SWAT team the year prior. They couldn't provide the technical support the production was looking for so they are the ones who passed my name and number on to the producers. I went to an interview at the X-Files production office and was hired on the spot by Chris Carter and property master.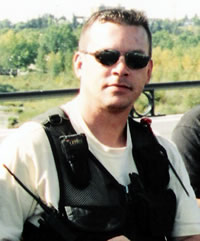 Gilles Nuytens:

The military aspect is very present in Stargate, do you take part in a lot of episodes ?


Ron Blecker: My work on Stargate as become less and less over the years. The cast have been doing this for a long time now and they pretty much have the whole military thing down. The producers also have access to the United States Airforce public relations office and between myself and them the producers have the bases covered. If the episode calls for very technical military manuvers I will be called in to work with the cast. Most of the time I'm there now to handle weapons and with that job I will always answer questions and help out with blocking the scene if it's necessary.

Gilles Nuytens:

According to your resume, you haven't worked on Stargate Atlantis, Would you like to take part on it because the military part is quite important, especially with season 2 which seems to be more on the military side with the arrival of Mitch Pileggi ?


Ron Blecker: Actually I need to update my online resume because I have worked on Atlantis and as a matter of fact I was asked to play a part in the season two opening episode. I had a great time and was able to blast a Wraith in the process.

Gilles Nuytens:

Which is the best memory you've got working on Stargate? Have you got an anecdote ?


Ron Blecker: One of my favorite memories of working on Stargate is the first time RDA used the M249 SAW. He was supposed to be shooting at an invisible character and none of the cast or crew had ever seen this weapon before. I showed him how it worked and how to fire it and when we rolled the cameras and he fired off 200 rounds. When they yelled cut he went nuts, he loved it and the crew were all cheering. After that you'll notice that just about every cast member has had a chance to fire the SAW in one episode or another.

Gilles Nuytens:

Which was the show you preferred to work on and who's the person you preferred work with ?


Ron Blecker: I can't answer this question because I love to work on all the shows and it wouldn't be right to pick one person out of all of them as my favorite.

Gilles Nuytens:

Cheyenne Mountain is a real military complex, as a veteran have you ever had the opportunity to get in and talk to the people who work in there? If yes, do you know what they are thinking about Stargate and about the fact that they see their base on a TV show every week?


Ron Blecker: My job in the Military never took my to Cheyenne complex. I have talked with allot of Airforce personnel who have watched the show. Some love it and some just don't understand the film making process. They get way to picky about something they see. But there's nothing wrong with that. It's just people who are passionate about the military and want to see everything exactly the way it is in real life. But the film industry make films to entertain and I think Stargate and Atlantis do a great job of that.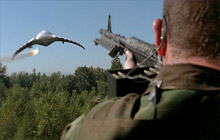 Gilles Nuytens:

Looking backwards, what do you prefer, your military career or your career as a technical advisor? Or maybe there are some points in each that you like most ?


Ron Blecker: I couldn't have my career now without my time spent in the Army. I loved the Army and I love my current career. It's challenging and it's always different. It keeps me from sitting behind a desk all day and if you really think about it the film industry is like the military in many ways.

Gilles Nuytens:

Is it easy to work with the actors, to get them to understand the military « spirit », how do they react ?


Ron Blecker: I have only had one actress in the last seven years who just didn't want to have anything to do with understanding the military. And she was playing a soldier. Despite that single setback every other actor wants to know the military mentality, spirit and life. For some they only want to know because it's part of thier job as an actor. For other's they have a genuine interest in the military. Overall it's pretty easy for what ever reason they are motivated to learn at least they learn.

Gilles Nuytens:

Thanks a lot for this interview and on behalf of all the team of Stargate Ultimate, we wish you the best.


Ron Blecker: My pleasure, I'm very impressed by the work you put into your website.
I hope I have answered all of your questions to satisfaction.
Take Care