Date of publishing: 15th August 2013



Sarah first launched her professional acting career on the popular CBC soap series "Edgemont" where she played the love interest to Grace Park's (Battlestar Galactica, Hawaii Five- O) character Shannon. From there, Sarah went on to numerous lead and supporting roles including SyFy's "Andromeda" and "Stargate SG-1", USA Network's "Dead Zone" and Lifetime Television's "Killer Hair" and "Hostile Makeover". Recently Edmondson gueststarred on J.J Abram's hit series for FOX "Fringe", Syfy's "Continuum" and has been seen in a recurring role on USA Network's hugely successful dramedy "Psych".
Gilles Nuytens: Hello and nice to meet you! So, let us know how the acting adventure started for you.
Sarah Edmondson: I've been acting since I was a little girl, always putting on performances at our family dinners and started taking acting classes at Arts Umbrella when I was really young. In high school I did the theatre program at Lord Byng Secondary School where I did a performance of "The Great American Cheese Sandwich" (kind of random) where an agent head hunted me and I signed with him in Vancouver. I actually never really worked with them though, as I went to Israel for a year after high school and then studied for one year at the University of Victoria (in the Theatre program) and then moved to Montreal where I got my bachelor of Fine Arts at Concordia University where I never had the opportunity to have many juicy roles, so I went out and got an agent. That was 1997 and I started booking great, guest starring roles right away.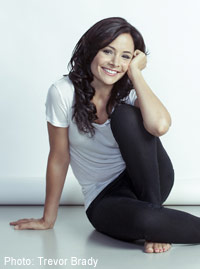 Gilles Nuytens: What do you enjoy the most about acting?
Sarah Edmondson: Firstly, the people. Meeting and working with new people on every gig. Making stories or being a part of projects that are moving, inspiring or conscious shifting.
Gilles Nuytens: What was the most challenging role you had so far?
Sarah Edmondson: I think the most physically and taxing role was in the YTV classic, "Are You Afraid of the Dark" in 1999 where I had to play a young wannabe model, whose face got stolen by an evil witch, so I had to play myself as well as the witch acting opposite myself. It was very challenging to act with a body double and then switch roles, characters' voices, physiology, etc. At the end of that amazing 5 day shoot, I was very happy with being a guest star only, and having a break.
Gilles Nuytens: What's your greatest achievement so far, acting related?
Sarah Edmondson: I'm most proud of my work in "A Gun to the Head" (which premiered at TIFF), where I played a sociopath. I was very proud of that performance.
Gilles Nuytens: Generally, before playing a character, how do you prepare yourself mentally to be in the role?
Sarah Edmondson: It always depends on the role. Usually, it involves some character analysis and research and more or less it depends on how much or how little I relate to the character.
Gilles Nuytens: What are the most difficult parts for you in acting? And the easiest?
Sarah Edmondson: Sometimes sustaining intense emotionality is challenging, but I like that challenge. And also I find it difficult to access anger in an authentic way, because that's not my "go to". Easiest- Memorizing lines and working with people, taking direction and going with the flow of the shoot which can often be stressful for some people. I also love to help solve challenges… I am a bit of a MacGyver ? - being able to be creative in a moment instead of giving up upon hitting a road block.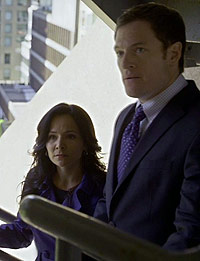 Gilles Nuytens: If you had the opportunity to choose the role you really want to play in the movie of your choice, what would you choose?
Sarah Edmondson: Like many woman, to play a strong, smart woman in any genre would be a joy, but specifically in a period piece. Something that takes place in the 40's or 60's or any period to be honest. I just love dressing up, and I love costumes and I love genre pieces.
Gilles Nuytens: Each experience is a whole new opportunity to learn things. So what's the most important thing you've learned lately, acting-related?
Sarah Edmondson: Do other things in your life, other than acting. Have a rich and fulfilling life and don't depend on acting for your only source of income and stability. Fill your life with other things that move you.
These things enrich your life.
Gilles Nuytens: Tell us something people don't know yet about you...
Sarah Edmondson: My first word was "shoe". Not mom, not Dad, but shoe. This says a lot. I have many.
Gilles Nuytens: What did you enjoy the most being in Continuum?
Sarah Edmondson: The people! I especially loved working opposite Tahmoh (Tahmoh Penikett) who played my "bonus TV husband" as I like to call him ? and Simon Barry, the show runner is an amazing man. But honestly, I just love the show. It's captivating, intelligent and politically current. I am so proud to be a part of it.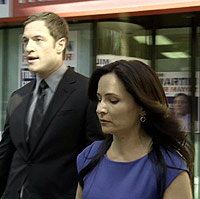 Gilles Nuytens: What's your best memory from Continuum?
Sarah Edmondson: In Season One we were in this amazing home in West Van with a river running through the backyard. (spoiler alert!) We were shooting one the most complex ensemble scenes of the episode where I am accused of murdering the reporter who dies at the beginning of the episode. Working with the leads of the show, including the talented Vic Webster (whom I also had the privilege of working with on Lifetime's "Killer Hair and "Hostile Makeover") was a total blast. It was more like a theatre piece where we had the opportunity to act the whole scene out- with all of its nuances, twists and turns etc.
Gilles Nuytens: And what about Fringe? What's your best memory?
Sarah Edmondson: My awesome trailer! No seriously… going through the prosthetic process of making a body double of myself which I think was actually never used. It was a little scary under all that plaster but I meditated and breathed through it.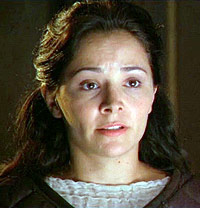 Gilles Nuytens: It's been already 10 years, but there are still fans who remember your part in Stargate (Season 6: Natania in "Prophecy"). Can you share with them your experience for that show?
Sarah Edmondson: I was really excited to work with Richard Dean Anderson, whom I aspire to be like with all of my MacGyvering! He was incredibly professional and I learned a lot from watching him work. I also had to fire a gun for the first time, which was a new experience. I also loved my costume. It helped me to find the character and access her life.
Gilles Nuytens: Any future goals, challenges you want to do?
Sarah Edmondson: I want to finish the documentary I am working on right now about sugar and the sugar industry. I also plan on opening my own production company and bringing together my many talented friends in the film industry to create and produce our own projects that will both entertain and shift consciousness, awareness…and hopefully the world.
Gilles Nuytens: A free question to you. Ask "yourself" a question as if you were the interviewer (something that you'd like someone would ask you), and answer it :)
Sarah Edmondson: Great idea!
Question- What else are you passionate about?
Personal growth, Yoga, Raw food, and growing myself to my full potential. And helping other people grow and find what THEY are passionate about. ?