Date of publishing: 10th May 2007



Canadian-born actor Sean Owen Roberts is no stranger to sci-fi. He has guest-starred on series such as Masters of Science Fiction, Stargate SG-1, The 4400, Dead Like Me and John Doe, and he had a recurring role on the series Intelligence.
His feature-film credits include Vice (with Daryl Hannah), Alien Agent, When a Man Falls in the Forest (with Timothy Hutton and Sharon Stone) and Saving Silverman. Roberts also enjoys working behind the camera; he runs his own production company, Oneness Productions.
Painkiller Jane fans will recognize him as Riley Jensen, the computer specialist.



Linda Craddock: You seem to enjoy playing the role of computer geek. Tell us a little about your character "Riley Jensen"
Sean Owen Roberts: Riley Jenson, in short, is the technical supervisor of the team. He's the youngest member, and as a result, is forced to put up with some teasing and mockery from the other team members, especially Conner King. Thankfully, Jane has his back and gets a kick out his comments. Andre and Riley almost have a father and son relationship, and this mutual respect between the two characters is developed as the season progresses. Riley doesn't care about what people think about him. He is a little eccentric, a little goofy at times, but at the end of the day, he has a good heart, and tries to do what is best.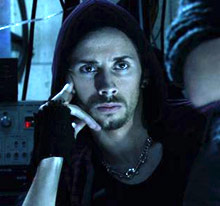 Linda Craddock: What was the most challenging part about playing "Riley Jensen"?
Sean Owen Roberts: Memorizing all the technical jargon during the exposition scenes in the subway is by the far the most challenging. It's a great exercise, however, as an actor, to attempt to bring some emotion and personality to the dialogue. It's a fun challenge.
Linda Craddock: What inspired you to audition for the part?
Sean Owen Roberts: I would love to say something like, "the artistic expression that I find while portraying Riley Jenson struck a cord with me;" but the reality is, my agent submitted me for the part, and I was blessed with being cast.
Linda Craddock: You are a Canadian-born actor. How does it feel to be right at home working on the "Painkiller" series?
Sean Owen Roberts: It's great! It's nice to be working in a field I love, and have my family and closest friends near by.
Linda Craddock: What do you enjoy most about working on the set?
Sean Owen Roberts: The most enjoyable part of working on the show is being able to see my cast mates everyday, who have all become some of my closest friends. It has been such a great blessing to be able to work with an ensemble cast, who are all so supportive, without egos, and who have a drive to make the best show possible with the means we are given. Honestly, they have become brothers and sisters.
Linda Craddock: Ten, what appears to be 21" computer monitors mounted above a console with a say 60" monitor to the right of the console. Live network feed, satellite surveillance, bio feedback, access to local police band. What would you say are the limitations of your characters electronic skills?
Sean Owen Roberts: Hmmm, I wonder how RILEY JENSON would answer this question??? I think it would go something like this… "LIMITATIONS?... that's cute!.. Next question!!!"
Linda Craddock: Always wearing skull cap and large chain around the neck. That is not exactly the image of a "geek" did you decide to give "Riley" the scruffy look?
Sean Owen Roberts: I never wanted people to think of Riley as a straight up "geek." I wanted him to be edgy, urban, and with his own special flare of "cool." I mean, now a days, it is no longer "geeky" to know about technology and I wanted that to come across. In my mind, Riley is a cool guy.
Linda Craddock: "Riley" bares a little arrogance based on the responsibility of being a computer genius, and the fact that the team doesn't function well, without your knowledge and expertise? Any similarities there with Sean?
Sean Owen Roberts: Well, I have to admit, some may say there might be some similarities. After all, I am a LEO. However, in the same vein, I do try to keep myself grounded and to keep an atmosphere of humility. Oh, who's kidding who here? I'm pretty damn good!!! haha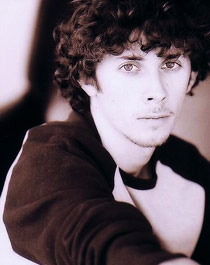 Linda Craddock: Are you computer literate? Judging by the way you handle keyboard, I would say you are not strange to computer. What type of research did you have to do for the role?
Sean Owen Roberts: Not gonna lie? I can work a computer, but by no means would I call myself anywhere close to being like Riley in real life. In terms of research, I am pretty much learning as we go.
Linda Craddock: How would you like to see your character evolve for Season 2?
Sean Owen Roberts: I would love to see Riley more involved out in the field, hunting the neuros along side with the rest of the team. Also, I think Riley might begin to question whether what the team does, is ethical. After all, not every neuro is a threat.
Linda Craddock: Everyone has someone they admire and respect beyond your daily life. Who is your hero?
Sean Owen Roberts: I don't think I can say that I have one specific "hero" but what I can say in response is where I get my inspiration from as an actor and artist. It's primarily drawn from my spiritual beliefs from the Baha'i Faith. The Baha'i Faith is an independent world faith, with a strong focus on UNITY and the Oneness of God, Religion and Humanity.
Linda Craddock: I understand you have you own production company "Oneness Productions" talk a little about how you started, and what projects are on the horizon for your company?
Sean Owen Roberts: I love everything about this industry, and eventually I would like to try my hands at everything, producing, directing and acting. At the moment I'm working on developing a television series based on the novel "The Unmasking of Ksan" written by Eric Wilson. It's a mystery adventure, that takes place in a First Nations community. I love Native culture, and I had been looking for a project that would incorporate this love. We are hoping to go to camera by this fall.
Linda Craddock: What goals have you set for yourself as an actor for the next 5 years?
Sean Owen Roberts: Honestly, the sky is the limit. I pray that I keep being able to do what I love, work on quality projects, and continue working with talented individuals. I would love to do another season of PKJ. The first season has been a blast so far. I would also like to do some more feature films.
Linda Craddock: What other hobbies or interests do you have outside of acting?
Sean Owen Roberts: I have been trying to finish up my Bachelor of Arts degree. I am a couple of courses short from graduating, majoring in Cultural Anthropology. For fun, I love watching movies, playing hockey, soccer, and basically just being with friends.