Date of publishing: 8th October 2011



Canadian-born actor Sean Owen Roberts is no stranger to sci-fi. He has guest-starred on series such as Masters of Science Fiction, Stargate SG-1, The 4400, Dead Like Me and John Doe, and he had a recurring role on the series Intelligence. His feature-film credits include Vice (with Daryl Hannah), Alien Agent, When a Man Falls in the Forest (with Timothy Hutton and Sharon Stone) and Saving Silverman. Roberts also enjoys working behind the camera; he runs his own production company, Oneness Productions. Painkiller Jane fans will recognize him as Riley Jensen, the computer specialist. He has just recently begun working as a recurring Guest Star on the television series SUPERNATURAL.



Gilles Nuytens: How have you been since we last talk? It was during your Painkiller Jane time, time flies so fast!
Sean Owen Roberts: I've been doing very well thanks. I took sometime off once Painkiller Jane ended. During my hiatus, I did a lot of self reflection, and really tried to refocus myself on where I wanted to take my career, and what was most important to me in my life. I also went back to school for a year, studying some courses that interested me. I think it's important, especially in such a crazy racket like film, to constantly be grounding yourself, and not let it take over everything in your world.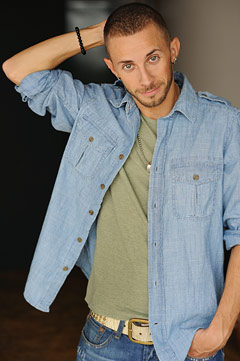 Gilles Nuytens: So, you've worked on a lot of different fields in this industry, from acting to producing, writing and directing. Each is great and challenging to do! What would you say is the thing you are the most at ease with and why?
Sean Owen Roberts: Hands down, I'm most comfortable in front of the camera, but I do thoroughly enjoy the writing aspect. It's so much fun to create a whole world, telling the stories I want to tell, creating the characters that impassion me and really delving deep into my soul for inspiration. Plus, I find writing very therapeutic. It's time primarily spent alone, with just a computer and great music and I'm left to fill the pages.
Gilles Nuytens: Could you give one (or more) positive aspects, and one (or more) negative aspects for each of these jobs?: Acting - Writing - Directing - Producing
Sean Owen Roberts: First I have to say, I love the whole creative process of creating film and tv. I think I love it so much because it incorporates all aspects of art, from music, to writing, to painting a picture that moves. On the acting side of things, I find it to be a very spiritual experience as I try to let the character I'm playing just flow through me. I try to imagine myself as a hollow reed letting the inspiration flow freely through me. Obviously that sounds easier than practically done and that is where the negative aspects come in. It's the constant struggle of any actor I feel to escape from the head and mind, and no longer think about what is going to happen in a scene. You can't have any pre-concieved hopes for what may come, but rather take each moment as they come and enjoy the ride. The writing as I said before, I find to be extremely therapeutic and I absolutely love being in sole control to create whatever scenarios I imagine. For me though, writing takes a lot of self determination, and I am absolutely a self-proclaimed procrastinator, so sometimes it's difficult to lock myself away and just write. On the producing side of things, I usually let my partners handle the business aspects, as I am still learning all the in's and outs of the producing game. I take my hat off to producers as it is an extremely difficult job. I have only directed a short film and co-directed a play so far, and I love it. I love working with actors and helping guide their journey and finding the character within them.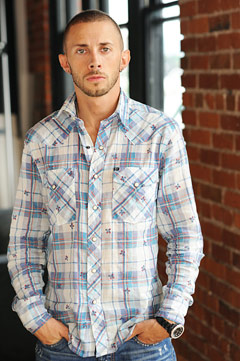 Gilles Nuytens: How did you know you wanted to work with arts, and more particularly in television and cinema?
Sean Owen Roberts: I have been performing since I was in diapers. My first on stage performance was in Grade 6 performing for my elementary school playing the role of GARTH from Wayne's World. In high school, Drama was my refuge, and being on stage was like a second home to me. I loved the feeling when the curtains opened, and I was on stage, that there was no turning back, and no matter what, the scene must to go on. When I was on stage I felt so free. I can honestly say my high school drama teachers saved me from going in the wrong direction, by guiding and encouraging my acting. Mr.Georges and Mrs.Crimble, if you're reading this, thank you! However, I never imagined this would become my career, but somehow, I just kept being pulled in this direction. Eventually, I decided to give into the universe and see where this journey will take me.
Gilles Nuytens: What is the job for which you are the most proud of (I mean one performance in particular, it can be a particular role, or script you wrote or whatever), the one job that would be your best achievement, so far?
Sean Owen Roberts: That is a really hard question for me to answer, simply because every role has it's individual moments that are amazing. It's those little moments for an actor, when your in a scene and the "magic" happens. It's as though nothing else exists and you are just present to the moment of being. This can happen on a multimillion dollar set, on stage, an indie short film or even in an acting class. It's those moments I think actors are always chasing after. It's like a drug! However, I have to say though, and no, I'm not just promoting the show ;)... but my role on SUPERNATURAL is a lot of fun. It has that perfect mix of part comic clown, part psychotic homicidal killer! Those are the best roles no? ;)
Gilles Nuytens: It is good to go through every step of movie making, so at the end, you gain a lot of experience and you know how to deal with everyone, you know their job and it's a major factor to be a good movie maker. Any comments on this?
Sean Owen Roberts: Hands down, the more you know about your craft, your industry and roles everyone play, the better off you'll be. I love every aspect about this art form and I respect everyones role in the process. In reality, the actor is the least important person on set. It's very humbling once you realize this.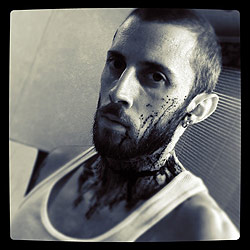 Gilles Nuytens: Except Supernatural, what are your ongoing projects?
Sean Owen Roberts: Right now I am currently writing/developing a few projects. All three are for television and are vastly different from one another. All three are stories that are very close to my heart. I unfortunately can't go into much detail, but I can say, I am very excited to see these all come to fruition, whether it takes a month or 20 years.
Gilles Nuytens: So then Supernatural... I've been told you got a recurring guest star role on the show! Tell us more!
Sean Owen Roberts: This is true, and I feel very blessed to have been given such a great opportunity. I'm playing a pretty evil guy on the show. So far I've filmed a few episodes and I have thoroughly been enjoying my time with the cast and crew. I won't say much about who I am playing, as I don't want to spoil the surprise.
Gilles Nuytens: I'm not going to ask the usual questions about how you get the job and so on. But except the fact you got a new job on a big TV show, and you must be very happy of that, is that a show you like particularly?
Sean Owen Roberts: I'll be honest I was a huge fan during the earlier seasons of the show, as a girl I was dating at the time got me into it. However, from reading the scripts and learning more about the show since being cast, I must say the writing is excellent and it's a lot of fun. It has this great mix of drama, comedy and an eeriness about it.
Gilles Nuytens: What is the most interesting part you gain, in your personal life, of being an actor. I mean, everyone's job has an influence on their personality, on their way of life. What has acting brought to you?
Sean Owen Roberts: I am sure many artists in other fields feel the same way, but I feel like acting as has given me the ability to observe, respond and react organically. Basically, what I mean by this is, I try to live outside of my head, and stop thinking about how to behave, or what to say or do, and just "do." Acting has developed my a skill of truly following my instincts and really trusting my instincts. It has also allowed me to be present in my day to day life and take everything in. I always say to other actors, the best training for me is to just sit and observer human behaviour and to be aware of situations you find yourself in and remember how you reacted and how you were feeling at the time.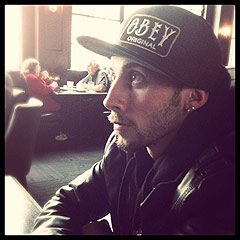 Gilles Nuytens: I am tempted to ask the same question for your other skills...
Sean Owen Roberts: Without tooting my own horn too much, I feel confident to say, I am quite pleased with my writing ability. I have had the blessing of working on a lot of different projects and have had the opportunity to read many scripts throughout my career. Some of these scripts have been amazing while many have been horrendous. As a result I think I am able to write scenes that really capture what I want to achieve. As an actor the best scripts are the ones where the lines seem so natural that the dialogue just flows from line to line. I try to develope my characters so deeply that they are rich with authenticity. I feel, for me, that the character developement is more important than the story itself, and I try to write the stories where the characters are driving the action rather than the action driving the characters... if that makes sense?
Gilles Nuytens: Is there a project you have in mind but that you can't do because of a too high budget or any other problems? Would you talk about it so maybe someone may be interested to help?
Sean Owen Roberts: Well, as I'm sure everyone knows, this is a crazy business we are in, and every bit helps. There are so many great projects never get to see the light of day, simply because they weren't given a chance, or the creators didn't know the right people. My production partner and I have a few projects on the go, three television shows and a feature. I would rather not go into detail about the projects on here, but if someone out there would like to hear more, they can always feel comfortable contacting me through my agent Natasha at TRISKO TALENT. I will say, I am very excited about the projects and they have enormous potential. I feel like the stories I want to tell are not only commercially viable but will also shed light on social issues that are very close to my heart. I look forward to see them all come to fruition.
Gilles Nuytens: Anything else you'd like to add, say or comment?
Sean Owen Roberts: Honestly, the only thing I have to say is live everyday to the fullest. Life is too short to let the days pass you by. I've just started to realize this recently, and it makes every thing so much more exciting. It's cliche but seriously LIVE LOVE and LAUGH... to quote a wise man "thats all I have to say about that."