Date of publishing: 1st April 2008



A leading man with unusual depth, sensitivity, comic timing, and vast reservoirs of explosive volatility, Spencer thrills at playing
characters with complexity. Catalyzing sincerity, subtlety, darkness, and humour, Spencer brings a palpable sense of humanity to every role he plays. Born and raised in Toronto, Spencer did some time on the stage, but it was his other love -- for writing -- that sent him to UVic, where he studied poetry, nonfiction, journalism, and screenwriting. After university, Spencer hit the stage again in the Winnipeg Fringe, but soon learned to love the lens. He did an acting residency at the
International Film and Television Workshops in Rockport, Maine,
launching his on-camera career soon after with a role as a crystal meth cook in an MOW with Diane Keaton.
Spencer took two years off acting to focus on writing and filmmaking, returning to the screen in a supporting lead role on House Party, a pilot for the Comedy Network. He followed that up with a guest star role on Flash Gordon and supporting leads on Stargate: The Ark of Truth, and the MOWs Smokejumpers and Ice Blues, the latest Don Strachey murder mystery. Currently based out of Vancouver, BC, Spencer studies at the Lyric. Spencer will be in the next X-Files sequel movie.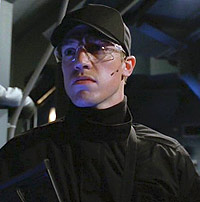 Gilles Nuytens: Firstly, how did you choose to become an actor, what was your motivation?
Spencer Maybee: I don't know if I ever really chose to become an actor, I've just always liked acting. As a kid, I think most people engage in some kind of make believe, some kind of role playing, whether it's playing house or playing guns or playing Dungeons and Dragons or playing nice when you've just hit your brother in the face. I always liked movies and TV and my brother and my cousin and I used to re-enact the Star Wars trilogy and the Indiana Jones movies in my aunt's basement. Pretty much anything with Harrison Ford. Except Working Girl. We'd also invent goofball comedies without plots or endings. We'd just stop when our parents started clapping. They were real crowd pleasers those shows.

Over the years, the underlying motivation has always been just that I liked acting. But at different times, there were different things about acting that I liked.

When I was in middle school I had a crush on the hottest and coolest girl in school. She was a grade older and a thousand times cooler than I was. But when I got the lead in the school musical, she was cast as my romantic opposite. In the play, she was the one with a crush on me. There was a big kiss scene. It was hot. I was cool. Then the curtain dropped. But for a little over an hour, she wanted me. So for a while, my motivation was to be cooler than I was. That one keeps popping up, though.

When high school hit, I realized that drama class and school plays offered me license to express emotions that weren't really acceptable in the world I lived in. I was not only allowed, but encouraged to explore and express feelings at the extreme ends of the spectrum that in my normal life were supposed to be kept private. In some ways, I felt I could be more real on stage than in the real world. I was allowed to get pissed off.
Today my motivation is really just to tell stories, whether that be through writing, directing, or playing a character in something interesting.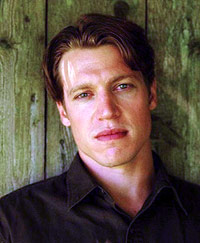 Gilles Nuytens: What are your expectations for the future?
Spencer Maybee: I don't have any expectations for the future, but I do have some plans. I've been writing and working with some other writers and filmmakers to develop projects, some of which will be vehicles for me. I love that term: vehicles. Yeah, I hope they're vehicles – like a Porsche, a 40-foot sloop, a Lear jet… No I'm kidding. I guess that's what Variety means when they say, "…a new Harrison Ford vehicle," but what I mean, of course, is a script with an interesting lead character for me to play.
Gilles Nuytens: You've approached several fields in the business, such as acting, writing, directing, producing, ... does this means your real love is the Cinema/TV industry, instead of just "acting"?
Spencer Maybee: My real love is storytelling. There was a period of time when I felt a real urgency to choose a role and drop the others, but it never felt right to pick just one. I realized that it was about storytelling – if there was a story that I loved that had already been written, then maybe I'd direct it, or play one of the characters, or adapt it from another form into a screenplay. The process of interpreting a story into a script, a script into a film, a character into a person, that's really my passion.
Gilles Nuytens: You have a part in the "top secret" movie "x-files", as a top secret project, you probably can't speak about it but is there anything you are authorized to speak about? I mean, not especially to speak about the movie itself but your feelings, this kind of things.
Spencer Maybee: I can't talk about the storyline or the characters of the X-Files sequel because, like everyone in the cast and crew, I signed a non-disclosure agreement, but I can tell you that it was a great pleasure to work on. Chris Carter was really fantastic to work with. He had a really thoughtful demeanour about him and he did a great job of cultivating the kind of working environment for the actors to really believe in the circumstance. The other actors – Gillian Anderson, Adam Godley, Carrie Ruscheinsky, who played my wife, and the young Marco, who played my son – were a joy to work with as well. Everyone had a palpable sense of respect for the imaginary reality of the story and as an actor you could rely on that from the other players. I'd liken it to playoff hockey: everyone on the team sort of agrees that they're going to play to the death, Novocaine their injuries, and grow a beard until they get to lift the Stanley Cup. Only I think Chris Carter would have called "Cut" if Gillian Anderson had punched me in the face.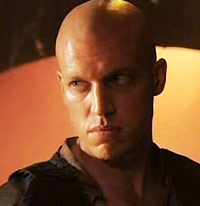 Gilles Nuytens: In your episode of Flash Gordon, you had to shave your head for the role of the Verden, why was it so important to have a bald character? Has it something to do with the monk?
Spencer Maybee: That was really funny. Yeah, before the role my hair was actually quite long. I'd been jonesing to shave it since the summer, but there was always some part that I was out for and I couldn't cut it until I'd heard back. Finally I sort of resigned myself to the surfer hair and I went and organized and paid for a headshot shoot with the long locks. When I got the call from Webster, my agent, I was literally walking out of the photo reproduction house with a huge stack of brand new headshots that I just had printed. The plus side was that I finally got to cut my hair and for good reason. The producers were hoping to have someone who'd go totally bald to spare the production the hassle of putting a bald cap on and taking it off and putting it back on. It would have been really difficult, I think, with the way they were scheduling the shoot. Plus, it would have played a bit weird without a head shaving montage in the show and I don't think they had time in the broadcast hour to fit that in.
Gilles Nuytens: In this episode you also play a false monk, I was always curious if the language was something you had to learn exactly words for words or if you could do some "improvisation"?
Spencer Maybee: No they have a language teacher come in and give an intensive tutorial. Baylin wasn't kidding, man, it'd take a lifetime to learn the monk's language.
I'm just kidding. No the writers write the lines and you're kind of on your own to figure out how to pronounce them. It's funny though, because once you learn the lines, you remember them, and when I saw the show, I was like, "That's not what I said!" They actually clipped out a part from the middle of the prophecy and reused a line from the beginning of it.
Gilles Nuytens: What will you keep in mind from this experience (Flash Gordon)?
Spencer Maybee: I will definitely keep in mind the different advantages of hair. Like as an early warning sign when you're about to smash your head. Or simply as a toque when it's cold outside. No, seriously, Eric Johnson, Gina Holden, and Karen Cliche were a lot of fun to work with. It was fun to work with a group of actors who were so grounded in their characters and who had obviously bonded quite a bit over the shoot of the series. There were fart jokes and other kinds of fart jokes. But between the cuts and rolls, all of a sudden, there you are in Mongo. They're workhorses, the three of them.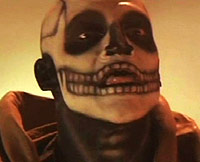 Gilles Nuytens: As a French speaking person, as I read the title of your short movie "L'oiseau mort", I didn't immediately realized it; but a few minutes later I said "wait a minute, it's an English movie and the title is in French!". So my question, why having chosen a French title? Living in Belgium, I haven't got the opportunity to watch the movie, so maybe the question is answered in the movie, sorry in this case.
Spencer Maybee: That's a really good question. My buddies were like, "Dude, that's the definition of pretentious." But it's actually germane to the story. L'Oiseau Mort is set in a French immersion school where a young girl isn't really dealing with her grief over her lost mother. She basically opts out of interacting with the other kids, but when a bird dies in her lap, she becomes the focus of the class bully and is kind of forced to interact and thereby come to grips with her grief. It's a weird little movie. I kind of like it.
Gilles Nuytens: If you could pick any moment in your career thus far, where you had a 'My God, this is what I love about acting' moment, what would it be?
Spencer Maybee: Telling Diane Keaton to keep her shirt on was definitely one of them. That was my first ever professional acting gig – a movie of the week called On Thin Ice, which is actually playing again on LIFE network (or Lifetime?) in the U.S. either this weekend or next week.

Definitely kissing the girl I had a crush on in middle school. That was awesome. In high school doing Dennis Foon's WAR, I remember smashing a hockey stick in one scene with such ferocity that part of the broken stick flew into the audience and almost killed my friend Josh. That could have been a bad one, but because he didn't die, I'll put it in the "good" category. Then on Stargate: The Ark of Truth, standing with four other dudes, guns a-blazing like something out of Hudson's death scene in Aliens, feeling the repeating concussion from the automatic shotgun like a light tap on the face… Yeah, that was pretty amazing. And almost a week later I got to live out another childhood dream running through an obstacle course on the movie of the week Smokejumpers, where I play a sexist prick in an airborne forest firefighter training camp. I have one of those moments on pretty much every show.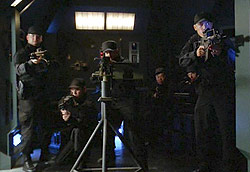 Gilles Nuytens: In "Stargate: The Ark Of Truth", you manipulate guns, did you have any knowledge of this kind of weapons before?
Spencer Maybee: My brother and I used to play guns a lot when we were kids. He got a little carried away with the guns part and joined the army. I got carried away with the playing part and became an actor.

No, seriously though, I'd fired a rifle before as a kid on my step-grandfather's acreage in Wisconsin, but it was really my brother who was my first weapons trainer. He used to talk so much about different kinds of guns and tactical weapons handling techniques that I felt comfortable handling the weapon and with some of the principles of safe weapons handling. But it is a whole new thing when you've got the real thing in your hands and there's the very real potentiality of someone getting hurt if you don't handle it properly with respect and safety in mind. The armourer, Rob Fournier really took the time with me to ensure I knew what I was doing, because it's kind of his job to make sure that the soldiers on the show look like they know a thing or two about soldiering. He was really fun to work with.
Gilles Nuytens: What is your best memory from your days on "Stargate: The Ark Of Truth"?
Spencer Maybee: Definitely working with Rob and playing with the guns. Hanging out with Amanda Tapping was also really cool. She can be a real goof between takes. I really had no idea.
Gilles Nuytens: What does the word "sci-fi" represents to you?
Spencer Maybee: When I think of sci-fi, sometimes it's easy to think of lasers and space ships, but I like thinking of sci-fi a little more in terms of speculative fiction – "What If?" kinds of ideas. Like The Eternal Sunshine of the Spotless Mind – that film was kind of sci-fi, even though it didn't have that aesthetic that we typically associate with the sci-fi genre. Blade Runner had a lot more in common aesthetically with the film noir genre than it did with sci-fi, but yet it's still sci-fi. Children of Men is another example like that. I tend to really like movies that push the concept of just what sci-fi really is – like Eternal Sunshine or Michel Gondry's The Science of Sleep, which is a little more fantastical than it is scientific. Primer was one of my favourite sci-fi films, but it was unfortunately so poorly marketed that I don't think it really got the kind of audience that it could have. It still made great money – I think they made it on $7,000 or something and it made four times that on its opening weekend. It won the Grand Jury prize at Sundance and the feature film award and went on to make almost half a million dollars, so I guess a few people saw it. You should see it. Whoever you are, reading this interview. See it.
Gilles Nuytens: "Ice Blues", what can you say about this movie and your part?
Spencer Maybee: Ice Blues is the fourth Don Strachey detective mystery about some money that mysteriously appears in the detective's car and a young lawyer who mysteriously disappears, turning up dead sometime later. I play the vulnerable and volatile brother of the deceased, who sees Strachey as the real reason that my brother is dead. It was a lot of fun to work on – Ron Oliver runs a really fun, very relaxed set and Chad Allen was great to work with. He was really energetic and personable and once the cameras were rolling I always felt like I could go anywhere with the scene and he'd step to it. It allowed for some moments that felt more real than if we'd played them by the numbers and you can't do that with just any actor.
Gilles Nuytens: Do you feel like you're getting to do the range of roles that you would like to play? Do you have a "dream role"?
Spencer Maybee: I love to play people whose depth gets explored in the story, rather than those characters whose depth I get to explore as the actor, but don't get to share with the audience. The X-Files sequel is a great example. Ice Blues is also another great example. As for dream roles, there are some stories I want to take part in, for sure. I'd love to play a soldier in a war movie. I'd love to play in a period piece. I'd also love to play a cowboy in a really dusty western because I love horses and ever since I was a kid, I always felt a little like a cowboy. I want to play Billy the Kid. I might be a little tall, but so was Kris Kristofferson.

I feel like right now there are so many kinds of roles that are within my "type" that I want to play around with, that sometimes I think I'm a little crazy. I once told my agent that I only wanted to play cops, agents, soldiers, and assholes. And then I get cast in the X-Files sequel as a young father. That was a real joy for me to explore. It was kind of surprising.
Gilles Nuytens: What would you say was your biggest challenge in you career so far?
Spencer Maybee: Truly, it was deciding to do it, to pursue the career itself. There are so many pressures, real and imagined, that beset people to NOT do what they want to do. It takes a lot of mornings of waking up and deciding that you want to act more than you want to know where your rent is coming from before it finally becomes your way of being.
Gilles Nuytens: Anything else you would like to add, say, share with us?
Spencer Maybee: Thanks a lot for the interview and the thoughtful, considered questions. I know as a fan, I always like to hear about what goes on outside of the story I see on the screen and I think you do a great job of drawing those kinds of stories out of your subject.