Interview with Stephen Park
Date of publishing: 8 August 2005



After some questions with April Amber Telek (Sallis), here is a little interview with her partner in the show, Stephen Park, playing the husband of Sallis (Harrid). Beware of (minor) spoilers for those who haven't yet seen the begining of season 9.

Stephen Park has been involved in the arts community as an actor, director and drama coach for the last seven years. As an actor, Stephen began his training at Douglas College and went on to study at the National Theatre School of Canada and at the National Voice Intensive. His work has been featured in theatre, film and television, with recent roles including Everyone, Connie and Carla, The Other Woman, Da Vinci's Inquest, Cold Squad and Jeremiah. Stephen is also the voice of Rui in the animated series Boys over Flowers. As a director credits include Run For Your Ives, and Definitely Dead. Stephen began producing in 2002 for The Scaffolds; a Canadian theatrical production, and has continued as a producer for Eagle Lake Productions.


Gilles Nuytens: Hello Stephen, how are you ? Could you tell us a bit about yourself, who you are, what leads you in your career, personal life ?
Stephen Park: Hello Gilles, bonjour. I am well, thank you. I was born and raised in Burlington, Ontario. I have been living here on the west coast for thirteen years. As for what leads me in my career, I am always looking for good stories to tell, challenging characters to play. I try to go to areas that scare me a bit, that is where real discovery and joy lies for the actor.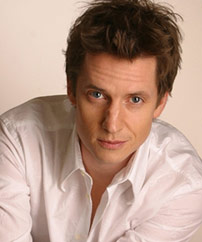 Gilles Nuytens: You recently began some work as a producer, could you describe us this job, your vision of the job and your days as a producer ?
Stephen Park: I believe you are referring to my work as a producer on the feature film "everyone". It was both a joy and a challenge. The producer wears all the hats and sometimes all at the same time. This requires an enormous amount of organization. So, thank god for my life partner and co producer Christine Lawrance. She is naturally gifted as a producer and really made the job easier for me. Also Tyman Stewart and Bill Marchant, our executive producer and writer/director/producer. Both of these men are my friends as well as collaborators and we worked well together. That is the main challenge of a producer I think; to put together the best team. You are responsible for all facets of the production . That means you have to do the work in order to make sure that all facets are taken care of. Taking on the job of a producer really gave me a renewed respect for all the people that work in the industry. You need the best people in every level, not just in one or two areas. The days of a producer are very long, after the set is wrapped for the day, you still have a lot of work left ahead of you. There are the days rushes to watch, notes to take and process, The following days schedule to prep for, and any number of fires that might need putting out. Although on "everyone" we had an extremely focused and competent group. There was very little fire extinguishing. You can check out the film's website at www.everyonethemovie.com and your american readers can rent a copy at Blockbuster.

Gilles Nuytens: You came through several aspects of the job: actor, director, drama coach and producer, what do you prefer to do and why ?
Stephen Park: My first love is and always will be acting. It is the most fun, the most dangerous and the most rewarding of all the jobs in my opinion. I don't want to take away anything from the other jobs. They all have their rewards and each one satisfies a different part of me, but the job of an actor allows the artist in me the most freedom and expression.

Gilles Nuytens: About your role in Stargate, Harrid, how could you describe this character ? How close are you with him ?
Stephen Park: Harrid is essentially a freedom fighter in a non violent way. An archeologist in a society that does not allow investigation into their own past, into the truth. I really liked and admired that. I would like to think that if I lived in that kind of a society, I would work towards finding and revealing the truth of things.

Gilles Nuytens: April Telek, your partner in the show told us that many of your scenes with her have been cut in the final process, do you think we could see these scenes one day, maybe on the DVD as bonus ?
Stephen Park: I have no idea about that. You would have to ask the shows producers that question. You see, part of the perk of being the producer is having control of things like that.

Gilles Nuytens: I haven't yet had the opportunity to watch all the episodes from Stargate season 9 where you appear but it seems that the spirit of Daniel is inside the body of Harrid. How did you prepared for this role, did you spend a lot of time with Michaël Shanks ?
Stephen Park: Unfortunately, in episodic television, there isn't the same amount of time for research and preparation that there is in say film or theatre. I did make sure that when I was on set I studied what Michael was doing as Daniel. I tried to bring his movement and voice patterns to Harrid. I also watched some episodes of Stargate again to study him a bit.

Gilles Nuytens: Do you have something funny to tell us about Michaël Shanks ?
Stephen Park: I don't really have any funny stories to share. He is professional and friendly and a good actor. The same goes for Claudia Black. The whole show in fact. Everyone is very welcoming and very good at what they do. It was an excellent job to have had.

Gilles Nuytens: Will we see Harrid playing his own role, I mean being himself without the spirit of Daniel ?
Stephen Park: Yes you do get to see Harrid without the spirit of Daniel inside of him.

Gilles Nuytens: As an actor, what do you feel when many scenes that you played and for which you gave a lot of energy are cut in the final process ?
Stephen Park: You have no control over the editing process as an actor. You had better learn to accept that and find the enjoyment in the playing. It is like the cliché, this is about the journey, not the destination.

Gilles Nuytens: My favourite question: Do you have a funny anecdote you'd like to tell us on the shooting of Stargate ?
Stephen Park: One of the great things about working on a science fiction based show like Stargate, is the fantastic speacial effects work. The sets, the props, the costumes and makeup. It was pretty surreal to come out of my trailer to go for lunch and see aliens waiting in the lunch line with trays in their claws, paws, mandibles,etc.

Gilles Nuytens: What is your best memory on the set of Stargate ?
Stephen Park: I think it would have to be walking onto set for the first time and seeing this fantastic village come to life. I had to do very little imagining.

Gilles Nuytens: You are also a drama coach, could you describe us this job ?
Stephen Park: A drama coach is generally hired by actors to coach them for auditions and to work on scenes for projects they are currently shooting on.

Gilles Nuytens: What are your future projects ?
Stephen Park: Well, I will be appearing in The Pink Panther with Steve Martin and Jean Reno. I also am in the film The Long Weekend, and I am writing a script right now with a friend of mine, Craig March.

Gilles Nuytens: Which is THE role of your life, the one you want to play at all cost and which is the role you won't play for the world ?
Stephen Park: I don't know how to answer this question really. I like every other male actor in the world would love to play Hamlet. As for roles that I won't play, there has only been one time that I can remember when I was asked to audition for a role and I turned them down. It was basically just bad pornography.

Gilles Nuytens: How was it to act with April Telek, did you get a good harmony together (professionally) ?
Stephen Park: April was lovely to work with. She is talented, smart and beautiful. She is also genuinely nice. Very easy to work with people like that.

Gilles Nuytens: Thank you very much for this interview and with the pleasure of seeing you in the upcoming episodes of Stargate!
Stephen Park: Thank you Gilles, it was a pleasure for me as well. Cheers,
Stephen

Interview by Gilles Nuytens for Stargate Ultimate / The Scifi World