Date of publishing: 29th December 2007



Victoria Bidewell won a drama award in high school that set her life path in motion. She enrolled in acting classes and began bussing into the city to study. She also lied about applying to different colleges when she'd placed all her bets on an application to The American Academy of Dramatic Arts (AADA). Luckily her audition was accepted and immediately after high school, at the age of 17, she moved from Vancouver, BC to Pasadena, CA. Three years later Victoria was accepted to the British American Drama Academy, a Julliard program in Oxford England, where she studied Shakespeare with Sir Ben Kingsley. She then completed her third year at AADA and began performing on stage with the Company in and around Hollywood. She went on to study improvisation with Curb Your Enthusiasm's Cheryl Hines at the Groundlings in Hollywood, and then on to the Larry Moss Studio in Santa Monica. Victoria landed her first screen role as Beatrice in Robert Zemeckis' 'What Lies Beneath'. After five and a half years of travel she returned to Vancouver for roles in several short films and stageplays around the city. Most recently Victoria played Linda in a theatrical production of John Patrick Shanley's 'Savage in Limbo'. She has been seen in 'The L-Word' opposite Pam Grier, on the TV series 'Saved', opposite Dane Cook in 'Good Luck Chuck' and most recently in 'Supernatural' and 'Aliens vs. Predator: Requiem'. Victoria is also a host on Novus TV's 'City Lights' where she covers Vancouver current events. Victoria has never stopped studying - she believes it is the most important part her career. She is currently training with Michele Lonsdale-Smith at Lyric School of Acting and has begun writing her own scripts.


Gilles Nuytens: What did you know of the Alien and Predator saga before auditioning
and getting the job? Where you a fan or is it just an opportunity amongst others?
Victoria Bidewell: Honestly, I didn't know much about it, I knew of the Aliens movies, which I loved, and then I strayed from them for quite a while.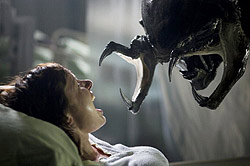 Gilles Nuytens: Was it hard to get the job?
Victoria Bidewell: Like any audition, I worked very hard at it and really gave it my all, so, yes it was hard (and exciting).
Gilles Nuytens: How was the whole experience, what kind of atmosphere was on the sets?
Victoria Bidewell: The set was amazing, everyone was so kind and we were all having a lot of fun, working with special effects is awesome, it was also spooky at times.
Gilles Nuytens: Except the fact that you play a pregnant woman, what can you say about the personality of your character?
Victoria Bidewell: She's very normal.
Gilles Nuytens: What part of yourself did you put into her?
Victoria Bidewell: My 'motherly' side.
Gilles Nuytens: What kind of challenges did you go through during the shooting of Aliens vs Predator 2?
Victoria Bidewell: I had to do a scene backwards, literally, it was not easy.
Gilles Nuytens: Are you more "Alien" or more "Predator"?
Victoria Bidewell: I'm a speed walker and I love babies, so I'd have to say Alien!
Gilles Nuytens: Compared to your previous projects, how was this one specific or different from the others?
Victoria Bidewell: This was the first project I've done where I got to work with a special effects crew and puppeteers. It was thrilling to see how this genre of film is put together. You have your regular crew and then you show up to shoot scenes with a completely different crew. I really loved it and want to do more sci-fi films, I'm hooked!
Gilles Nuytens: What has this project brought to you as an actress and a person?
Victoria Bidewell: This project just verified how fun and creative filmmaking is. It also taught me the importance of improvisation.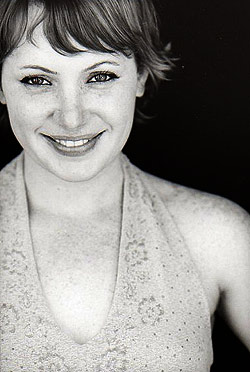 Gilles Nuytens: How is it to have those alien puppets in front of you, are they as scary as they are on the screen?
Victoria Bidewell: YES!!! They're scary, very scary.
Gilles Nuytens: What did you enjoy the most about this project?
Victoria Bidewell: The crew and directors were really nice and made the set fun and of course, the alien puppets.
Gilles Nuytens: What led you to decide to become an actress?
Victoria Bidewell: My imagination wanders and I get to explore that, it's a very free lifestyle where anything is possible, I never feel boxed in.
Gilles Nuytens: What do you like the most in your job?
Victoria Bidewell: Each character I play teaches me something about myself and humanity and the history of the world. I get to meet wonderful people all the time and I get to have a voice.
Gilles Nuytens: I see you've learned Shakespeare with Ben Kingsley, how was it to learn with such an actor?
Victoria Bidewell: I was quite young so my focus wandered a bit when he spoke but after that wore off, he was a fellow actor, extremely passionate and just totally in love with his craft, he's so good at what he does and he works very hard, I was inspired.
Gilles Nuytens: What else can we expect from you after AVP2?
Victoria Bidewell: I'm in talks with a director friend and we're going to shoot some short films, there are some amazing local writers in Vancouver.
Gilles Nuytens: What would be your dream project?
Victoria Bidewell: Working with Martin Scorcese and I'd love the work with the brothers Strause again, they were lovely!
Gilles Nuytens: Are you interested in other fields in the cinema business (such writing, directing, ...)?
Victoria Bidewell: Yes! I've recently started writing my own stuff and actually had some actors read it out loud and saw how many possibilities there are. I'm going to keep on writing and eventually want to write a feature and keep collaborating with friends and creating art!
Gilles Nuytens: Do you know if there's a specific reason to release a horror movie on the Christmas day?
Victoria Bidewell: I'm not sure, but I went with some friends and it was a fun way to spend Christmas Day, Yummy popcorn, a large pop and some killing!
Gilles Nuytens: Anyway, Merry Christmas and Happy New Year to you and your family!
Victoria Bidewell: Happy New Year to you! Thank you for your time!