Date of publishing: 5th March 2008



Award nominated Australian actress Virginia Hey has achieved prominence, recognition and success not only nationally throughout her native Australia, but also around the world. In June of 2000, Ms. Hey was nominated for "Best Supporting Actress" on television by the 26th Annual Saturn Awards of America. In 2002 Ms. Hey's status was significantly escalated following her nomination for a LOGIE (Australian "Emmy" award) as "Best Actress". Born in Sydney, Ms. Hey divided her time and education between her hometown and London. Ms.Heys last major TV role was playing one of the 5 lead characters, an Alien Priest "Zhaan" for 3 years on the award-winning international blockbuster American television series "Farscape" which was #1 on the Sci Fi Channel.
Ms. Hey's acting career began following a successful modeling career, where she was spotted by casting directors and placed in her big screen debut with Mel Gibson in the film classic Mad Max 2: Road Warrior, in which she portrayed Warrior Woman. Since then, Ms. Hey has also appeared with numerous international stars, including George C. Scott in Mussolini, Heath Ledger in Roar, James Bond 007 Timothy Dalton in The Living Daylights, and Christopher Atkins in Signal One.
Biography from www.virginiahey.com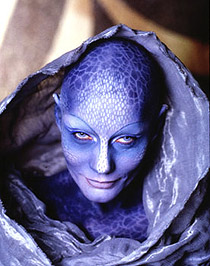 Gilles Nuytens: After analyzing your online resume, I notice that your last job as an actress was on Farscape. I understand that you have many other activities such Reiki teaching, your design and wellness products, etc. I was wondering if you got a lack of interest for acting maybe or just a lack of good opportunities. And if you have perhaps something planned about this precise subject?
Virginia Hey: Ha ha, well, you're all wrong, I don't teach Reiki, gosh, I wish I did, that would be a gorgeous thing to do, actually I teach meditation. Re acting, oh my Goodness, NO, not a lack of interest, or a lack of opportunities, I stopped dead when I was informed I was too old to act anymore. So I didn't even try to see if there were opportunities... Silly me, I should have ignored the general consensus amongst the agents I visited in 2002 and forged ahead regardless and fought for the rights of the older glam actress... Ha ha, as it happened, Desperate Housewives did it for me and now the older glam woman is back in Vogue full-force, so I will be getting back into acting... Look out for me in a production this year... I'm over fifty, fabulous, fit, and flirty, still glam and UNSTOPPABLE now! LOL
Gilles Nuytens: You did a lot of things in your professional life: modeling, acting, reiki, design, creating perfumes, and more. In a professional perspective, what are you the most proud of and what points do you like the most in each of these crafts?
Virginia Hey: I love them all with a passion equally, like a mother loves each child.
Gilles Nuytens: You once said that when the director yelled "Action" you and Zhaan were one and the same. Knowing and excluding the fact that the make up had an impact on your health, on a personal level was saying goodbye to this character a difficult process? What impact did it have on you?
Virginia Hey: It's always difficult to say goodbye to a character you adore. It was my decision based purely on health, nothing more. No, there was no lasting impact on me personally other than feeling healthy finally after 4 years out of the make-up, and of course missing the feeling of slipping into that character, she was such a beautiful soul to play and I always felt an extra strong connection to God whenever I played her. She was a Priest, I'm certain that had everything to do with it.
Gilles Nuytens: If Zhaan had been with the Moya crew for all four seasons do you think John and Aeryn might have avoided some of the problems that cropped up during their roller-coaster ride of a relationship?
Virginia Hey: Well no... Their story was shaped upon the way Rockne and David Kemper envisaged at the time, after all, they could invent multiple scenarios for Aeryn and John, regardless of Zhann's presence. They are exquisite writers and inventors so their course must be trusted.
Gilles Nuytens: How did you prepare for your role as a Delvian priestess? Did you do any kind of research or was the role a natural fit?
Virginia Hey: My life before Zhaan was my research. It was such a natural fit.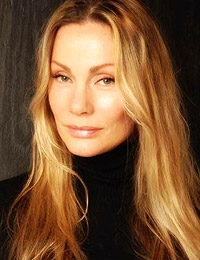 Gilles Nuytens: Zhaan was a beautiful, loving character most of the time; did you have trouble expressing her evil side? What did you say to yourself that helped you show Zhaan's shadow side?
Virginia Hey: Ha ha, now that would be giving away my acting secrets wouldn't it! No, all jest aside, being an actress one has to find all sorts of tools to fuel a scene and character... But in a nutshell, you simply pretend as best you can and fuel the action with the intention of the scene and an emotion that is true to the character at that moment.
Gilles Nuytens: Were you surprised that Farscape attracted so many loyal fans? Were you ever shocked at any fan behaviors at the Conventions?
Virginia Hey: I was surprised at the sheer numbers, the population of the whole of Australia doesn't equal the number of Farscape fans! LOL. It's astonishing and flattering and awe inspiring! The numbers are really daunting for the first few years for we Aussies. Fan bad behavior? Well there are always a handful of badly behaved humans in every community aren't there.
Gilles Nuytens: You seem to be a very spiritual person. How much of yourself was incorporated in to Zhaan or did Zhaan have any influence on you?
Virginia Hey: My whole Spiritual centre went into fueling Zhaan. And because Zhaan was pretty much a pure soul, playing that purity everyday inspired me after the character was gone to really try hard to work toward being a better human if I could.
Gilles Nuytens: Sci-Fi such Farscape, Star Wars or Star Trek is a source of dreams for many people; it's a way to escape the hard reality of life, to put their mind out of this world for a short time. Do you see Sci-Fi the same way?
Virginia Hey: I see most forms of entertainment that way, especially music and art, any creative pursuit is so healing for the soul and distracting from all harshness. But Sci-Fi is VERY special, it is a marriage of art, science and distinct possibilities… Sci-Fi is food for alive minds and gypsy spirits!