Date of publishing: 11th October 2005



William B. Davis started acting as a child, working in summer stock with The Straw Hat Players in Ontario and doing radio drama during the CBC's golden age in the early fifties. He weaned himself from acting while at university and embarked on a twenty year career as a theatre director and acting teacher. In the early eighties, he drifted back to acting. Within a few years his acting career blossomed, highlighted by the iconic Cigarette Smoking Man in The X-Files. He is now in high demand for a range of roles on film and television and had an appearance in Stargate SG-1 as a Prior in 2 episodes.
More information on: http://www.williambdavis.com

Gilles Nuytens: First, thank you very much for allowing me this interview! Could you tell something about yourself, what do you like to do in your free time, the things that leads you in your life as well as in your career ?
William B. Davis: You might want to have a look at my personal website. But I am an avid skier, a competitive waterskier and snow skier. I read fairly widely. I'm particularly interested in evolutionary biology but really in anything that helps explain who we are and why we do what we do.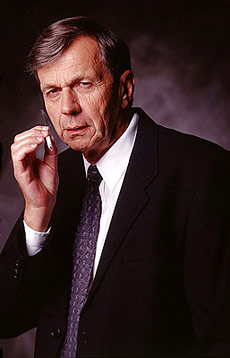 Gilles Nuytens: You are a non-smoker, how do you manage your image as "the cigarette smoking man", never tempted to smoke in your life ?
William B. Davis: I used to smoke so I certainly knew how to do it. But when I got the part I hadn't smoked for twenty years. I smoked real cigarettes for the first two episodes but I soon realized this was dangerous for me and I switched to herbal cigarettes.

Gilles Nuytens: What was the most difficult part playing your role in The X-Files ? Playing with all this smoke around you, was it hard ?
William B. Davis: It wasn't until after three or four seasons that I realized I was taking in the most smoke when I lit cigarettes before each shot. After that I had the props people mechanically light the cigarettes. It was a lot easier after that.

Gilles Nuytens: How did you approach your role on The X-Files, did you smoke a lot of these "false" cigarettes to learn becoming a strong smoker on screen ?
William B. Davis: As I said above, I had been a smoker so I knew how to do that part of it. I suppose the two main things were that I had to convince myself that the character's point of view was the right one - and Mulder's therefore the wrong one - and to explore that feeling of being burnt out inside.

Gilles Nuytens: Do you have some inside stories or a funny anecdote or something unforgettable from your experience on The X-Files ? Same question about Stargate.
William B. Davis: I'm really not good with funny stories but my first day on Stargate I had to wear contact lenses with no aperture. They let in a little light but I could really see nothing at all and had to be lead by the hand to everywhere I had to be. The next day they cut a little hole in the lens so that I could at least see where I was.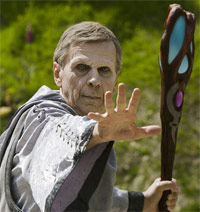 Gilles Nuytens: You played in 2 episodes of Stargate SG-1 as a Prior, can you tell us something about your character (his personality for example) and his role in the story ? Is he pure evil ?
William B. Davis: You may know more about this than I. I was not given a lot of information and so I had to pretty much make up my own back story. He was certainly theatrical.

Gilles Nuytens: You are not yet credited for more Stargate episodes, is there a chance to see you again in the future ?
William B. Davis: I don't hold out a lot of hope that my character will reappear. I was shot dead in the episode - or so it would seem.

Gilles Nuytens: Where did you shoot "Fourth Horseman - Part 2", in the studio or in a different location ? Some photos show you in the Sodan planet, is it the only place where we will see you ?
William B. Davis: It was all shot on their outdoor studio.

Gilles Nuytens: With who did you have the most scenes in this episode, and how was it to play with him/her ? Could you explain your experience ?
William B. Davis: To be honest I don't remember the name of the actor who has replaced Richard Dean Anderson - you would know. He was very athletic doing his own stunts. I also had a scene with Beau Bridges.