Wednesday 23rd August 2006.
It's 9 AM, I'm ready to enter an high school of Coquitlam, 1 hour by bus and skytrain from Downtown Vancouver. The place seems very quite but we can already see some vans at the entrance. So, this is not the studio, this is an high school transformed into a museum for the purposes of an episode of Stargate SG-1 called "Bad Guys".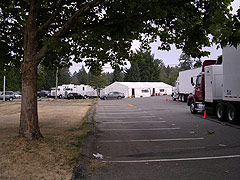 I follow the instructions given to me the previous day and go to the back of the school.
Now, I can see a lot of trucks, vans and a white tent where I had to wait for my appointment. The wait wasn't very long and Brigitte, the on-set publicist of Stargate welcomed me and took me inside the school. The visit has begun.
We walked the hallways, there were pieces of sets, objects and a lot of film stuffs everywhere. We had to take the stairway and I could see a large room at the bottom with a lot of costumed people. Then Christopher Judge appeared and he was talking to someone. I had to keep silent, they were shooting a scene!
A few minutes later, I was at the bottom, walking through artifacts, jaffa weapons, and people again, there were a lot of people working in there! The sets were in front of my eyes, people were running everywhere and I could see the hall of the school transformed into a museum, a lot of well known stuff, such as statues of Jaffa serpent guards, jaffa staff weapons, and many many other artifacts such as the machine seen in "Decent", when Jonas swam underwater to activate a device to reroute power to Major Carter's panel.
At this moment, I was able to see Michael Shanks, Ben Browder, Christopher Judge and Claudia Black all together on the set! Unfortunately Amanda Tapping wasn't working this day ... They repeated the scene again and again and again, not always by the same angle, but always the same words and the same conversation between the actors.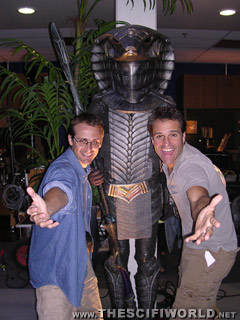 Peter Deluise was directing this episode and he came to me and we had a talk about things. I did a special artwork printed on a photo paper for everybody to sign it and he was impressed by the quality and signed it directly. Peter was very very kind and offered me to seat on John Lenic's chair to watch live on screen what was filming a few meters from there. He even asked me to take photos of the sets, such as that big Jaffa statue, the device from "Decent" and that beautifull jaffa mask from Stargate - The movie. We also did some photos together. All for private use, sorry people ... We sat down for a small interview between "Aaaand ACTION!" and "Aaaaand CUT!". He was very motivated and as kind as I heard he was. We had a great time, especially when I asked when they are going to put a French scientist in the Atlantis expedition.... Actually he proposed me the role (yes yes, really). Maybe a joke, but I'll find out! And Peter if you read this, I'm still available and READY!!
Then back to duty, I continued to watch Stargate between the screens and the sets.
Someone suggested I eat something and there were sandwiches ... turkey sandwiches?? Actually I think they were ham sandwiches ... It was the time for Ben Browder to quit but before we had a "hug", he came to me and took me into his arms ...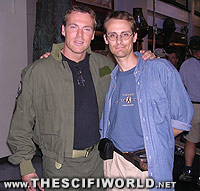 Michael Shanks was also around and we took some pictures too. Back on stage, I can still hear him yelling "shut up!" ... not at me! But on the hostages SG-1 took in the museum!
Yes, that is why this episode is called "Bad guys"! They repeated that scene at least 10 times! Poor Michael, I hope he did not get a sore throat after that!
Time to meet Christopher Judge, also very kind, we had a quarter to talk between 2 scenes. And you will be soon able to chat with him on our forum here!
Next was Claudia Black, we were expecting this meeting for long! This was a wonderfull moment, she is really really sweet, kind and beautiful. I had a great time talking with her. And she was excited to come on The Scifi World forum to chat with all of you!
Back in the main place, I expected to finish that interview with Peter Deluise but he was too busy and it was time to get out of the school to go to the Bridge Studios!
In a rush I saw Dan Shea running ...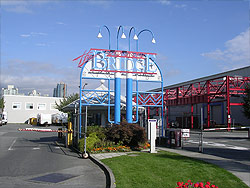 After 20 minutes by car, we arrived on the studios with Carol, the assistant of Brigitte.
It was time to enter the SGC! I first saw the hallways before entering the main place: the Gateroom! It was unreal, that real Stargate in front of me! And I did it, I came through the gate! The place was quite dark, they were not shooting for the moment so all the lights were switched off. But even in half darkness it was a great moment, touching that Stargate, watching all the details of it ... The back of the wall was a moving "wall" with a green panel behind it for the special effects. All the walls that looks like cement are not cement as you can imagine, it's a kind of plastic/cardboard.
Walking again through the hallways, actually it was very small, all the different hallways you can see on the show are actually shot in the same places, only 2 places!
The command room was also smaller than I imagined and I sat down in Gary Jones chair and said "chevron 1 encoded" with my hand on the computer! Unfortunately this place was very very dark, but that was great and we went to the top place, the meeting room and I sat down in the General seat! After, going to Landry's office, but the furnitures was missing for other purposes. I also saw Carter's lab which is actually the same place as Daniel's lab!
Time for lunch! A lot of costumed actors and stunts people were eating at the buffet. This isn't at all the cantine stuff we get usually at office, this is a top buffet! Lot of different things to eat and all very appetizing! There, I had a talk with a french girl working there. I didn't expected to speak french on that place, it was nice!
The next step was Atlantis! Carol and I went over to the first big door and we were in the Gateroom! Impressive! I was on Atlantis, walking through the Gate and walking on the Atlantis stairs! Then, it was the command room, the balcony, Dr Weir's office and the meeting room. We did not have much time here as I had an appointment with Rachel Luttrell. But again, it was quick but so cool! I also had the opportunity to see the "Blade 3" set , which one was actually bought and transformed for the purposes of Stargate Atlantis.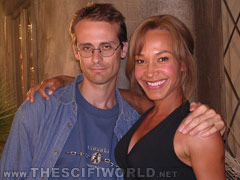 We went through another door and we were in a middle age village with flags and paintings representing Dr McKay's face. We were in "The Game"! Then I sat and I was able to watch the scenes at the same place as earlier at the school. The place where the scene was shot was too small for me to come into, so I watched it on the screens. I get up to have another look at the sets and just behind me someone was running fast with his skateboard ... it was Joe Flannigan! Rachel Luttrell was just a few meters from me and that was great to finally meet her. She is even more beautifull in person than on screen!
She had to go back shooting and I walked away on the village. On some stairways of the village was Chuck Campbell and I sat down with him a few minutes while a scene was shot. We talked about things and others and especially when I asked him if we were going to see more of him on screen this year. Actually, on season 3 he has 3 seconds by episode and he hopes that in season 4 he will got 4 ... so maybe in season 10, he'll got 10 seconds on screen! That was funny, but I hope he'll get more soon! While whe had to shut up, we could hear someone yelling "BOOOM", again and again! Actually he was simulating a bomb during the shot. Every "BOOOM", means that the actors have to react as it was a real bomb exploding around them. That was also funny!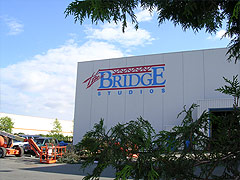 The village was nice to walk through and back to the director's chair, I saw Martin Wood running to the small place where they were shooting. A few minutes later, Rachel came to me and we had 15 minutes to chat between 2 shots. That was a wonderful experience.
The whole visit was a wonderful experience!
But as all good things comes to an end, that was the end of the visit .....
I would like to express my gratitude to Paul G. without who this wouldn't have been possible, Brigitte and Carol for having taken the time to show me around and explain everything and everybody on the sets for their kindness and smiles despite the announce of the cancellation of Stargate SG-1.